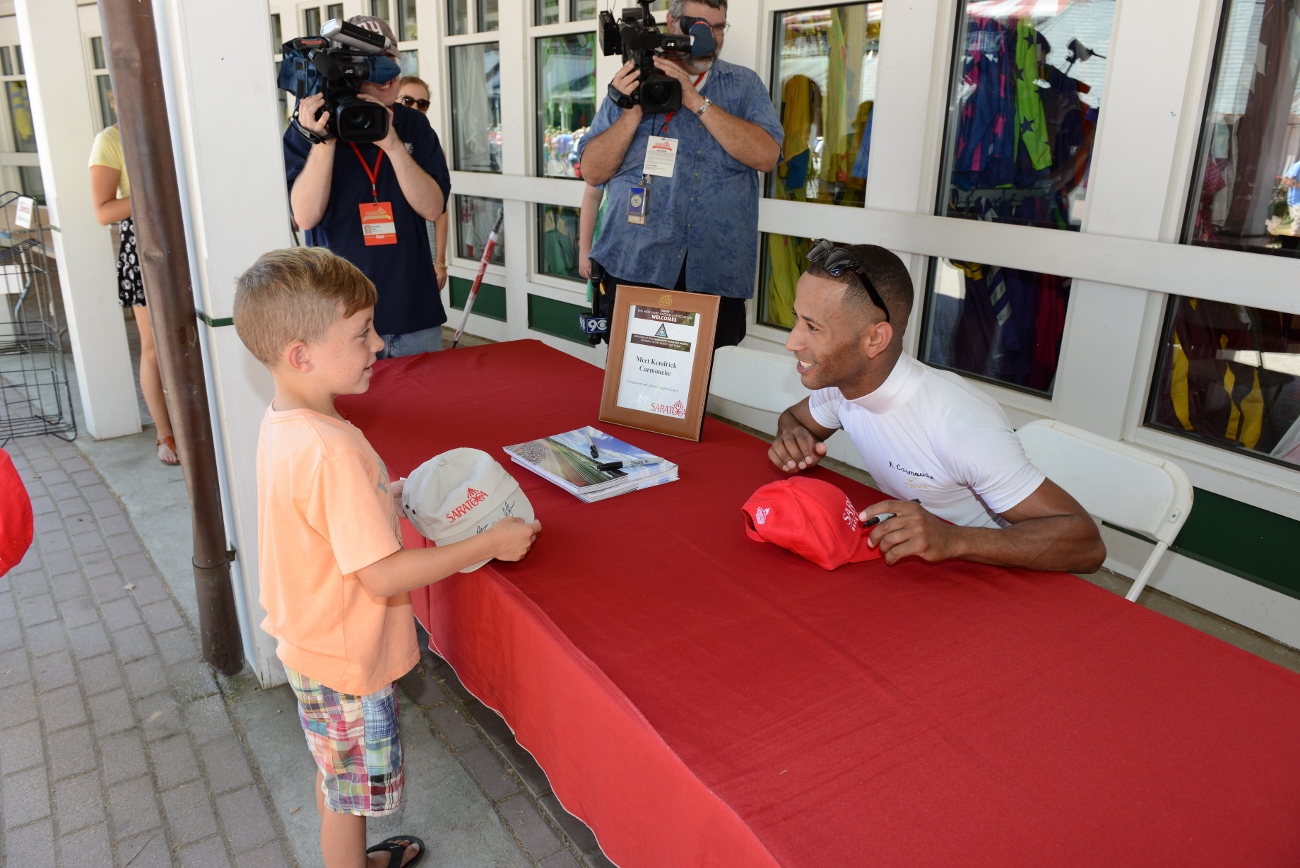 SARATOGA SPRINGS, N.Y. – Jockey Kendrick Carmouche, the first African-American rider to hang his tack at Saratoga Race Course in recent memory, today appeared at the Community Outreach Booth for a special meet and greet to benefit the non-profit organization Dyer-Phelps.
Carmouche signed autographs and took photos with fans at the Community Outreach Booth throughout the afternoon with a suggested donation to Dyer-Phelps, one of several AME Zion establishments located in the Capital Region. Dyer-Phelps was the day's designated non-profit organization at the Community Outreach Booth.
This summer marks Carmouche's first full season riding at Saratoga Race Course. Carmouche has six wins during the current Saratoga meet, including his first graded stakes victory at the Spa aboard Goldy Espony in the Grade 3 Fasig-Tipton Waya on August 8.
"How great it was to have him here today," said Alton Franklin, husband of Dyer-Phelps pastor Vivian Franklin. "We are very appreciative of Saratoga Race Course for today."
The Community Outreach Booth is designed to provide local non-profit organizations with the chance to generate exposure about their efforts while also providing track visitors with a chance to contribute to meaningful causes. For each day of the 2015 season, a local not-for-profit organization will have the opportunity to utilize the Community Outreach Booth to interact with the thousands of guests who visit Saratoga Race Course, share information about its mission and host various fundraising initiatives.
Dyer-Phelps is one of several AME Zion establishments located in the Capital Region that works to practice and forward their mission. Ministry and social changes are emphasized throughout the United States and abroad, with the belief in charity starting at home. Over the years, programs have been implemented to help families find low-income housing, jobs, financial planning assistance, and health and daycare services.
The 2015 summer meet at historic Saratoga Race Course continues through Labor Day, Monday, September 7. For more information about Saratoga Race Course, call (518) 584-6200 or visit NYRA.com.