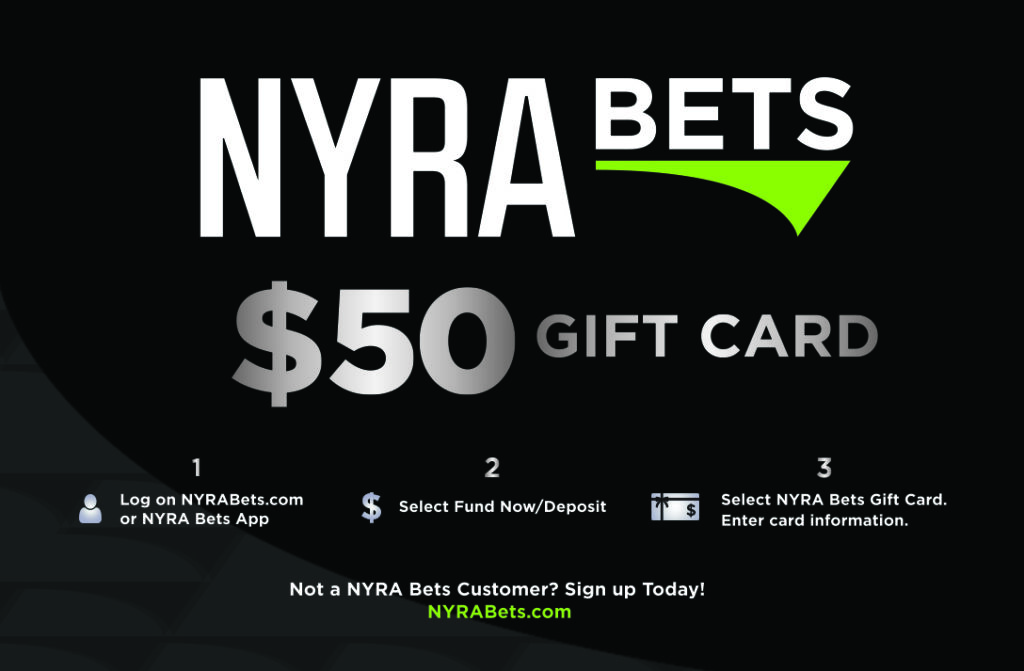 Gift cards on-sale at select Stewart's Shops in Saratoga County, while supplies last
SARATOGA SPRINGS, N.Y. – Shoppers will have the opportunity to give the gift of world-class thoroughbred racing this holiday season with a special offer of NYRA Bets Gift Cards available exclusively at Stewart's Shops in partnership with the New York Racing Association, Inc. (NYRA).
Beginning Black Friday, November 27, NYRA Bets Gift Cards will be available for a limited-time only, while supplies last at participating Stewart's Shops locations in Saratoga County.
The gift cards, which are available in $50 denominations, can be used to fund both active and new NYRA Bets accounts to bet online, including during the fall and winter meets at Aqueduct Racetrack and spring meet at Belmont Park, in addition to hundreds of racetracks worldwide.
The gift cards do not expire and may also be used to bet Saratoga online and the Triple Crown series in 2021.
The special holiday season offering follows a tremendous reception to the introduction of NYRA Bets Gift Cards this past summer during which more than 12,000 cards were sold through Stewart's Shops from mid-July through Labor Day.
"We were thrilled beyond all expectations with the success of the NYRA Bets Gift Cards which we first introduced this summer in partnership with Stewart's Shops," said NYRA Bets President Tony Allevato. "We are excited to make these gift cards available as a limited time holiday offer for horse racing fans who may use them to bet this winter or during next year's Saratoga meet. We thank our fans for their continued support and wish everyone a safe, healthy and happy holiday season."
"Given the enormous success of the NYRA Bets Gift Card Program over the summer, we are happy to extend this offering to our customers through the holiday season," said Stewart's Shops President Gary Dake. "It's a perfect stocking stuffer for any horse racing fan and just one of the many ways that Stewart's makes your life easier."
A NYRA Bets Gift Card is a preloaded card containing $50 to deposit in a NYRA Bets account, America's leading online betting platform. Each card includes a unique four-digit PIN. After purchasing the gift card, fans enter the PIN into their new or existing NYRA Bets account. The $50 will be available immediately to use when betting via NYRA Bets.
Registering for a NYRA Bets account is free. There are no processing fees or premiums applied when purchasing or using a NYRA Bets Gift Card. NYRA Bets Gift Cards are available for purchase by cash only; credit cards are not accepted. For a complete list of participating Stewart's Shops locations, visit https://www.stewartsshops.com/nyra-bets-cards-available-at-these-shops-for-holiday-shopping-2020/.
NYRA Bets is the official wagering platform of The New York Racing Association, Inc.
Available to horseplayers nationwide, NYRA Bets will currently match the initial deposit for new members up to $200. The NYRA Bets app is available for download today on iOS and Android at https://www.nyrabets.com/#sign-up-bonus.
About the New York Racing Association
The New York Racing Association, Inc. (NYRA) holds the exclusive franchise to conduct thoroughbred racing at Aqueduct Racetrack, Belmont Park and Saratoga Race Course.
NYRA tracks are the cornerstone of New York State's thoroughbred industry, which is responsible for 19,000 jobs and more than $3 billion in annual statewide economic impact.
Accredited by the National Thoroughbred Racing Association Safety and Integrity Alliance, NYRA is a founding member of the Thoroughbred Safety Coalition, a group of the nation's leading racing organizations working collaboratively to advance safety reforms across the sport.

Over the course of 217 days of live racing in 2019, NYRA generated more than $2.1 billion in all-sources wagering handle with paid attendance exceeding 1.5 million.
For more information, visit NYRA.com.