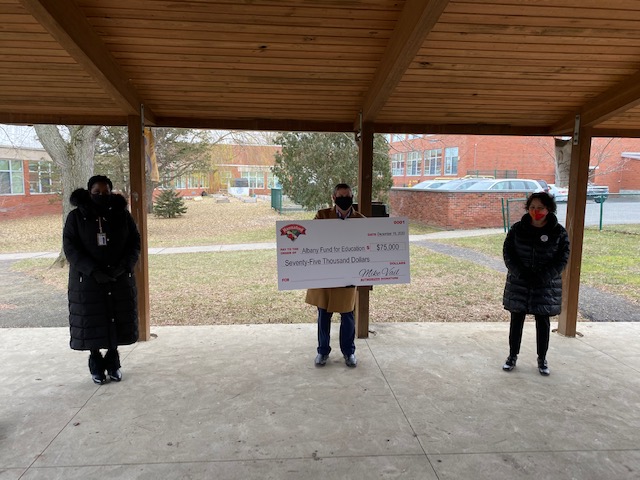 Grant will be used to purchase laptops, headphones, books and underwrite internet access for thousands of Capital Region students learning remotely during the pandemic
Albany, N.Y. – Hannaford Supermarkets today announced a $107,000 donation designed to increase access to education and close digital equity gaps for Capital Region students learning from home during the Covid-19 pandemic.
The donation includes $75,000 to the Albany Fund for Education and $32,000 to the Schenectady City School District Education Fund. The grants will be used to secure laptops, headphones, books and underwrite internet access for students in the City School District of Albany and Schenectady City School District.
Approximately 13,500 students across both districts are currently learning remotely. Since the beginning of the pandemic in March, school administrators have worked closely with families to identify gaps in access to technology and are meeting needs by providing devices and other learning equipment for home use.
"The pandemic has dramatically shifted the way our children are being educated," said Hannaford Supermarkets Director of Operations Andy Willette. "Hannaford strongly believes that all children should have access to a quality education. We applaud the many teachers and administrators who continue to work so hard to provide enriching instruction in this challenging environment. We hope this donation makes education even more accessible and fosters a love of learning for children in our community."
The Albany Fund for Education will use the funding from Hannaford to purchase up to 400 laptops for students learning remotely. The laptops, which will be issued to students based on referrals from teachers and school administrators, will become the permanent property of each student, allowing them continued access to technology in their homes.
"The mission of the Albany Fund for Education is to enhance opportunities for students in our district to learn, grow and succeed," said Albany Fund for Education Executive Director Mari Shopsis. "When the perfect storm of inequitable funding cuts and delayed Chromebooks hit our district, we knew we had to respond, because students cannot learn, grow or succeed when they are sharing one Chromebook with two, three, or even more siblings, and can't even get online reliably to attend their classes. We are so grateful for community partners, like Hannaford, who see the challenges that are facing our students and move quickly to leverage resources to address them."
Despite placing an order for 5,200 Chromebooks upon approval in July, manufacturing and shipping delays directly attributable to the global impact of Covid-19 have greatly impacted the City School District of Albany's ability to achieve a one-to-one computing model for its students. The district welcomed the support from the Albany Fund for Education and Hannaford Supermarkets, stating that it will help bridge the gap until the full shipment of devices arrives.
"We are grateful to Hannaford and the Albany Fund for Education for providing this generous and deeply appreciated support for our students and our school district," said Albany Superintendent Kaweeda G. Adams. "As a community, it is partnerships like these that allow us to rise to the challenges that this worldwide pandemic has brought us and continue to provide the high-quality educational programs and services that our students need and deserve."
The grant from Hannaford will allow the Schenectady City School District Education Fund to issue grants to teachers within the district for distance learning equipment for hundreds of students, including books and headphones to eliminate distractions. A portion of the funding will also be used to underwrite internet costs for approximately 55 homes from January through June 2021, impacting as many as 80 students.
"We are beyond grateful for the extraordinary support provided by Hannaford Supermarkets and honored to be the recipient of this incredibly generous donation," said Schenectady City School District Education Fund Executive Director James Masi. "The funds provided by Hannaford make it possible for us to provide critical resources to students who need it most, and will go a long way in helping to make a positive and meaningful impact on the many Schenectady students and teachers navigating this unprecedented school year. We extend our deepest thanks to Hannaford Supermarkets for their commitment to education and for their direct support of our teachers and students."
In addition to the approximately 7,500 students learning from home full-time in Schenectady, all students have a remote component to their day. Students attending school in-person during the morning transition to a remote learning environment each afternoon.
"We are extremely grateful to the Schenectady City School District Education Fund for the ongoing support and opportunity provided to our district and to Hannaford Supermarkets for this extremely generous donation," said Dr. Aaron Bochniak, interim superintendent of schools for Schenectady City School District. "The Covid-19 pandemic has multiplied and magnified the hardships faced by many of our students and their families. This funding will be instrumental in our ongoing efforts to ensure equitable learning and opportunity, and that our students have the technological resources and support they need during these challenging times. Thank you for your kindness, generosity and continued support of our school community."
Since its inception in 1998, the Albany Fund for Education has brought forward new ideas, approaches and funding to support the children of the Albany City School District. The Albany Fund for Education enhances opportunities for students to learn, grow and succeed through building community partnerships, fundraising and investing in innovative and effective programs that build equity and strengthen the educational infrastructure of Albany public schools. For more information, visit www.thealbanyfundforeducation.org/.
The Schenectady City School District Education Fund is dedicated to providing funding for the enhancement of learning opportunities not otherwise available to students in Schenectady Public Schools. Opportunities made possible by the volunteer-run organization include enhanced education, projects and programs related to the fine and performing arts, science and technology. The Fund also supports international student exchange programs and global studies opportunities. For more information, visit http://scsdeducationfoundation.org/.
Since March 2020, Hannaford has donated nearly $1.5 million to COVID-19 relief efforts, including hunger relief, homeless outreach, local agriculture and family resources.
-30-
About Hannaford Supermarkets
Hannaford Supermarkets, based in Scarborough, Maine, operates 184 stores in the Northeast. Stores are located in Maine, New York, Massachusetts, New Hampshire, and Vermont. Hannaford employs more than 26,000 associates. Additional information can be found at Hannaford.com.