The road to publicity begins by looking in two places: the mirror and the news.
Self-evaluation usually comes first. Who am I? What products or services do I provide?  How am I relevant or unique? Answer these questions and you're armed with the content necessary to land a profile of your CEO or a feature story on your company.
That's a good start to a communications plan, but direct self-promotion is only half of a sound branding strategy. There are only so many profile opportunities or business spotlights. The remaining doors begin to open when you shift focus beyond yourself and start examining what's making front-page news.
We recently took this approach with accounting firm UHY Advisors NY. Tax season began in mid-January with the arrival of W-2s, and changes to the tax code took center stage. This presented an opportunity for partners at UHY Advisors NY to serve as expert sources for media outlets yearning to provide helpful tips and analysis for their viewers, readers and listeners.
We were able to build our client's profile by focusing on how our client could serve reporters in their quests to serve their audiences.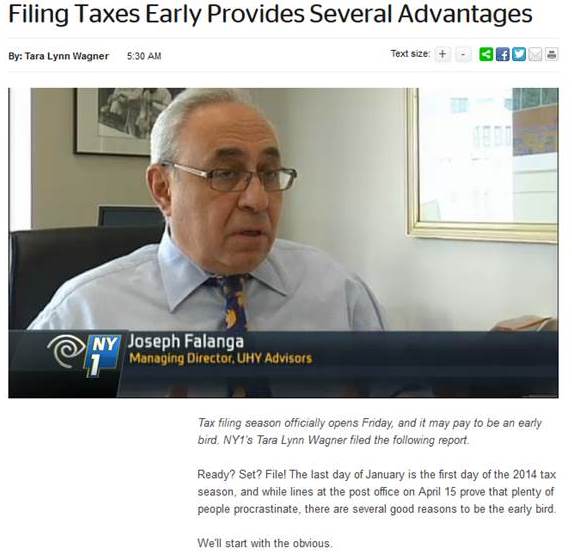 Meanwhile, out in Central New York, the city was prepping for one of the most anticipated basketball games in the rich history of Syracuse University. The undefeated Orangemen were ranked No. 2 in the county and readying themselves for their first game against No. 17-ranked Duke since moving to the storied Atlantic Coast Conference.
Dunkin' Donuts, a sponsor of Syracuse Athletics, wasn't going to steal any of the media spotlight in Syracuse. How could we supplement what would be the story of the day for a week or more? Aside from the fact they're both round, donuts and basketballs don't have much in common. So we got creative.
More than 200 students had been camped out at the Carrier Dome for up to two weeks to ensure they'd score premier seats for the Syracuse-Duke game. On the morning before the game, as excitement reached a fever pitch, Dunkin' Donuts provided coffee and donuts to the campers with the help of famed Syracuse basketball coach Jim Boeheim and his assistants.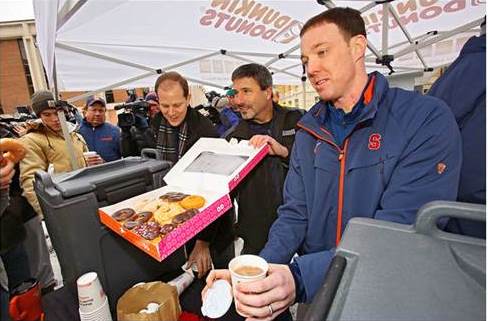 A legendary coach mingling with fans and handing out coffee and donuts on the eve of a historic game became a can't-miss opportunity for media.
As both cases illustrate, when you can't beat competing news, join it.