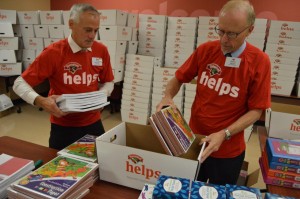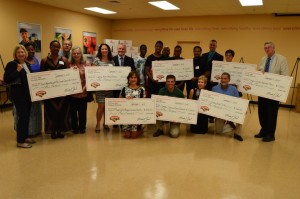 ALBANY, NY – Hannaford Supermarkets today announced a donation of $115,000 to Capital Region non-profit organizations and schools designed to support local youth development programs, child nutrition and resources for students through the new Hannaford Helps program.
The centerpiece of the New York program is the donation of $80,000 to eight Capital Region summer camps and youth development programs in an effort to position at-risk youth for a bright and successful future. Additionally, Hannaford will donate $35,000 worth of classroom supplies and nutritious snacks to Capital Region schools.
The Capital Region donation is one component of an overall $400,000 charitable initiative through the Hannaford Helps program, which will disperse donations to similar programs throughout Hannaford's five-state territory in Maine, New Hampshire, Vermont, Massachusetts and New York.
"With these Hannaford Helps contributions we are focusing on the fact that a community is only as strong as its next generation," said Hannaford Supermarkets President Mike Vail. "We're really excited about the impact of these donations because of the nature of these organizations. Hannaford is proud to support the work of educators, counselors, coaches and volunteers who are so impressive in their commitment to develop young people in the communities where our associates live and work."
As part of the Hannaford Helps donation in New York, Hannaford will donate $10,000 each to eight Capital Region non-profit organizations, which will use the funding to support their individual summer camps and year-round youth development programs. The grants will be provided to organizations in the four counties that comprise the Capital District: Albany, Rensselaer, Saratoga and Schenectady and will cover those based in the cities of Albany, Clifton Park, Saratoga Springs, Schenectady and Troy.
The eight New York non-profit organization beneficiaries are:
 Capital Roots Produce Project in Troy: a year-round job training program that increases employment and education opportunities for at-risk youth through hands-on use of math and science skills. Students are given a stipend and school credit for operating three acres of farmland, and the farm provides a safe haven for students after school and during the summer.
Captain Youth and Family Services Peace Camp in Clifton Park: an intensive, three-week summer day camp designed for elementary school children who are experiencing behavioral problems at home and school. Through drama, arts, music and recreation youth are taught peaceful, effective communication skills to help them deal with difficult situations.
Franklin Community Center Project Lift in Saratoga Springs: a free after-school program for youth in grades one through five with an emphasis on structured activity, raising self-esteem and development of refusal, decision-making, problem-solving and communication skills.
 Grand Street Community Arts Youth FX in Albany: a six-week summer program where youth ages 14 to 18 from Albany's South End neighborhood learn what it takes to make movies through hands-on exploration of the creative and technical aspects of digital filmmaking under the supervision of experienced media educators and local independent filmmakers.
 Hope 7 Community Center Traveling Summer Day Camp in Troy: the camp is designed to give children ages 5 to 13 the opportunity to enjoy the great outdoors. Participants travel by school bus to area town and state park facilities where they enjoy hiking, swimming, crafts and other activities.
 Schenectady Inner City Ministry Urban Camp at Steinmetz Park in Schenectady: a free summer camp offered in partnership with Camp Fowler in Speculator, NY which provides children ages seven to 12 with various activities they would not otherwise have access to, including hiking, gardening, arts and crafts and field trips.
 Underground Railroad History Project of the Capital Region Young Abolitionist Teen Scholars' Institute in Albany: the program provides teen students with the opportunity to learn about the inspiring work of local abolitionists as they collaborate in the creation of professional public presentations.
 Unity House Traveling Summer Camp in Troy: a two-week camp for low-income youth ages five to 12 who normally would not have the opportunity to attend camp. The program includes arts and crafts, nature walks, as well as trips to museums and state parks.
Each of the organizations was selected with the help of the Times Union Hope Fund, a component of The Community Foundation for the Greater Capital Region which raises money and awards grants to after school and summer programs serving at-risk children throughout the Capital District.
"We're honored that we could facilitate bringing these grants to the Capital Region and excited that so many area children will benefit from Hannaford's generosity," said Times Union Hope Fund President Ruth Fantasia.
Hannaford will also donate $35,000 worth of classroom supplies and nutritious snacks to Capital Region schools through the new Hannaford Helps initiative.
Sixty boxes filled with classroom staples, including construction paper, colored pencils and glue sticks, among other items, will be distributed to elementary schools within the City School District of Albany.
"The City School District of Albany would like to thank the Hannaford Helps program for this generous donation of school supplies for our elementary students," said Superintendent Marguerite Vanden Wyngaard, Ph.D. "This will help many of our families that may not be able to afford school supplies for their children. This donation also highlights the support and generosity of our community partners. Thank you, Hannaford, for your support!"
One hundred boxes filled with nutritious snacks, including applesauce, fruit cups and cereal bars, will be distributed to area schools in Albany and Schenectady counties participating in the Backpack Program of the Regional Food Bank of Northeastern New York.
"Once again, Hannaford has created a unique project to address one of the Regional Food Bank's specific needs.  The healthy snacks they are donating for our Backpack Program will enable us to provide nutritious packages of food for hungry children throughout Albany and Schenectady counties, so they can eat properly on weekends and return to school on Monday energized and ready to learn. We thank Hannaford for everything they do for the Food Bank and for people in need in our community."
The $400,000 territory-wide Hannaford Helps gift from Hannaford Supermarkets represents a 10 percent increase in the $4 million in funds that the company and its charitable foundation contribute to local charities each year. All of the new money is focused on helping children who face barriers to their success in life.
Hannaford Helps also has set a goal of increasing the amount of meat, produce, bread and other fresh items donated directly from Hannaford stores to community food pantries and meal programs by 20% or 1.5 million meals in 2016. Hannaford donated 14.6 million pounds of rescued food to hunger relief last year.
About Hannaford Supermarkets
Hannaford Supermarkets, based in Scarborough, Maine, operates 187 stores in the Northeast. Stores are located in Maine, New York, Massachusetts, New Hampshire, and Vermont. Hannaford employs more than 27,000 associates. Additional information can be found at www.hannaford.com.