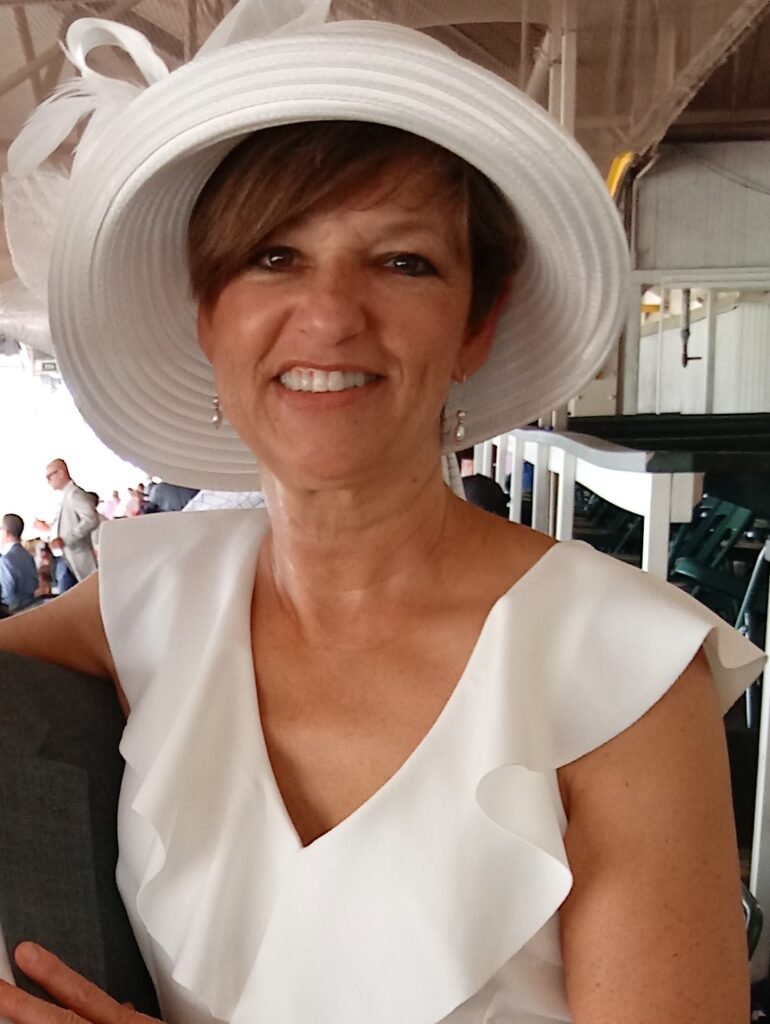 Saratoga Springs, NY – Saratoga WarHorse, a not-for-profit organization which uses retired thoroughbred racehorses to work with service members and veterans who are suffering after experiencing trauma while in the military, today announced the appointment of veteran and thoroughbred advocate Tina Mott to its Board of Directors effective this month.
A longtime supporter and volunteer with Saratoga WarHorse, Mott will work with the organization to further its mission of promoting the physical, mental and emotional health of veterans with Post-Traumatic Stress by providing a healing, equine assisted experience exclusively using retired thoroughbreds.
Mott has more than 35 years of experience in the thoroughbred industry and is the wife of Hall of Fame trainer Bill Mott of Mott Thoroughbred Stables.
"We are thrilled to welcome Tina to the Saratoga WarHorse Board of Directors," said U.S. Army veteran and Saratoga WarHorse Foundation Chief Executive Officer Allison Cherkosly, Ph.D. "Her intense passion for helping veterans, deep background in the thoroughbred industry and passion for the Saratoga WarHorse program make Tina an ideal leader for our organization. We look forward to working with Tina in this new capacity."
Mott is a familiar presence within the organization having served as a volunteer during program sessions for several years. As a volunteer, she provides meals for the veteran participants and records their experience connecting with equine counterparts at Saratoga WarHorse's location in East Greenbush, NY, which is also home to the renowned thoroughbred rescue program ReRun Thoroughbred Adoption.
"I have always had the utmost respect and gratitude for our veterans, so I was thrilled that the animals that have given my family such a wonderful life could also contribute to the health and well-being of our veterans," said Mott. "I look forward to working with Allison, my fellow board members and the Saratoga WarHorse team on growing this enriching and important program."
Since its inception in 2013, Saratoga WarHorse has helped over 1,300 military veterans and service members move past their trauma by partnering them with retired thoroughbred racehorses and providing a new treatment approach vastly different than equine therapy or any existing treatments.
Saratoga WarHorse offers a one-time, three-day experience which culminates with each veteran and their thoroughbred counterpart participating in a procedure called the "Connection Process." This process can last anywhere from 10 to 40 minutes, and has been empirically proven to improve quality of life and reduce symptoms of Post-Traumatic Stress and their negative impact. Videos of the Connection Process are available online at https://www.saratogawarhorse.org/gallery.
The organization also recently launched the Military Armed Forces and Racehorses Program, which is designed to assist military service members mobilized during the Covid-19 pandemic.
The immersive program, which is available at no cost to service members who were activated during the pandemic, is currently accepting enrollments from eligible Active Duty, Reserve, and National Guard troops. To inquire or refer a veteran or service member, or for more information about the program, visit SaratogaWarHorse.org.
Donations to Saratoga WarHorse can be made online at SaratogaWarHorse.org/donate. Saratoga WarHorse is 100 percent funded by private charitable contribution. All donations are 100 percent tax-deductible.