The Chamber of Schenectady County unveils giant banners on Erie Boulevard in support of Union 
Coach Bennett receives ceremonial garnet-encrusted puck from Northeastern Fine Jewelry on behalf of The Chamber
Schenectady, NY – The Chamber of Schenectady County joined local business and civic leaders today to announce a community-wide initiative to support the Union College men's hockey team one day before the Skating Dutchmen departs for Philadelphia for its second appearance in the Frozen Four in the last three years.
The Chamber of Schenectady County unveiled two supersized banners hung from the pedestrian bridge over Erie Boulevard near N. Jay Street to root on the Dutchmen. The Chamber also showcased window posters that will be distributed to local businesses to cheer the team on in its quest for a national championship.
"As a community, we felt it was important to show how proud we are of these young men, who are representing our area on a national stage. This team is already one of the most decorated in the storied history of the Union hockey program," said The Chamber of Schenectady County Chairman James Connolly. "All of us wish them the best of luck at the Frozen Four. Regardless of what happens, our community is incredibly fortunate to be the home of Union College and the remarkable student athletes who make up this team."
On hand to share in the community excitement were Union College President Stephen C. Ainlay, Union College Athletic Director Jim McLaughlin and Union College Hockey Head Coach Rick Bennett.
"We are extremely honored to have The Chamber of Schenectady County reach out to us.  It's a great event, we were fortunate enough to do this two years ago and I really can't thank enough The Chamber, the community and our school administration for the outpouring of support," said Coach Bennett. "These players are not only playing for themselves and the school, but for the community as well and it's nice to be able to give back to the community by doing this."
Additionally, on behalf of The Chamber, longstanding Schenectady business Northeastern Fine Jewelry presented Coach Bennett and Athletic Director McLaughlin with garnet-encrusted hockey pucks to commemorate the team's success.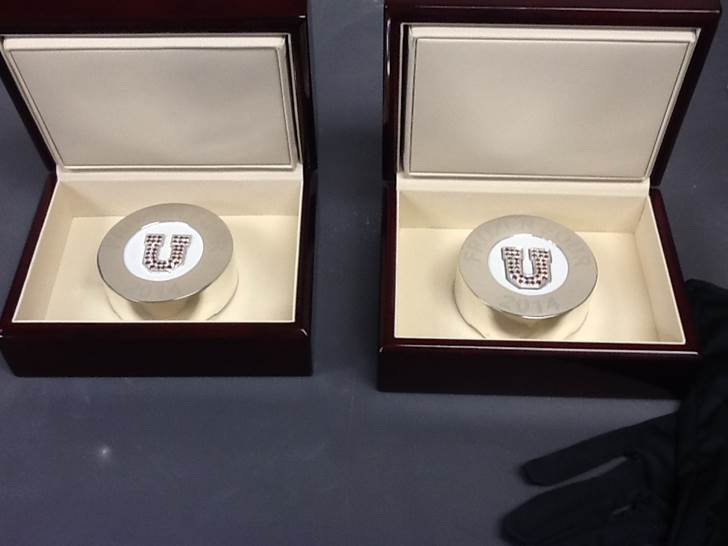 "This is a truly exciting day for the Schenectady community and I am thrilled to be here to help honor this record-breaking team," said Ray Bleser, President of Northeastern Fine Jewelry. "This custom puck that we created to commemorate the team's send-off features the iconic Union College Athletics logo emblazoned with garnet stones and an engraved 'Frozen Four' inscription. We hope it brings them good luck on Thursday and Saturday."
In addition, Mazzone Hospitality has announced that its two Schenectady-based restaurants, Angelo's Tavolo and Aperitivo Bistro, will offer a dessert in celebration of Union's trip to the Frozen Four beginning today through April 13. The dessert features a flourless chocolate cake resembling a puck with the Union College logo on top in fondant and four scoops of gelato to represent the four teams.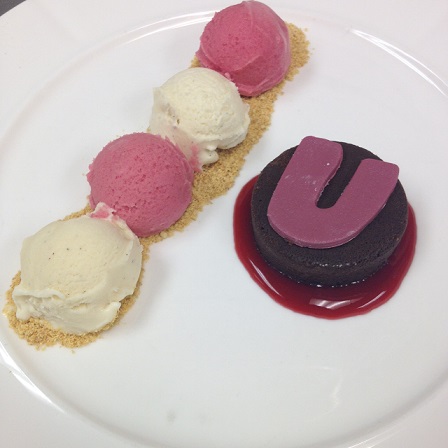 Union will face Boston College in Philadelphia on Thursday, April 10 at 5 p.m. The other semifinal pits North Dakota against Minnesota. The winners of Thursday's match-ups will meet for the national championship Saturday, April 12 at 7:30 p.m.
Union College will host a free viewing party at its Messa Rink at the Achilles Center, where members of the campus community and the public can watch the games on oversized screens. Doors open at 4 p.m. and the first 1,000 people to enter the rink will receive a Union boom stick. The game will be broadcast nationally on ESPN2.
About The Chamber of Schenectady County
The Chamber of Schenectady County, founded in 1924, serves more than 1,000 businesses and 50,000 employees throughout Tech Valley. As a champion for business, we provide connections and partnerships, advocate for business at all levels, actively promote economic growth and drive member profitability and sustainability.