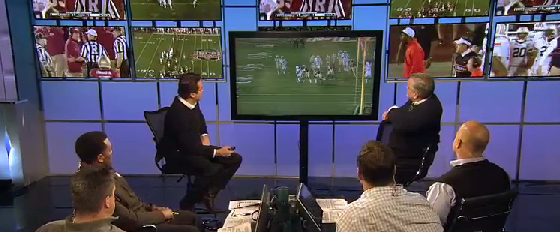 With an increasing number of people "unplugging" from cable television and getting their entertainment through an internet connection and a streaming service, live sports are one of the few anchors left that tethers us to a cable television provider. Even those of us with cable television watch our favorite shows on our own schedule and – thanks to DVRs – skip right over the commercials that help networks pay the bills.
With a captive audience that can't fast-forward through commercials, networks have pushed the envelope and created innovative ways to provide new content to those viewers watching sports. The latest example took place last Saturday night with CBS's broadcast of the NCAA men's basketball Final Four.
I first read about this broadcast change in Richard Deitsch's weekly column "Media Circus," a must-read for anyone interested in sports and how the media covers it. In a preview to CBS's coverage of the NCAA tournament, Deitsch revealed the network's plans to show both Final Four games on three different channels at the same time. TBS would show the traditional national broadcast with CBS's main play-by-play announcer and analysts. TruTV and TNT would carry team-specific broadcasts – "Teamcasts" – with announcers and sideline reporters who had intimate knowledge of each team and were encouraged shed their neutrality and cater their comments and insights to a rabid fan base.
While some people didn't understand what CBS was trying to do or simply couldn't find the national broadcast in their channel lineup, the "homer" channels represent a creative way to provide new and improved content to television viewers.
This concept for covering a sporting event from all sides and angles was first seen in the BCS Championship Game this past January with ESPN's Megacast. Some channels were a tremendous success and others fell flat, but it represented a new way of thinking about big event broadcasts.
While this approach would be costly, cumbersome and redundant for something like an NBA Finals Series which could extend to seven games, the strategy of taking one big event and magnifying it could be replicated for events like the World Cup Final in July or next year's Super Bowl.
It will be interesting to see how this multi-faceted coverage of sporting events evolves over the next few years and what networks try to replicate the model presented by ESPN and CBS.