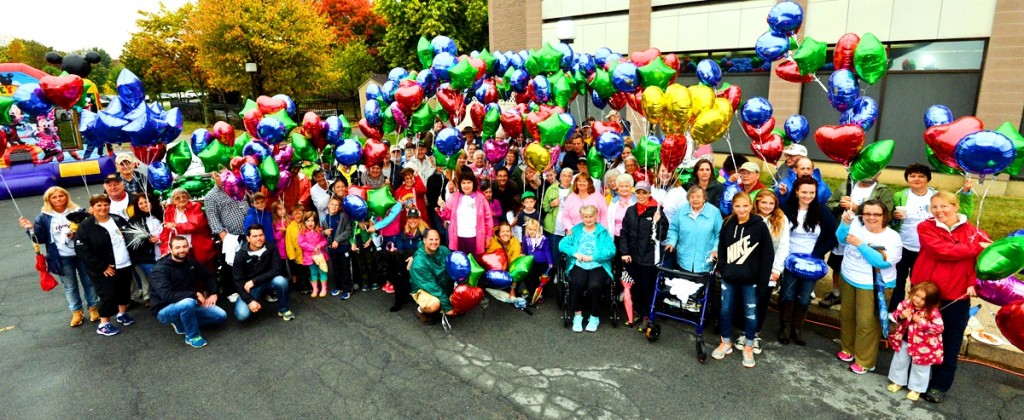 Fundraising walk to feature more than 1,000 balloons
Saratoga Springs, N.Y. – The Wesley Foundation, the philanthropic arm of The Wesley Community in Saratoga Springs, will host its second annual Balloon Walk at The Wesley Community on Saturday, October 3 at 10 a.m.
Funds raised through the event will support the renovation project currently underway in the Springs Building at The Wesley Community.
Participants will walk a 1-mile or .25-mile course, collecting colorful balloons along the route to create a parade of color. In addition, a hot-air balloon will be on display, weather permitting, at The Wesley Community campus near the Community Garden. New to this year's event will be a post-walk barbecue from Giffy's, photos from TapSnap, and The Marshall and Sterling Insurance Family Fun Zone featuring a bounce house, glitter art and face painting.
"The Balloon Walk is a great event for all ages that raises money to help The Wesley Community accomplish its mission. You won't want to miss the 1,000 balloons we will have on campus," said Tim Busch, Event Co-Chair and Wesley Foundation Board Member.
"Last year's Balloon Walk was fantastic and this year it will be even better. It's a great opportunity for the community to see the campus and to help raise funds for the Springs Building renovation at The Wesley Community," said Garth Ellms, Event Co-Chair and Wesley Foundation Board Member.
"The balloons on display will be an amazing sight to be enjoyed by all, including our residents. Our entire community is looking forward to the event," said J. Brian Nealon, CEO of The Wesley Community.
Registration begins at 8:30 a.m. with the opening ceremonies and walk commencing at 10 a.m.  The barbeque will take place from 11 a.m. to 1 p.m.
Participation is $25 for adults and $15 for kids (12 and under) including a walk t-shirt, balloons to take home, and a barbecue meal. To participate in the walk only is $20 for adults and $10 for kids (12 and under). Barbecue tickets are $10 per adult and $8 per child (12 and under). Walk/barbecue and barbecue-only registration is required in advance.  A rain date is set for Sunday, October 4th at the same time.
The Family Fun Zone Sponsor is Marshall and Sterling Insurance.  Medline Industries is the sponsor of the barbeque.  Balloon station sponsors are The Adirondack Trust Company, Marshall and Sterling Insurance and Medline Industries. Platinum balloon sponsors are AJ Sign Company, Creative Connections NY, Ellms Family Farm, The Fort Miller Group, The Saratogian and Web Instinct.
For more information about the Balloon Walk or to register, please visit http://www.theballoonwalk.com/.
The Wesley Community is located at 131 Lawrence Street in Saratoga Springs.
About The Wesley Community
The Wesley Community is a 36-acre, not-for-profit agency in Saratoga Springs, NY, which serves the needs of the elderly, as well as active seniors, adults and pediatrics. Sponsored by United Methodist Health and Housing, Inc., The Wesley Community's unique continuum of care community provides independent and enriched living for seniors, subsidized independent senior housing, adult day services, short-term rehabilitation and long-term care, as well as outpatient therapies available for people of all ages.