It's no secret that Twitter is gaining popularity as a news source.  As a millennial, Twitter is often where I go to find breaking news, current trending topics and the opinions of my peers. If a story is newsworthy… you'll find it on Twitter.
On Sunday evening, the Academy Awards were shown on television but I was stuck on an Amtrak ride back from New York City. Unfortunately for me, the train did not have internet connection and when I got home, I went straight to bed – exhausted from the weekend. It wasn't until Monday morning that I tuned in to what happened at the Oscars.
Scrolling through my Twitter feed, I learned everything I needed to know about the Oscars:
Ellen DeGeneres broke the record for most retweeted tweet AND passed out pizza from the stage
Heartthrob Leonardo de Caprio still has not won an Oscar
12 Years a Slave actress Lupiya Nyong'o provided a tear-jerking acceptance speech
Pink sang a show-stopping Wizard of Oz tribute
Kate Hudson looked elegant as ever, while Penelope Cruz wore a pink dress many compared to a sack
Twitter itself wasn't capable of handling the amount of tweets being sent out Sunday night
Though many actors, actresses, writers, producers, and many others won Academy Awards for their film work, it seems that Ellen DeGeneres was the real winner of the Oscars. According to CNBC, 14.7 million tweets were sent between 8:30 p.m. and 12:30 a.m. Sunday night. Two million of these tweets came from a single tweet – Ellen's "selfie" tweet.  Less than 60 hours later her "selfie" tweet had been retweeted 3,138,973 times! This tweet surpassed the number of retweets any other celebrity, news source, and even President Obama have achieved on any past tweet. Talk about viral effect!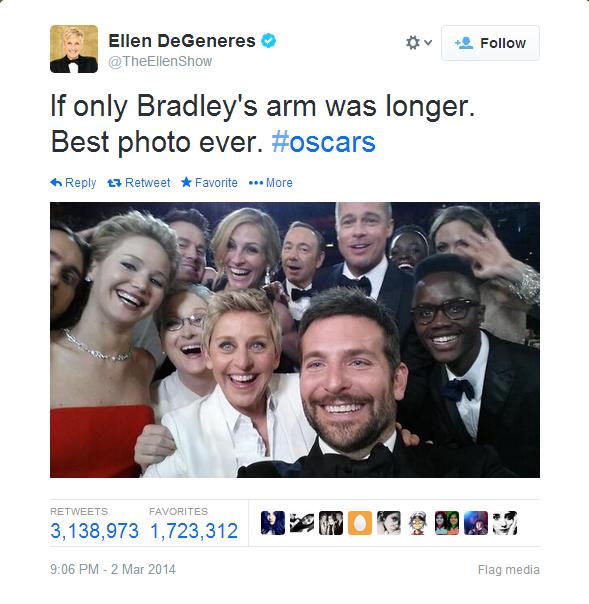 The key to getting retweets is to tweet interesting and relevant content. Ellen did just that. On a National stage, she set out to achieve the highest number of retweets and included well-liked celebrities including Jennifer Lawrence, Meryl Streep, Julia Roberts, Brad Pitt and Bradley Cooper in her "selfie" photo.  If Ellen's content could "break" Twitter, she definitely did something right.
Ellen's Twitter success shows the power of social media. While a business or non-celebrity may not be able to generate millions of retweets, the example proves interesting content can create a viral effect. If a company is active and engaging on Twitter, its account will attract followers who likely belong to the company's target audience. These followers can then retweet and expose their own followers to the content (who can also continue to retweet).