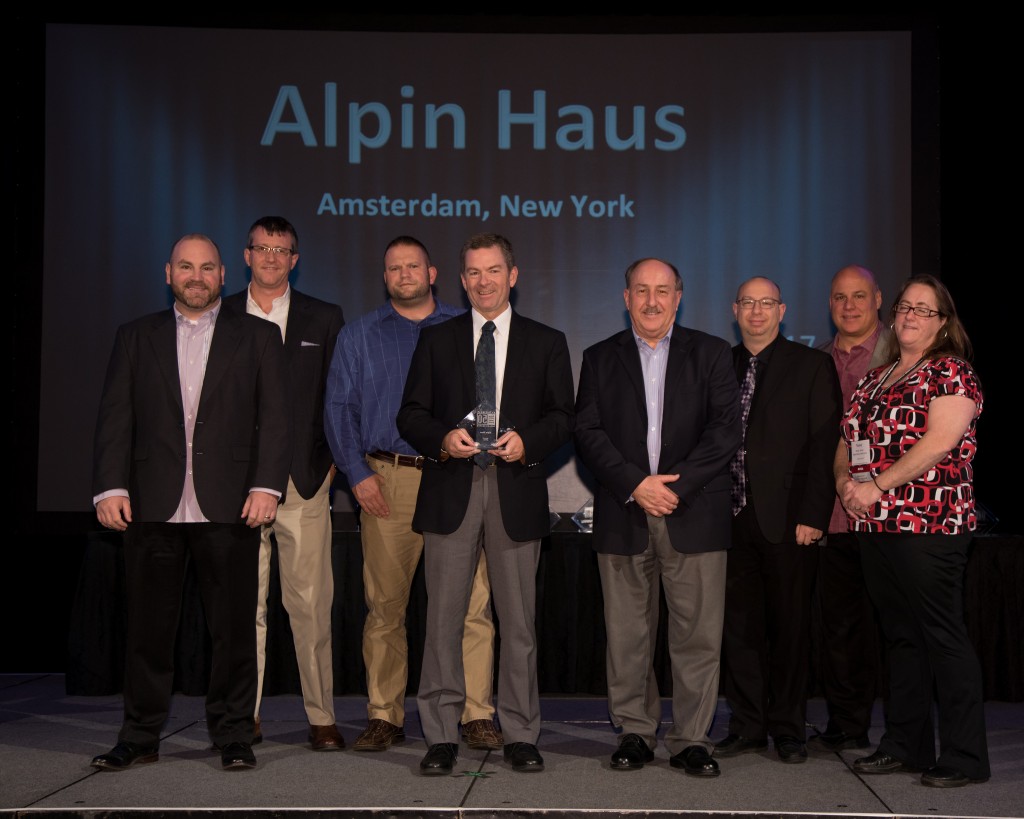 AMSTERDAM, NY, – Alpin Haus, the Northeast's largest, family-owned outdoor recreation retailers, has been named one of the "Top 50 RV Dealers in North America" by RVBusiness magazine.
Representatives from Alpin Haus accepted the designation at the 2017 RV Dealers Association International Convention/Expo at Bally's Las Vegas on November 8. Alpin Haus owns and operates RV stores in Amsterdam, Saratoga, and Port Jervis, NY.
"The Alpin Haus team is thrilled to be recognized as one of the RV industry's leading dealers by RVBusiness magazine," said Andy Heck, president of Alpin Haus. "The RV lifestyle gives people a unique opportunity to explore the great outdoors. Alpin Haus is honored to help Capital Region families create lasting memories while on the road in our state-of-the-art recreational vehicles."
To identify the list, RVBusiness magazine asked recreation vehicle manufacturers to nominate dealers across the United States and Canada who exemplify best practices and excellence in their field. Nominees were invited to fill out comprehensive applications describing business aspects, including customer service and satisfaction, employee training, financial planning, marketing and community involvement. An independent panel of veteran industry experts convened for judging the applications at the RV/MH Hall of Fame in Elkhart, Ind., the unofficial "RV Capital of the World," to select the RVB Top 50.
"As a whole, our applying dealers not only gave us more data this year, but they also went to great lengths to tell us their stories and let their personalities shine through," Sherman Goldenberg said, publisher of RVBusiness magazine and founder of the Top 50 program. "It was a tough job for the judges to narrow it down. Those who made the cut should be very proud of that achievement."
Alpin Haus offers a full line of recreational vehicles, parts, services and accessories at all three store locations: 1863 State Highway Route 5S in Amsterdam N.Y.; 30 Gordon Lane Gansevoort, N.Y.; and at 36 Route 6 in Port Jervis N.Y. For more information, visit www.alpinhaus.com.
About Alpin Haus
For more than 50 years in the Capital Region and Hudson Valley, Alpin Haus has grown into an outdoor recreation powerhouse with five store locations in Amsterdam, Saratoga, Clifton Park and Port Jervis, featuring a full-line of RVs, snowmobiles, skis, boats, pools, and spas. Alpin Haus is one of America's largest RV dealers and has received the Caldera Spas Best Showroom Design Award; Caldera Spa's Best New Dealer of the Year; Snow Sports Retailer of the Year; National Top Quality RV Dealer of the Year; Ski-Doo District Dealer of the Year; and has been selected multiple times as one of the Best Places to Work by Capital District Business Review. For more information, visit www.alpinhaus.com.