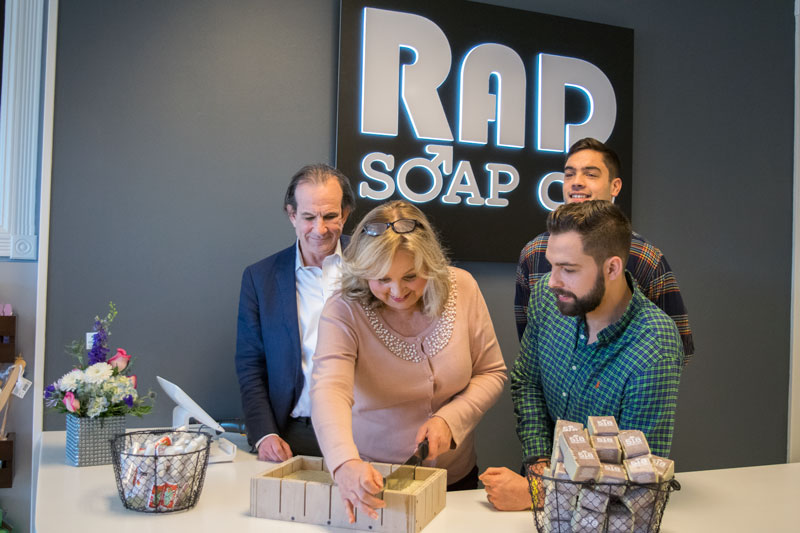 Stuyvesant Plaza welcomes locally-owned skin care company with inaugural soap cutting in advance of formal opening on November 22
Rad Soap Opening: RAD Soap Co. Owner Susan Kerber (center) is joined by Stuyvesant Plaza President Ed Swyer (left) along with her company co-owners Zachary (right back) and Maxwell Kerber (right front) to cut a 10 lb. bar of soap in celebration of the unveiling of the first RAD Soap Co. permanent retail storefront at Stuyvesant Plaza in Albany, NY on Friday, November 18. The 1,200 square foot store at Stuyvesant Plaza, which will officially open on Tuesday, November 22 and offers the brand's unique line of all-natural handmade soaps and skin products, marks the first step in a strategic growth campaign for the Menands, NY-based RAD Soap Co., which was founded in 2009 by Sue Kerber in her home kitchen. The family-run business plans to open 20 stores in the coming years, including locations in Brooklyn, New York City, Las Vegas and Los Angeles.
About Stuyvesant Plaza
From one-of-a-kind shops to the finest nationally known names in retail, Stuyvesant Plaza is home to more than 50 unique shops and restaurants in a spectacular setting. In 2009, Stuyvesant Plaza commemorated 50 years as the premiere lifestyle shopping center and professional office park in the Capital District. For more information about Stuyvesant Plaza, visit www.stuyvesantplaza.com.
About RAD Soap Co.
From its early stages as a small company beginning in a miniscule kitchen and selling at local farmers markets, RAD Soap Co. has brought a twist to the natural body care market. The company's highly advanced proprietary method for the manufacturing of natural body care products and utilization of obscure and unusual ingredients, such as hemp, mushrooms and home-made botanical plant cell extractions, have allowed the founders to develop and launch a fresh new line for the natural body care industry. The RAD Soap culture was born when Kerber dedicated long hours to finding a natural relief for her son's eczema. Today, the company remains firm on its initial values and beliefs and maintains a 100 percent natural, 100 percent vegetarian, 98 percent vegan, and 100 percent cruelty-free product line. RAD Soap Co. products are available at over 200 wholesale locations nationwide, including Whole Foods Markets, Mrs. Green's Natural Market, and Central Garden Distributors, as well as in select international markets, such as South Korea. For more information about RAD Soap Co., visit www.radsoap.com.