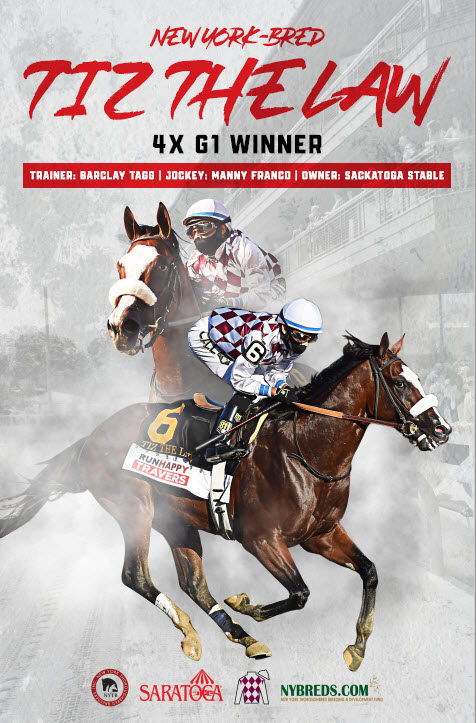 Special autograph signing and poster giveaway of New York-bred, 2020 Belmont Stakes and Runhappy Travers winner Tiz the Law
New York craft beverages and spirits to be highlighted
Canned food drive to benefit LifeWorks Community Action
SARATOGA SPRINGS, N.Y. – The New York Racing Association, Inc. (NYRA) will shine a spotlight on the robust breeding program in New York State during New York Showcase Day at Saratoga Race Course on Friday, August 27.
The afternoon will feature six stakes reserved exclusively for New York-breds headlined by the $250,000 Albany, a nine-furlong test for sophomores. Also featured are a trio of $200,000 stakes in the Fleet Indian for sophomore fillies; the Funny Cide, presented by Rood and Riddle Equine Hospital, for juvenile sprinters; and the Seeking the Ante for juvenile filly sprinters. Rounding out a special Empire State-bred slate are a pair of $150,000 turf events with the West Point Handicap presented by Trustco Bank for 3-year-olds and up and the Yaddo for fillies and mares 3-years-old and up.
"New York Showcase Day is the flagship event on the calendar for our state's breeders and owners," said New York Thoroughbred Breeders, Inc. Executive Director Najja Thompson. "We're proud to partner with NYRA to feature an all New York-bred card at the premier racing meet in the country with lucrative purses and six state-bred stakes totaling $1.15 million."
"New York Showcase Day is an event we look forward to each year as we highlight the strength and success of the New York thoroughbred breeding program," said NYRA Senior Director of Communications Pat McKenna. "We encourage fans to join us for an outstanding afternoon of racing, entertainment and offerings that underscore the diverse products and talent from the Empire State."
Designed to supplement the day-long celebration, fans will enjoy New York craft beer specials and complimentary samples from New York-based spirits producer Cooperstown Distillery.
Free grandstand admission tickets to select days during the final week of Saratoga will be available with a donation of canned food to benefit a Saratoga Springs non-profit organization.
Tiz the Law commemorative poster autograph session
Fans will have the opportunity to celebrate New York-bred Tiz the Law, last year's Belmont Stakes and Runhappy Travers winner, during a special autograph session with owner Jack Knowlton of Sackatoga Stables; trainer Barclay Tagg; and jockey Manny Franco.
The trio will offer autographed editions of a commemorative Tiz the Law poster at the Jockey Silks Room Porch from 11:30 a.m. to 12:30 p.m. with a recommended donation to the Backstretch Employee Service Team and the New York Race Track Chaplaincy. Tiz the Law hats and t-shirts will be available for an additional donation.
Tiz the Law posters are free throughout the day at NYRA Bets Squad kiosks and Guest Services locations, while supplies last.
Annual canned food drive to benefit LifeWorks Community Action
NYRA will welcome the Saratoga Springs-based non-profit organization LifeWorks Community Action to Saratoga Race Course to host its annual canned food drive.
Fans who donate at least three non-perishable items will receive one free Grandstand admission ticket for Wednesday, September 1 or Thursday, September 2.
The collection will take place at the Community Outreach Booth next to the Jockey Silks Rooms Porch from 11 a.m. to 5 p.m. Suggested donation items include pasta, peanut butter, cereal, rice, soup and canned vegetables.
Special performances from West Point Knight Caps Glee Club
The Knight Caps, the official glee club of the United States Military Academy at West Point, will begin the day with a special performance of the National Anthem.
The cadets will again perform for the crowd from the winner's circle following the $150,000 West Point Handicap, presented by Trustco Bank.
New York craft beer and spirits specials
Fans will enjoy a variety of drink specials highlighting New York craft beverages, including a commemorative Jockey Boot filled with a 20-ounce New York craft beer, for $10.
The New York craft portfolio at Saratoga Race Course features: Saranac Brewery Blueberry Blonde Ale, Druthers Brewing Company All-In IPA, Druthers Brewing Company Strawberry Dare, Adirondack Lake George Cider Project, Adirondack Saratoga Lager, Brooklyn Brewery Summer Ale, Ithaca Beer Company Flower Power, Mad Jack Brewing Company Pinhead Pilsner and Lake Placid Brewery UBU Ale.
The craft beer specials will be available at the Fourstardave Sports Bar and nearby Druthers Brewing Company Gazebo, as well as the Saranac Brewery portable bar on the second floor of the grandstand.
New York-based spirits producer Cooperstown Distillery will offer complimentary samples of its Fenimore Gin Cucumber Cooler from 1 p.m. to 5 p.m. at the Jim Dandy Bar, presented by Cooperstown Distillery. The Fenimore Gin Cucumber Cooler will be the featured drink of the afternoon available at all dining areas, including The Porch, Club Terrace and Turf Terrace.
New York Showcase Day takes place on the eve of the 152nd edition of the Runhappy Travers on Saturday, August 28. Gates on Runhappy Travers Day open at 7 a.m. with first post time of 11:35 a.m.
General admission tickets are $15 when purchased in advance. The walk-up price on Runhappy Travers Day is $20. Tickets may be purchased in-person at the NYRA Box Office by Gate A or online at NYRA.com/Travers (service fees apply online).
The 2021 summer meet at Saratoga Race Course runs through Labor Day, Monday, September 6. Racing is conducted five days a week, Wednesdays through Sundays, with the exception of the final week, when the meet concludes on Labor Day.
For more information about Saratoga Race Course, visit NYRA.com.