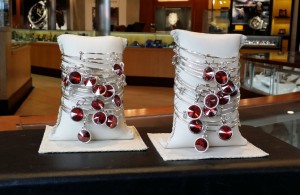 ALBANY, NY — Capital Region residents interested in supporting the American Diabetes Association's June 1 Saratoga Tour de Cure can purchase "Tour de Cure" bracelets for $15 from Northeastern Fine Jewelry's (NEFJ) locations in Albany and Schenectady.
All net proceeds from the sale of each bracelet will go towards the American Diabetes Association's $1.5 million fundraising goal for the Saratoga Tour de Cure, which attracted more than 2,400 riders in 2013 and is ranked first in the state and second out of 90 tours nationwide.
"We are so thankful for the efforts of sponsors like Northeastern Fine Jewelry as we continue to fight against diabetes and support the 26 million Americans suffering from this disease," said ADA Director of Albany and Central New York Amy Young, noting that individuals who share Northeastern Fine Jewelry's Facebook photo announcing the fundraiser will have the opportunity to win a bracelet. "We look forward to a tremendous 2014 event and hope to surpass last year's fundraising effort with the help of Northeastern Fine Jewelry and all of our riders, volunteers and community partners."
Northeastern Fine Jewelry, which is sponsoring the Saratoga Tour de Cure's Century Ride this year, contributed a corporate team of 40 last year and has set a 2014 fundraising target of $50,000. The company's flagship store is located at 1607 Union Street in Schenectady and its Albany location is at 1575 Western Ave.
"Northeastern Fine Jewelry is proud to support the American Diabetes Association by participating in this terrific event," said Northeastern Fine Jewelry Vice President Gregg Kelly, who will captain the company's corporate team and also serves on the event's executive committee. "Our team definitely experiences a sense of fulfillment; working together throughout the fundraising phase, riding as a group and eventually seeing everyone cross the finish line gives you a rush."
The Saratoga Tour de Cure is designed for everyone from the novice biker to the experienced cyclist and includes 10-, 25-, 50-, 62.5-, and 100-mile routes. The 2014 event will be held on June 1 at Saratoga Springs High School.  Register by visiting diabetes.org/saratogatour.
-30-
The American Diabetes Association (ADA) is the nation's leading nonprofit health organization whose mission is to prevent and cure diabetes and to improve the lives of all people affected by the disease. Founded in 1940, the Association serves the community by funding research to prevent, cure and manage diabetes, providing credible information about the disease, giving voice to those denied their rights because of diabetes, and delivering services to people with diabetes, their families and health care professionals. For more information, please call the American Diabetes Association at 1-800-DIABETES (1-800-342-2383) or visit www.diabetes.org.