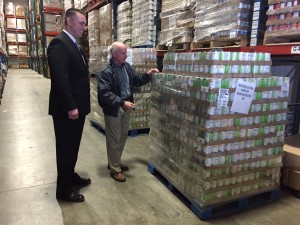 Donation is part of $240,000 raised to fight hunger in New York
LATHAM, N.Y. – Hannaford Supermarkets today donated approximately $10,000 in food to the Regional Food Bank of Northeastern New York and its branch to the south the Food Bank of the Hudson Valley as part of a hunger-relief campaign that produced more than $1 million in product and cash donations across five Northeast states, including $240,000 in New York.
Hannaford Helps Fight Hunger took place in December and included a you-buy-one, we-give-one component; Hannaford pledged to donate identical products when customers purchased specific shelf-stable items. The food donated Thursday included 191 cases of pasta, 189 cases of sauce, 273 cases of vegetables and 167 cases of cereal.
"Our customers showed their generosity once again through Hannaford Helps Fight Hunger," said Hannaford Supermarkets Community Relations Specialist Brian Fabre. "At Hannaford, we believe that all New Yorkers can and should have access to the nutritious food they need. We are proud to partner with our customers in helping feed many of our neighbors who are struggling financially."
The annual anti-hunger campaign also invited customers to purchase Helping Hands boxes of the food items that local pantries need most for $10, for donation to the local pantry, or contribute money at the register. Hannaford Helps Fight Hunger generated $1,025,500 in product and cash donations in Maine, New Hampshire, Vermont, Massachusetts and New York in 2104.
In addition to this annual campaign, Hannaford donated 9.7 million pounds of food to local pantries and the Food Bank last year. This total includes 2.2 million pounds of fresh fruit and vegetables; 629,000 pounds of meat and seafood; and 1.66 million pounds of bread, tortillas and other bakery items.
About Hannaford Supermarkets
Hannaford Supermarkets, based in Scarborough, Maine, operates 186 stores in the Northeast. Stores are located in Maine, New York, Massachusetts, New Hampshire, and Vermont. Hannaford employs more than 27,000 associates. Additional information can be found at www.hannaford.com.