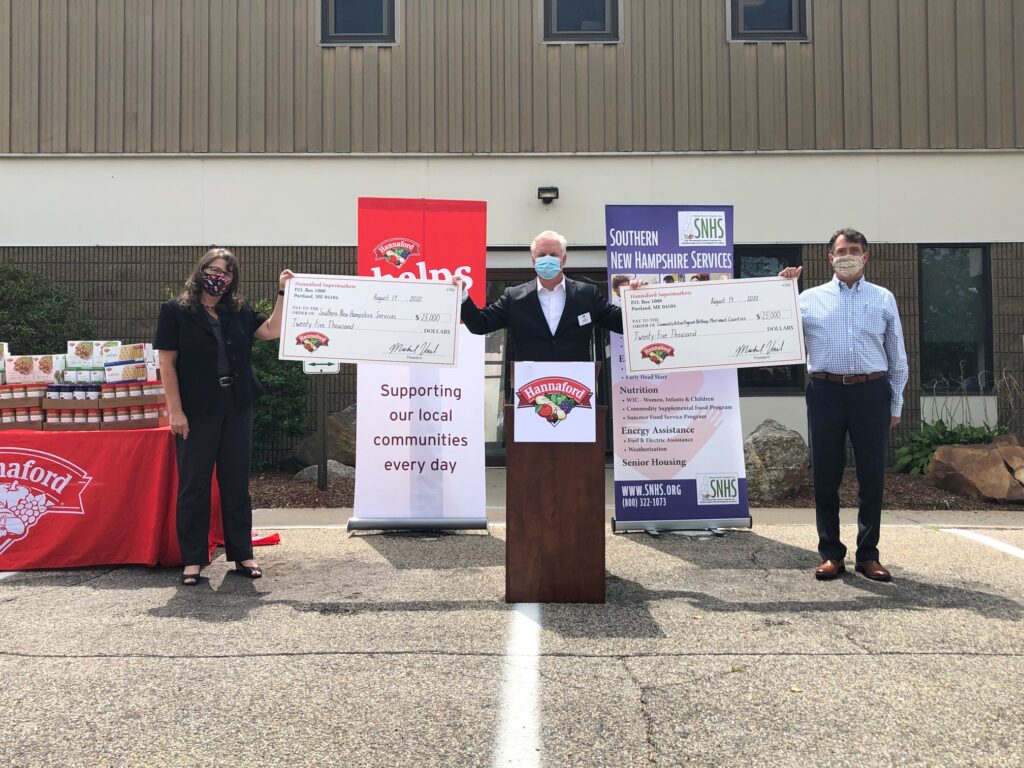 Donation one component of overall $250,000 commitment to help families across New England and New York meet basic needs during the pandemic
Manchester, NH – Hannaford Supermarkets today announced a $50,000 donation to support New Hampshire families as they seek to meet the most basic needs for themselves and their children during a period of economic hardship resulting from the coronavirus global health pandemic.
The donation includes $25,000 each to Southern New Hampshire Services and Community Action Program Belknap-Merrimack Counties, which will be used to increase access to healthcare, education and employment opportunities for families in southern and central New Hampshire. The New Hampshire donation is one part of an overall $250,000 commitment from Hannaford to help families in New England and New York adversely impacted by the pandemic.
According to a survey conducted by the Urban Institute in late March and early April, more than four in 10 parents reported that they or someone in their family lost work due to the coronavirus and that low-income parents were less likely to be able to work from home. The study also found that more than one-third of parents had problems paying for housing, utility, food or medical costs at the onset of the pandemic and reduced spending on food and savings, resulting in increased debt.
"The pandemic has resulted in a groundswell of new issues and struggles for families throughout our community, including health concerns, job loss, financial difficulties and decreased access to childcare and education for their children. Our lowest-income families have borne the brunt of this impact and need our help now more than ever," said Hannaford Supermarkets President Mike Vail. "At Hannaford, we consider the family unit the core of our community and are pleased to support parents and children throughout New England and New York with this donation. This effort truly exemplifies our commitment to being Greater than Groceries."
Southern New Hampshire Services and Community Action Program Belknap-Merrimack Counties will utilize the funding to support their "Whole Family Approach," which is designed to break the cycle of generational poverty by increasing access to health care, education and job opportunities for families. The approach provides coaching for families on issues related to workforce development, financial literacy, social health determinants and social capital to support long-term economic mobility. An estimated 1,000 families in New Hampshire will be served as a result of the donation from Hannaford.
"Hannaford Supermarkets has once again shown themselves to be a caring and generous member of our communities," said Southern New Hampshire Services Executive Director Donnalee Lozeau. "Now more than ever, the need to consider the whole family and make efforts to support them in all areas of need at one time is vital to prevent the family from sliding deeper into uncertainty. As Southern New Hampshire Services embarks on a Whole Family Approach, these funds will allow us to help families with not only food insecurities, but job security, safe and affordable child care, and housing. We are so grateful to be a partner with Hannaford in putting the "action" in Community Action."
"All of us at Community Action Program Belknap-Merrimack Counties are very grateful to Hannaford Supermarkets for their ongoing support to our agency and our local communities," said Community Action Program Belknap-Merrimack Counties Deputy Director Michael Tabory. "It is through partnerships like these that we are best able to have a positive impact for our most vulnerable residents and to support them in finding opportunity and overcoming economic adversity, which has been made even harder during these unpredictable times."
Southern New Hampshire Services provides social service programs and advocacy activities for the economically disadvantaged, elderly, youth and other specialized populations in the organization's service area. The agency operates more than 60 programs, including workforce development, childcare, early childhood education, housing and utility assistance and hunger relief. For more information or to donate, visit SNHS.org.
The Community Action Program Belknap-Merrimack Counties works with low-income families and the elderly to assist them in their efforts to become or remain both financially and socially independent in their communities. The agency sponsors and manages more than 70 programs and services designed to meet the needs of children, families, single parents, the elderly and the disabled. For more information or to donate, visit BM-CAP.org.
Since March 2020, Hannaford has donated $1.25 million to COVID-19 relief efforts, including hunger relief, homeless outreach organizations and local agriculture.
About Hannaford Supermarkets
Hannaford Supermarkets, based in Scarborough, Maine, operates 184 stores in the Northeast. Stores are located in Maine, New York, Massachusetts, New Hampshire, and Vermont. Hannaford employs more than 26,000 associates. Additional information can be found at Hannaford.com.