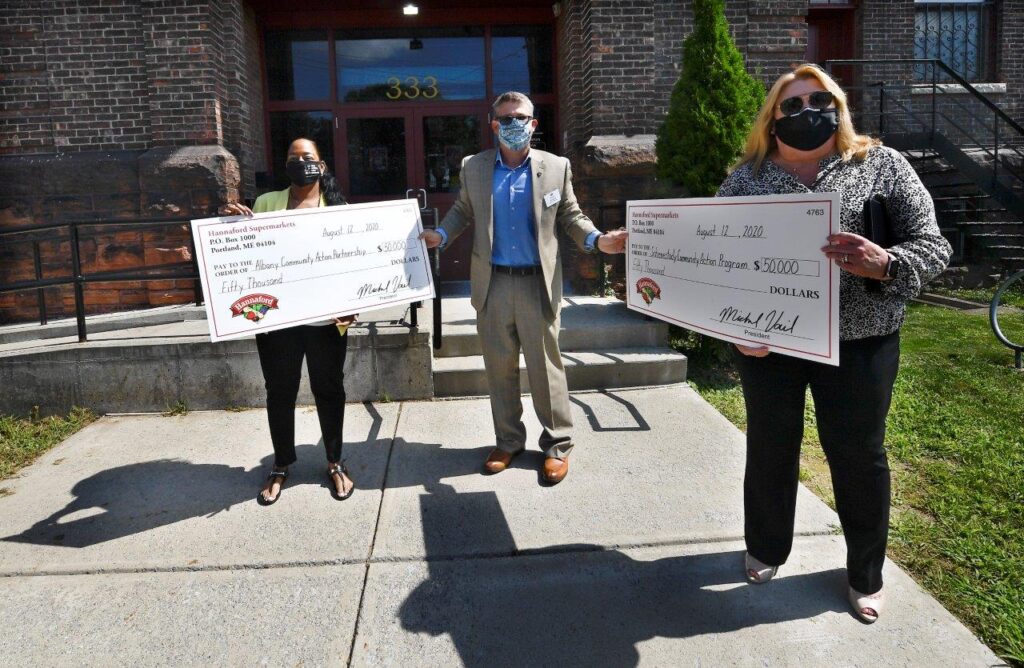 Donation one component of overall $250,000 commitment to help families across New York and New England meet basic needs during the pandemic
Albany, NY – Hannaford Supermarkets today announced a $100,000 donation to support Capital Region families as they seek to meet the most basic needs for themselves and their children during a period of economic hardship resulting from the coronavirus global health pandemic.
The donation includes $50,000 each to the Albany Community Action Partnership and the Schenectady Community Action Program, which will use the funding to increase access to food, housing and childcare for families within Albany and Schenectady Counties. The Capital Region donation is one part of an overall $250,000 commitment from Hannaford to help families in New York and New England adversely impacted by the pandemic.
According to a survey conducted by the Urban Institute in late March and early April, more than four in 10 parents reported that they or someone in their family lost work due to the coronavirus and that low-income parents were less likely to be able to work from home. The study also found that more than one-third of parents had problems paying for housing, utility, food or medical costs at the onset of the pandemic and reduced spending on food and savings, resulting in increased debt.
"The pandemic has resulted in a groundswell of new issues and struggles for families throughout our community, including health concerns, job loss, financial difficulties and decreased access to childcare and education for their children. Our lowest-income families have borne the brunt of this impact and need our help now more than ever," said Hannaford Supermarkets President Mike Vail. "At Hannaford, we consider the family unit the core of our community and are pleased to support parents and children throughout New York and New England with this donation. This effort truly exemplifies our commitment to being Greater than Groceries."
The Albany Community Action Partnership will use the $50,000 donation from Hannaford to support the purchase of a new emergency food distribution van, which will increase access to fresh and healthy food for families who are unable to leave their homes throughout Albany County. Anticipated to begin operations in mid-September, the van will deliver meals and produce directly to the homes of more than 50 families each month or approximately 300 families through December 2020.
Additionally, the van will be used to transport bags of nutritious staples to Head Start childcare educational sites in Watervliet and Green Island for distribution to families in need who may avoid using a traditional food pantry.
"Since the beginning of the COVID-19 pandemic, Albany Community Action Partnership's Cohoes Outreach Center and Food Pantry has remained at the forefront of the crisis by working to serve the area's most vulnerable families and seniors with deliveries of fresh food. Our outreach office in Cohoes offers vital local services and provides annually over 9,000 pantry meals to families in need," said Albany Community Action Partnership Executive Director Neenah Bland. "With Hannaford's generous donation, we can continue to provide food to low income families who face hardships now and can do even more in the future. Hannaford has been a great partner, helping us to create the "Power of Change" for Albany County's underserved families."
The $50,000 grant from Hannaford to the Schenectady Community Action Program will be used to provide approximately 120 low-income families, including 450 children, in Schenectady County with financial assistance for emergency, immediate and long-term needs, including rent and mortgage relief; childcare access; health and safety-related home repairs; utility assistance; and transportation.
The Schenectady Community Action Program reports a significant surge in need from individuals within its service area since the pandemic began in mid-March and is actively working to help low-income families achieve stability and maintain their well-being during this period.
"Schenectady Community Action Program is very excited to be partnering with Hannaford to support low-income families in the Schenectady community," said Debra Schimpf, Chief Executive Officer of Schenectady Community Action Program. "We have witnessed a significant increase in the demand for services since the COVID-19 health pandemic began and it has added an enormous burden to families in our local community that are already struggling to navigate the crises of homelessness and poverty. Thanks to the generosity of Hannaford, our Community Resource Network will be able to continue helping many families and children meet their basic needs and access the services they desperately need."
The Albany Community Action Partnership works in partnership with families and communities to empower people to achieve economic self-sufficiency and an improved quality of life. The agency maintains offices in Albany and Cohoes as well as multiple early childhood development classrooms throughout Albany County. For more information or to donate, visit AlbanyCAP.org.
The mission of the Schenectady Community Action Program is to partner with the community to develop and implement lasting solutions for people of all ages to move out of poverty. The agency offers stability for individuals and families through a continuum of support in three areas: early learning, employment services and housing and community services. For more information or to donate, visit SCAPNY.org.
Since March 2020, Hannaford has donated $1.25 million to COVID-19 relief efforts, including hunger relief, homeless outreach organizations and local agriculture.
About Hannaford Supermarkets
Hannaford Supermarkets, based in Scarborough, Maine, operates 184 stores in the Northeast. Stores are located in Maine, New York, Massachusetts, New Hampshire, and Vermont. Hannaford employs more than 26,000 associates. Additional information can be found at Hannaford.com.