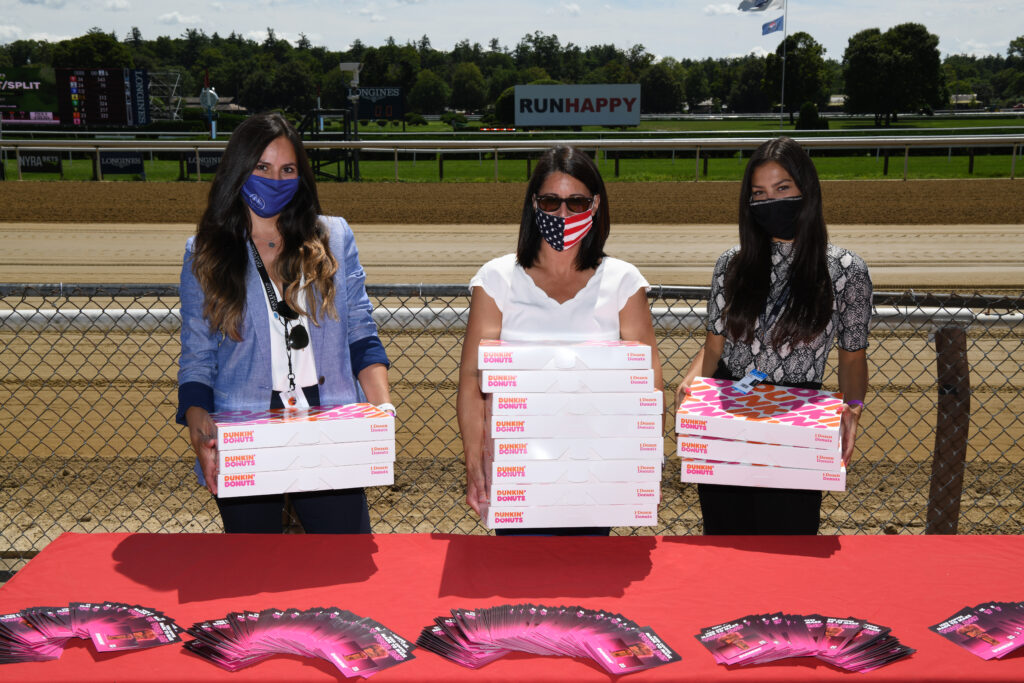 SARATOGA SPRINGS, NY – In celebration of the 151st running of the Runhappy Travers at Saratoga Race Course, the New York Racing Association, Inc. presented the Backstretch Employee Service Team (BEST) with more than 350 "Runhappy donuts" and 750 Dunkin' gift cards, courtesy of champion sprinter Runhappy and Dunkin'.
The donuts and gift cards were distributed to the backstretch community just days before the Grade 1, $1 million Runhappy Travers, which will be run at Saratoga Race Course on Saturday, August 8.
The donation follows last year's first-time effort, which was led by Runhappy owner James "Mattress Mack" McIngvale, to distribute a sweet treat to fans waiting in line in the early morning hours on Travers Day.
The Runhappy Travers will be carried live on FOX as part of a special 90-minute broadcast beginning at 5 p.m. Coverage from Saratoga Race Course will begin at 11:30 a.m. on FS2. FS1 and MSG+ will continue with live coverage beginning at 1 p.m. For the complete broadcast schedule, visit NYRA.com/SaratogaLive.
For more information about Saratoga Race Course, visit NYRA.com.