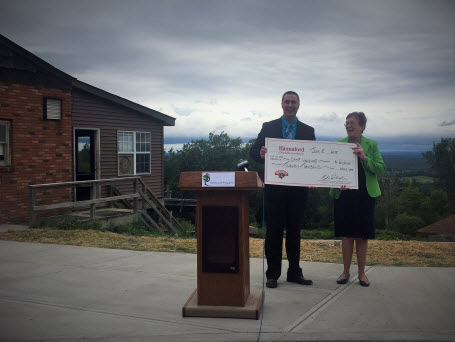 ALTAMONT, New York – Hannaford Supermarkets today announced a $20,000 donation to support capital improvements to Camp Wildwood that will enable Wildwood School's outdoor Summer Extension special education program (WSEP) to better meet the educational, therapeutic, health and safety needs of students with developmental disabilities from throughout the greater Capital Region.
The donation will provide funding to improve the infrastructure at Camp Wildwood for the approximately 100 students from across the region who attend the summer outdoor special education program. The improvements include repairs to the foundation of the lodge building at the site, a new bus drop-off area and parking lot, and the addition of sidewalks and curbing, among other upgrades, designed to create a safer, more efficient traffic flow for students and the staff that support them.
Representatives from Hannaford Supermarkets joined officials and students from Camp Wildwood to present the donation and tour the property, which includes classrooms in open pavilions, hiking trails, ball fields, a pond and a swimming pool located on Leesome Lane in Altamont.
"Hannaford's generous support has enabled Wildwood Programs to move forward with some desperately needed repairs and improvements to our facilities while solidifying Wildwood School's ability to provide quality summer education to students with very complex needs for years to come," said Wildwood Programs Executive Director/CEO Mary Ann Allen. "We are very grateful and are very fortunate to have Hannaford as a generous corporate partner."
"Camp Wildwood gives children with developmental disabilities the opportunity to further their educational development in a unique setting that promotes an active lifestyle," said Hannaford Supermarkets Community Relations Specialist Brian Fabre. "All of us at Hannaford are thrilled to support Wildwood School's efforts to provide its students with the opportunity to maintain and improve their academic, social, behavioral, therapeutic, wellness and daily living skills and goals in a fun, outdoor camp setting during the summer months."
Camp Wildwood, a summer extension program certified by the New York State Education Department, annually supports students ages 5 to 17 who attend Wildwood School or other special education programs throughout the greater Capital Region. The education program is designed to address extended school year goals and related services in an outdoor educational environment during the months of July and August.
Camp Wildwood and the Wildwood School are a component of the Schenectady-based non-profit organization Wildwood Programs, which works collaboratively with the community and families to empower and enable children and adults with neurological impairments, learning disabilities, autism and other developmental disabilities to lead independent, productive and fulfilling lives.
Hannaford Supermarkets has a long history of community support for children and families in the greater Capital Region, recently demonstrated by a $200,000 gift to Albany Medical Center for the renovation of the family kitchen in the Ronald McDonald House Charities Family Suite at Children's Hospital; a $50,000 donation to support the Living Resources Smart House, the first barrier-free home in New York State for individuals with intellectual and developmental disabilities; monetary donations to the Starlight Children's Foundation to assist the families of seriously ill children; and its annual Hannaford Helps Fight Hunger campaign, which has contributed more than $5.5 million in food, customer cash gifts and Hannaford cash donations to local food pantries and food banks since 2008.
For more information about Camp Wildwood and Wildwood Programs, visit www.wildwood.edu.