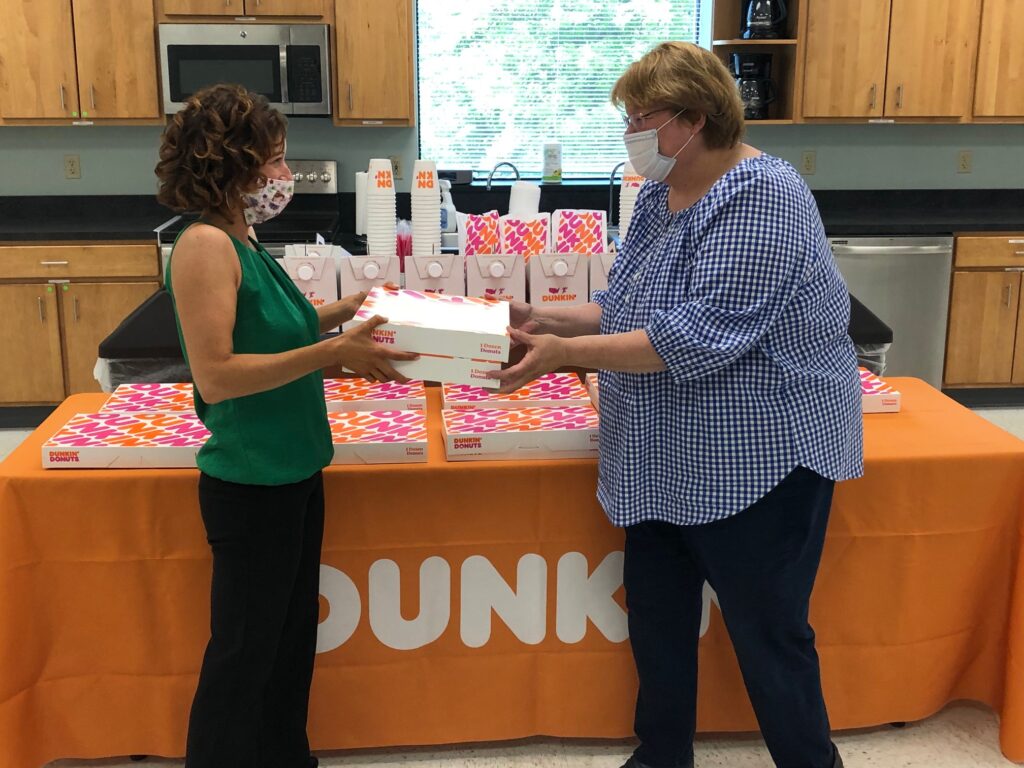 Donation result of charitable campaign in partnership with Capital Region guests
Capital Region guests will receive a free classic donut with any beverage purchase at participating Dunkin' restaurants on Friday, June 5
ALBANY, NY; June 4, 2020– Dunkin' in partnership with its valued guests, today celebrated the forthcoming National Donut Day by donating $35,000 to the Regional Food Bank of Northeastern New York.
The donation is the result of a "20 Days of Giving" charitable campaign spearheaded by Dunkin' franchisees at Westside Donuts Albany to support the Regional Food Bank of Northeastern New York. The charitable initiative offered Dunkin' guests the opportunity to give back to the local food bank by making a monetary donation at 24 Dunkin' locations in the surrounding community.
In addition to the $35,000 contribution, Dunkin' franchisees also delivered donuts and coffee to front-line staff and volunteers at the Regional Food Bank, who are working tirelessly to meet the increased demand to feed families impacted by COVID-19.
The special donation and delivery come just one day before National Donut Day, which Dunkin' will celebrate in the Capital Region with a free donut offer for its loyal guests. On Friday, June 5, Dunkin' will offer guests a free classic donut of their choice with the purchase of any beverage at participating restaurants while supplies last.
"We are thrilled to partner with our many generous guests to celebrate National Donut Day by contributing to the tremendous efforts of the Regional Food Bank of Northeastern New York," said Dunkin' Field Marketing Manager Eric Stensland. "The Food Bank is a vital community organization during these difficult times and we are proud to assist them with this recent community initiative. We are also happy to help keep them runnin' with our signature coffee and donuts. We would like to thank our guests who contributed during this campaign and encourage all Capital Region residents to join us tomorrow as we celebrate National Donut Day."
The Regional Food Bank has increased distribution by more than 55 percent in response to the COVID-19 pandemic since mid-Mach, which has included the expansion and creation of several different programs. This includes providing extra food to pantries, soup kitchens and other prepared meal programs to help meet increased demands. The Regional Food Bank has also expanded programs to feed more seniors and children facing food insecurities in the community.
"Dunkin' has been a great supporter of the Food Bank's hunger-relief efforts," said Regional Food Bank of Northeastern New York Associate Director Tracey Martin. "We are so grateful for this special treat for our staff and volunteers in celebration of National Donut Day, and for the generosity of the many Dunkin' patrons who supported this recent charitable campaign."
National Donut Day was originally established in 1938 by the Chicago Salvation Army to honor women who served donuts to soldiers during World War I. The holiday is traditionally celebrated on the first Friday of June. Dunkin' has been serving guests signature donuts for 70 years.
To learn more about Dunkin', visit www.DunkinDonuts.com or subscribe to the Dunkin' blog to receive notifications at https://news.dunkindonuts.com/blog.
###
About Dunkin'
Founded in 1950, Dunkin' is America's favorite all-day, everyday stop for coffee and baked goods. Dunkin' is a market leader in the hot regular/decaf/flavored coffee, iced regular/decaf/flavored coffee, donut, bagel and muffin categories. Dunkin' has earned a No. 1 ranking for customer loyalty in the coffee category by Brand Keys for 14 years running. The company has more than 13,100 restaurants in 41 countries worldwide. Based in Canton, Mass., Dunkin' is part of the Dunkin' Brands Group, Inc. (Nasdaq: DNKN) family of companies. For more information, visit www.DunkinDonuts.com. 
About the Regional Food Bank of Northeastern New York
The Regional Food Bank of Northeastern New York is a 501(c)(3) not-for-profit organization that collects donated food from the food industry and distributes it to nearly 1,000 charitable agencies feeding the hungry in 23 counties of northeastern New York.  The food provided by the Regional Food Bank helps to feed over 350,000 people each month. In 2019, the organization distributed over 40 million pounds of food to the hungry.  The Regional Food Bank is a member of Feeding America, the national network of food banks. The organization is supported by foundations, private contributions and fundraising events.  For information on services offered by the Regional Food Bank, call (518) 786-3691 or visit www.regionalfoodbank.net.