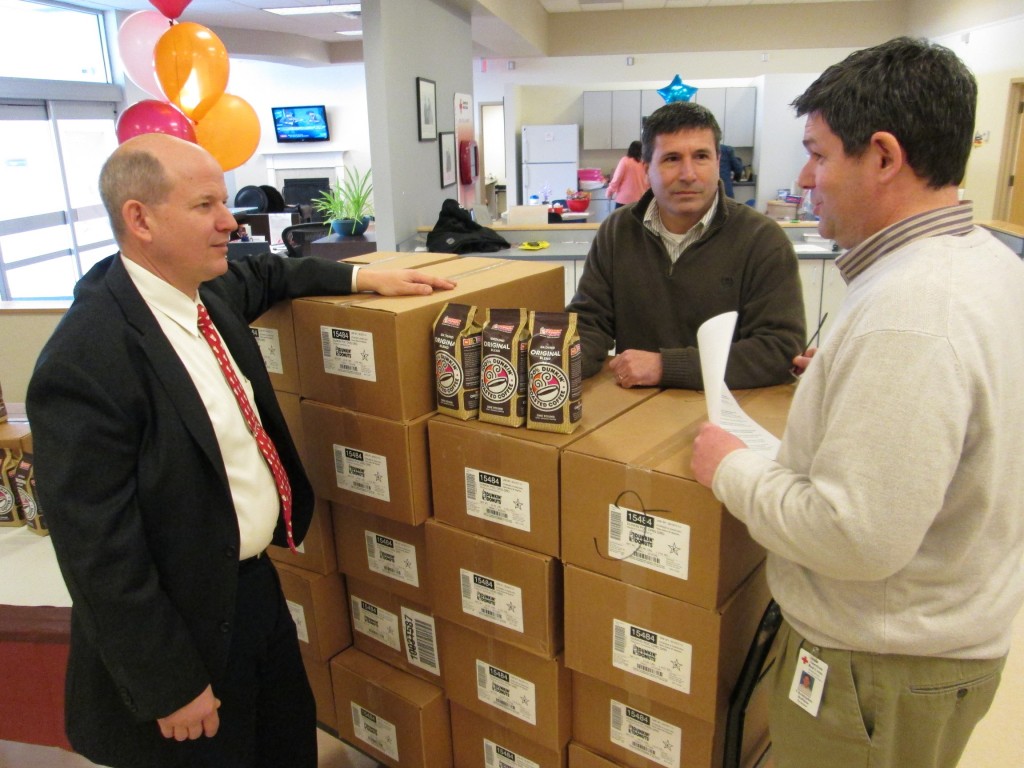 Presenting donors at blood donation centers to receive a free pound of Dunkin' Donuts coffee 
Campaign extends the annual "Give a Pint' Get a Pound" initiative
LIVERPOOL, N.Y. – In response to a challenging winter that has severely impacted blood donations across the Northeast, Dunkin' Donuts franchisees in Central New York today announced an extension of the annual "Give a Pint, Get a Pound" campaign by donating 500 pounds of coffee to the American Red Cross Blood Services – New York-Penn Region.
Starting Thursday, February 27, the first 500 presenting donors that come in to donate at the Red Cross Blood Donation Center located at 7359 Oswego Road in Liverpool will receive a free pound of Dunkin' Donuts coffee* as the Red Cross works to make up a deficit of several hundred blood units.
"Dunkin' Donuts has forged a tremendous partnership with the American Red Cross over the past seven years through the 'Give a Pint, Get a Pound' campaign," said Eric Stensland, field marketing manager for Dunkin' Donuts. "Our Central New York franchisees understand the vital role of the Red Cross and were honored to make a donation that will further incentivize blood donations during this critical time."
The announcement comes during a winter where Central New York has experienced several major snowstorms and where "polar vortex" is now a household phrase. Poor weather conditions also significantly impacted blood drives during National Blood Donor month in January, a pivotal time of year for the Red Cross.
"The Red Cross is grateful to Dunkin' Donuts for helping us to increase donations during this crucial time, so we can continue to provide blood to hospital patients where and when it is needed," said Kay E. Schwartz, CEO, Red Cross Blood Services – New York-Penn Region. "This generosity is reflective of Dunkin' Donuts' commitment to the communities they serve, and we are appreciative of Dunkin' Donuts and our volunteer blood donors for their ongoing dedication to our lifesaving mission."
For the past seven years, Dunkin' Donuts and the Red Cross have teamed up for the "Give a Pint, Get a Pound" campaign, which provides a coupon for a free pound of Dunkin' Donuts coffee to all presenting donors at Red Cross blood drives in Connecticut, Maine, Massachusetts, New Hampshire, New York and Vermont during the month of January. The campaign has achieved great success during the past six years as Dunkin' Donuts has provided more than 520,000 pounds of coffee to presenting donors, and if one donation may help save up to three lives, Dunkin Donuts has potentially helped more than 1.5 million patients. Blood is used to help accident victims, trauma patients, transplant recipients, and those receiving treatment for life-threatening illnesses.
Approximately every two seconds, someone in the United States needs blood.  It is the blood on the shelves today that helps save lives tomorrow. The only source of blood is a healthy, volunteer blood donor. All eligible donors are encouraged to make an appointment to donate blood and to reach out to family, friends, neighbors and co-workers to do the same. Walk-ins are always welcome, but donors are encouraged to schedule an appointment in advance by calling 1-800-RED CROSS (1-800-733-2767) or by visiting redcrossblood.org.
###
About the American Red Cross
The American Red Cross shelters, feeds and provides emotional support to victims of disasters; supplies about 40 percent of the nation's blood; teaches skills that save lives; provides international humanitarian aid; and supports military members and their families. The Red Cross is a not-for-profit organization that depends on volunteers and the generosity of the American public to perform its mission. For more information, please visit redcross.org or visit us on Twitter at @RedCrossBloodNY.
About Dunkin' Donuts
Founded in 1950, Dunkin' Donuts is America's favorite all-day, everyday stop for coffee and baked goods. Dunkin' Donuts is a market leader in the hot regular/decaf/flavored coffee, iced coffee, donut, bagel and muffin categories. Dunkin' Donuts has earned the No. 1 ranking for customer loyalty in the coffee category by Brand Keys for seven years running. The company has nearly 10,800 restaurants in 31 countries worldwide. For the full-year 2012, Dunkin' Donuts' restaurants had global franchisee-reported sales of approximately $6.9 billion. Based in Canton, Mass., Dunkin' Donuts is part of the Dunkin' Brands Group, Inc. (Nasdaq: DNKN) family of companies. For more information, visit www.DunkinDonuts.com.