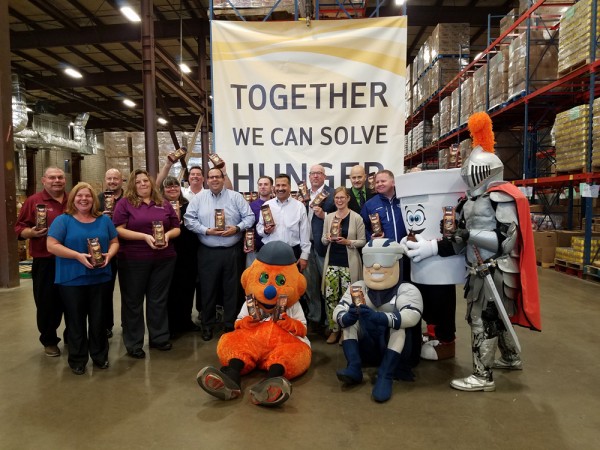 Donation is the culmination of season-long "Goals for Coffee" program with Syracuse Chiefs
Dunkin' Donuts launches similar initiative with local hockey and indoor soccer teams to support Food Bank during 2017-18 season
SYRACUSE, NY; – In celebration of National Coffee Day on September 29, Dunkin' Donuts today announced a donation of 273 pounds of coffee to Food Bank of Central New York. The donation stemmed from Dunkin' Donuts' "Goals for Coffee" program in partnership with the Syracuse Chiefs baseball team during which Dunkin' Donuts pledged to donate one pound of coffee for every run scored at home by the Chiefs this past season.
The donation was presented on the eve of National Coffee Day, which Dunkin' Donuts will celebrate with a special Buy One, Get One offer for its loyal guests. On Friday, September 29, guests across Central New York and nationwide who purchase a medium, large or extra large cup of the brand's signature hot coffee will receive an additional medium-sized hot coffee for free at participating Dunkin' Donuts restaurants.
"We are excited to celebrate National Coffee Day by contributing to the efforts of Food Bank of Central New York," said Dunkin' Donuts Field Marketing Manager Eric Stensland. "The Food Bank is a vital community organization, and we are proud to assist in hunger relief in partnership with our local sports teams."
Dunkin' Donuts today also announced an extension of the "Goals for Coffee" campaign with the Syracuse Crunch hockey team and Syracuse Silver Knights indoor soccer team. During the upcoming season, Dunkin' Donuts will donate one pound of coffee to Food Bank of Central New York for every goal scored by both teams.
"We appreciate the partnerships we have with Dunkin' Donuts, the Syracuse Chiefs, the Syracuse Crunch and the Syracuse Silver Knights, which will be used to serve people in need," said Food Bank of Central New York CEO Kathleen Stress. "Food Bank of Central New York will distribute the Dunkin' Donuts coffee to partner agencies in our 11-county service area."
Food Bank of Central New York, located in Syracuse, is a not-for-profit organization working to eliminate hunger through nutritious food distribution, education, and advocacy in cooperation with the community. It partners with 250 emergency food programs in Central New York and the 11 surrounding counties. Food Bank works with a diverse group of partner agencies including soup kitchens, food pantries, and emergency shelters, as well as child-care agencies and senior centers.
The Joy in Childhood Foundation, the charitable foundation supported by Dunkin' Donuts, has donated over $57,000 over the past five years to the Food Bank for Central New York to support children's hunger relief.
To learn more about Dunkin' Donuts, visit www.DunkinDonuts.com or follow us on Facebook (www.facebook.com/DunkinDonuts), Instagram (www.instagram.com/DunkinDonuts) and Twitter (www.twitter.com/DunkinCNY).
About Dunkin' Donuts
Founded in 1950, Dunkin' Donuts is America's favorite all-day, everyday stop for coffee and baked goods. Dunkin' Donuts is a market leader in the hot regular/decaf/flavored coffee, iced coffee, donut, bagel and muffin categories. Dunkin' Donuts has earned a No. 1 ranking for customer loyalty in the coffee category by Brand Keys for 11 years running. The company has more than 12,300 restaurants in 46 countries worldwide. Based in Canton, Mass., Dunkin' Donuts is part of the Dunkin' Brands Group, Inc. (Nasdaq: DNKN) family of companies. For more information, visit www.DunkinDonuts.com.