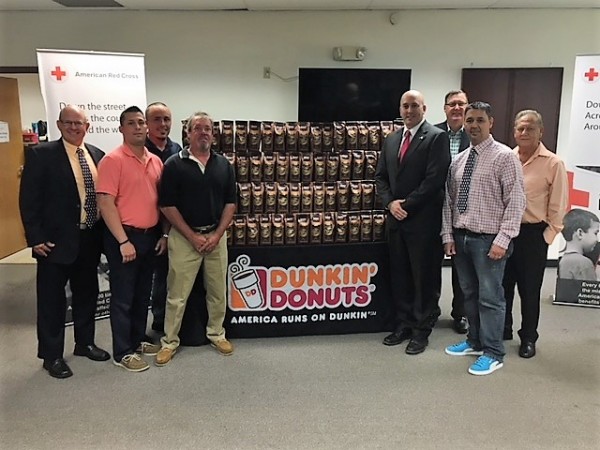 In advance of National Coffee Day, donation will help with Red Cross efforts for families and volunteers nationwide
ALBANY, N.Y. – Dunkin' Donuts and its Capital Region franchisees are marking the upcoming National Coffee Day holiday by donating 500 pounds of coffee to the American Red Cross of Northeastern New York to support the organization's critical mission, including volunteer and biomedical services, as well as disaster relief efforts. . In total, this week Dunkin' Donuts franchisees from across the country will donate 14 tons, which is 28,000 pounds, of coffee to the Red Cross.
"Dunkin' Donuts is proud to support the Red Cross mission and contribute to the major relief efforts currently underway by the American Red Cross nationwide," said Dunkin' Donuts Field Marketing Manager Eric Stensland. "Dunkin' Donuts is dedicated to helping all of our neighbors and guests in times of need, and we hope this donation provides support to the Red Cross and the people they serve."
Together, with longtime partner the Red Cross, Dunkin' Donuts has also contributed to the recent relief and recovery efforts in Texas and Florida. Dunkin' Donuts has pledged $150,000 in-kind product donations, delivering coffee and donuts to shelters, and has deployed sampling trucks to bring water and food to these communities. Additionally, many Dunkin' Donuts restaurants provided free coffee to first responders.
"We would like to thank Dunkin' Donuts for this generous donation of coffee," said Kevin Coffey, American Red Cross of Northeastern New York Regional Chief Development Officer. "The Red Cross relies on the generosity of the public to provide assistance. This donation of a warm cup of coffee will help provide comfort and help to power our volunteers through very long work days helping people in need across the country."
National Coffee Day is celebrated each year on September 29. In addition to the coffee donation to the American Red Cross, on Friday, September 29, Dunkin' Donuts is helping guests share their love of coffee and add some extra delight to someone's day with a free additional medium-sized coffee with the purchase of a medium, large or extra large cup of the brand's signature hot coffee at participating restaurants throughout the Capital Region.
To learn more about Dunkin' Donuts, visit www.DunkinDonuts.com, or subscribe to the Dunkin' Donuts blog to receive notifications at https://news.dunkindonuts.com/blog.
About Dunkin' Donuts
Founded in 1950, Dunkin' Donuts is America's favorite all-day, everyday stop for coffee and baked goods. Dunkin' Donuts is a market leader in the hot regular/decaf/flavored coffee, iced coffee, donut, bagel and muffin categories. Dunkin' Donuts has earned a No. 1 ranking for customer loyalty in the coffee category by Brand Keys for 11 years running. The company has more than 12,300 restaurants in 46 countries worldwide. Based in Canton, Mass., Dunkin' Donuts is part of the Dunkin' Brands Group, Inc. (Nasdaq: DNKN) family of companies. For more information, visit www.DunkinDonuts.com.