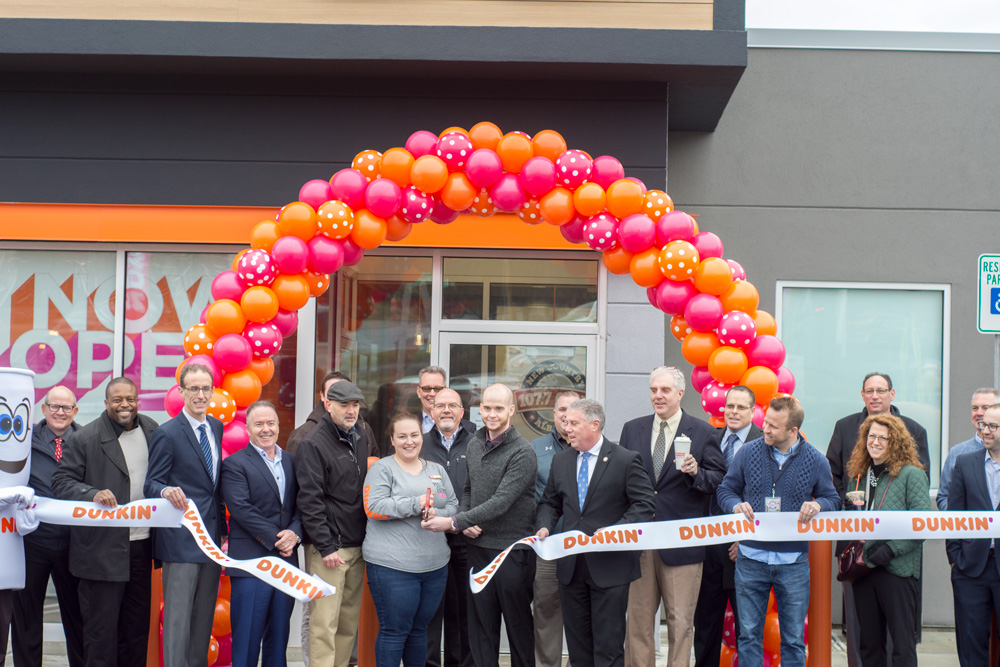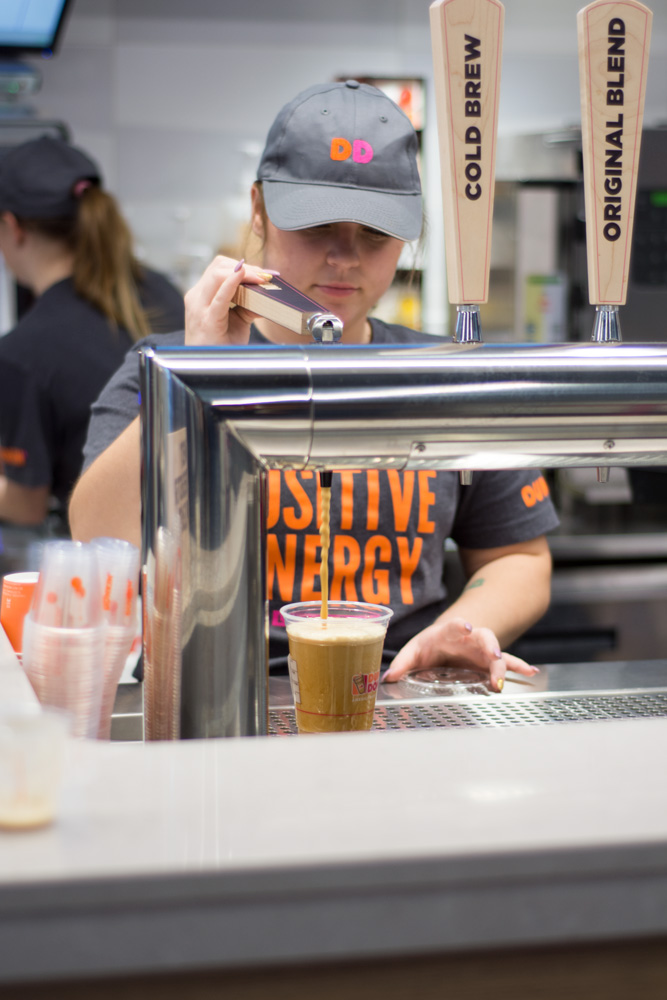 Next generation concept design features modern storefront and innovative technologies which are the first of its kind in the Capital Region
ALBANY, NY; – People who live and work in Albany can now experience Dunkin's restaurant of the future. Dunkin' today opened its new restaurant at 500 Northern Boulevard featuring the brand's next generation concept design, with a modern atmosphere and innovative technologies – including a drive-thru exclusively for mobile ordering — to make running on Dunkin' faster and more convenient than ever before.
The 2,100-square-foot Albany location is one of the Dunkin' restaurants that will test variations of the new design this year. Dunkin's final new store design is expected to be unveiled once testing is complete. The Albany location is also one of a select number of restaurants using new signage that refers to the brand simply as "Dunkin'."
"We are thrilled to be a part of Dunkin's next generation store initiative and can't wait to bring this innovative new restaurant to the Albany community," said Kevin Wright, Dunkin' franchisee. "The new menu offerings and approachable atmosphere will grab the attention of Dunkin' fans and help keep the Capital Region running on Dunkin' for years to come."
Exciting elements of the new Dunkin' restaurant experience include:
Modern Design: The openness, colors and materials used in the design help to create an approachable, positive and energetic environment.
Faster than Ever Drive-Thru Experience: An exclusive On-the-Go drive-thru lane lets DD Perks® members who order ahead via Dunkin's Mobile App bypass the ordering lane and head straight into the line for the pickup window. Dunkin' is the first national restaurant brand to offer this type of drive-thru innovation and convenience.
Premium Pours: Dunkin's signature cold beverages are now served through an innovative tap system serving eight consistently cold beverages such as coffees, iced teas, cold brew coffee and nitro infused cold brew coffee. Crew members will also use top-quality flavor-maximizing espresso machines to make hand-crafted drinks to order.
Dunkin' on Demand: With fully-integrated digital kiosks coming in the near future, guests will be able to choose to order with or without the help of a crew member. Dunkin' has also introduced an area dedicated to mobile pickups so that members of the DD Perks® Rewards program who order ahead via Dunkin's Mobile App can get in and out of the restaurant faster than ever before. Guests will be able to track the status of their orders placed for pickup inside the restaurant via a new digital order status board.
Increased Energy Efficiency: The new Dunkin' is a DD Green Achievement™ restaurant, which is designed to save 25 percent more energy compared to a standard Dunkin' restaurant.
Open from 5 a.m. to 10 p.m. Monday through Sunday, the new restaurant will employ approximately 25 crew members. The restaurant also features comfortable seating and provides a welcoming environment for guests to enjoy Dunkin's high-quality food and beverages in a friendly and fun atmosphere. Amenities include free Wi-Fi, USB charging ports, and outdoor seating.
The first 250 guests to visit the new restaurant during the event received one pound of Dunkin' coffee. Guests visiting the grand opening also participated in a raffle to win tickets to local area events and various Dunkin' merchandise.
The brand will also celebrate the grand opening of Dunkin's first next generation restaurant in the Berkshires, located at 18 First Street in Pittsfield, MA, on Thursday, January 10. The restaurant features innovations designed to bring Dunkin's on-the-go customers enhanced levels of convenience and choice.
To learn more about Dunkin', visit www.DunkinDonuts.com, or subscribe to the Dunkin' blog to receive notifications at https://news.dunkindonuts.com/blog.
####
About Dunkin'
Founded in 1950, Dunkin' is America's favorite all-day, everyday stop for coffee and baked goods. Dunkin' is a market leader in the hot regular/decaf/flavored coffee, iced regular/decaf/flavored coffee, donut, bagel and muffin categories. Dunkin' has earned a No. 1 ranking for customer loyalty in the coffee category by Brand Keys for 12 years running. The company has more than 12,700 restaurants in 43 countries worldwide. Based in Canton, Mass., Dunkin' is part of the Dunkin' Brands Group, Inc. (Nasdaq: DNKN) family of companies. For more information, visit www.DunkinDonuts.com.