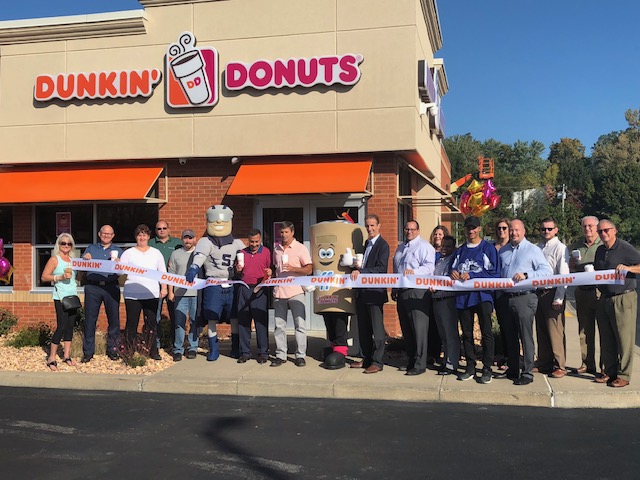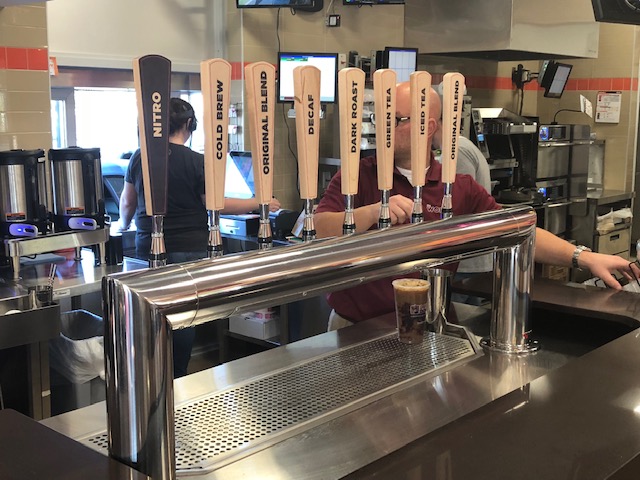 SYRACUSE, NY; – People who live and work in Syracuse can now experience the amenities featured in a Dunkin' store of the future. Dunkin' today opened its new restaurant at 7043 Manlius Center Road, with a modern atmosphere and innovative technologies to make running on Dunkin' faster and more convenient than ever before.
The new 2,500 square foot Syracuse location boasts several elements from Dunkin's new next generation concept design, which launched earlier this year in Quincy, MA, and will offer Central New York residents their first look at the brand's store of the future experience.
Exciting elements of the new Dunkin' restaurant experience include:
Premium Pours: Dunkin's signature cold beverages are now served through an innovative tap system serving eight consistently cold beverages such as coffees, iced teas, cold brew coffee and nitro infused cold brew coffee. Crew members will also use top-quality flavor-maximizing espresso machines to make hand-crafted drinks to order.
Mobile Order Pick-up Area and Order Status Board: Dunkin' has introduced an area dedicated to mobile pickups, so that members of the DD Perks® Rewards program who order ahead via Dunkin's Mobile App can get in and out of the restaurant faster than ever before. Guests will be able to track the status of their orders placed for pickup inside the restaurant via a new digital order status board.
New Uniforms Designed by Life is Good®: Dunkin' has introduced new uniforms and headwear designed in partnership with lifestyle brand Life is Good®. Messaging on the new crew t-shirts, such as "Fueled by Positive Energy," and "Drink Coffee. Be Awesome." serve as a form of self-expression for crew members, reflecting the positive atmosphere of the new Dunkin' store and the optimism and energy for which both the Life is Good and Dunkin' brands are known. In addition, Dunkin' and Life is Good share a commitment to spreading positivity and helping kids in need through their respective Foundations – the Joy in Childhood Foundation® and the Kids Foundation.
"We are thrilled to be a part of Dunkin's next generation initiative and we are excited to bring this innovative new design to the Central New York community," said Tom Santurri, Dunkin' Donuts franchisee. "The new offerings and approachable atmosphere will grab the attention of Dunkin' fans and help keep Syracuse running on Dunkin' for years to come."
Open from 5 a.m.-10 p.m. Monday through Sunday, the new restaurant will employ approximately 25 crew members. The restaurant also features comfortable seating and provides a welcoming environment for guests to enjoy Dunkin's high-quality food and beverages in a friendly and fun atmosphere. Amenities include free Wi-Fi, USB charging ports, along with sustainable features and practices including energy-efficient LED light fixtures. The new location also features a drive-thru for guests.
The first 200 guests to visit the new restaurant during the event received one pound of Dunkin' coffee.
To learn more about Dunkin' Donuts, visit www.DunkinDonuts.com, or subscribe to the Dunkin's blog to receive notifications at https://news.dunkindonuts.com/blog.
####
About Dunkin'
Founded in 1950, Dunkin' is America's favorite all-day, everyday stop for coffee and baked goods. Dunkin' Donuts is a market leader in the hot regular/decaf/flavored coffee, iced regular/decaf/flavored coffee, donut, bagel and muffin categories. Dunkin' has earned a No. 1 ranking for customer loyalty in the coffee category by Brand Keys for 12 years running. The company has more than 12,600 restaurants in 46 countries worldwide. Based in Canton, Mass., Dunkin' is part of the Dunkin' Brands Group, Inc. (Nasdaq: DNKN) family of companies. For more information, visit www.DunkinDonuts.com.