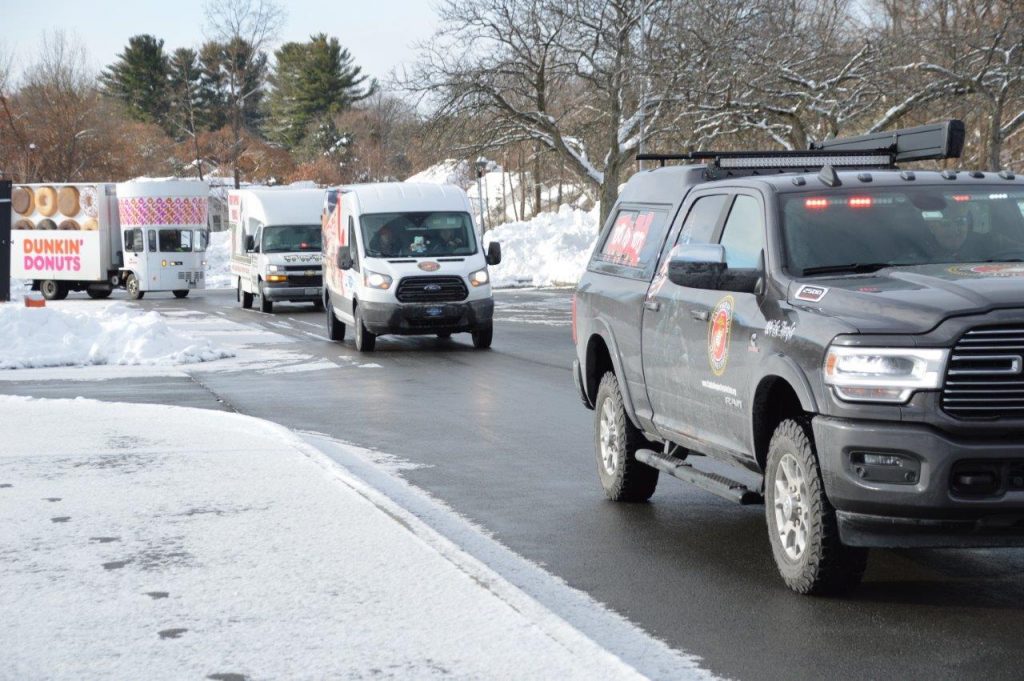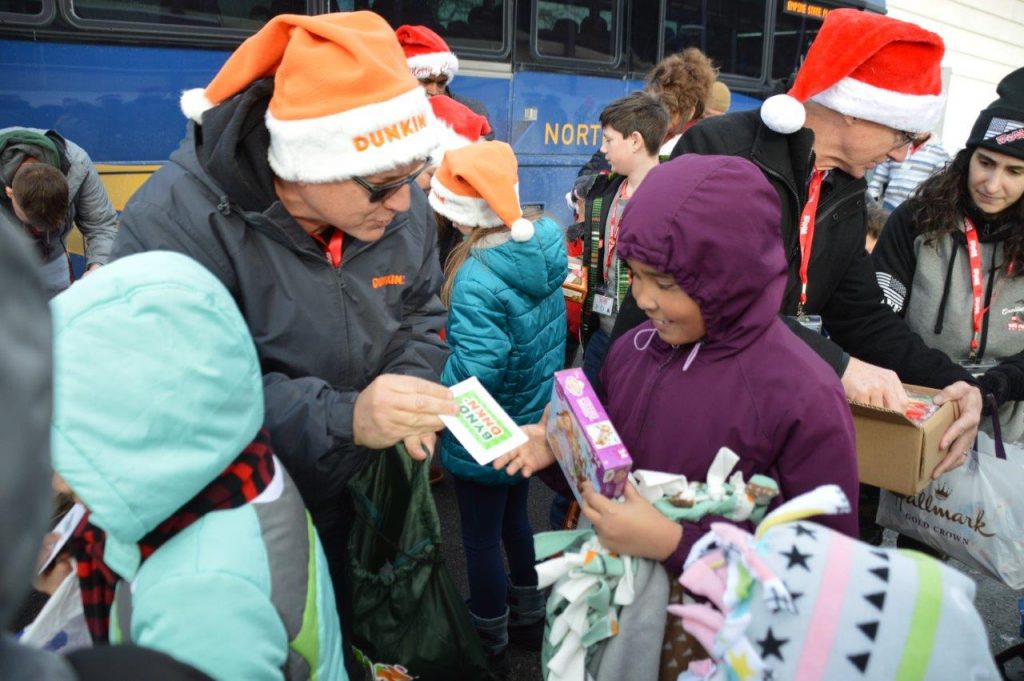 Capital Region Toys for Tots holiday convoy runs on donation from Dunkin' to deliver toys and coats to children in Albany, Cobleskill, Oneonta, Bainbridge and Binghamton
ALBANY, NEW YORK – The Convoy of Hope, powered by Dunkin', today hit the road to deliver holiday cheer to children and families across New York. The holiday convoy was made possible, in part, by a $30,000 contribution from Dunkin' to Capital Region Toys for Tots.
The convoy, comprised of numerous tractor trailers carrying thousands of toys, kicked off its journey by making a special delivery to children in Albany at the University at Albany campus, marking the first time that the Toys for Tots program has made a stop in the state capital. The holiday convoy also included stops in Cobleskill, Oneonta, Bainbridge and Binghamton.
Dunkin' franchisees and SEFCU employees joined U.S. Marine Corps Reserve volunteers as they crossed the state to deliver thousands of toys and winter coats to children and local non-profit organizations.
"Dunkin' is honored to support the Marines as they bring joy to children and families through this selfless holiday tradition," said Eric Stensland, integrated marketing manager for Dunkin'. "We are proud to continue our support and to be a part of this extraordinary effort that has such a vital impact on families in our community."
Since beginning its support of the holiday toy collection drive in 2009, Dunkin' has donated $320,000 to Capital Region Toys for Tots. Dunkin' also warmed up the volunteers and families at each stop with complimentary hot chocolate and baked goods.
"We appreciate the continued support and dedication from Dunkin' and its franchisees, who have helped to keep our annual holiday delivery running for more than a decade," said Marine Gunnery Sgt. (Ret) Albert Roman, local coordinator of the Capital Region Toys for Tots campaign. "The generosity from Dunkin' and numerous other local companies including SEFCU is a true example of what it means to give back during the holiday season."
SEFCU is one of the premiere sponsors of the Capital Region Toys for Tots program and donated more than $16,000 this year, which was used to purchase more than 1,000 winter coats, hats and gloves that were distributed along with new toys during the holiday convoy. SEFCU started the tradition back in 2014 to ensure that each child feels the warmth of the holiday season all winter long.
The convoy was led by a police escort from local law enforcement officials in each town along its journey, including the Albany County Sheriff's Office and State University of New York police departments. The convoy made stops at State University of New York campuses in Albany, Cobleskill, Oneonta and Binghamton as well as in Bainbridge.
The model was designed to replicate the successful holiday convoy which has made its way through the North Country and Adirondacks the past two years. It replaces the Toys for Tots train with numerous tractor trailers carrying thousands of toys.
The U.S. Marines have worked with more than 200 community agencies to distribute toys this holiday season to as many as 200,000 children.
To learn more about Dunkin', visit www.DunkinDonuts.com or subscribe to the Dunkin' blog to receive notifications at https://news.dunkindonuts.com/blog.
###
About Dunkin'
Founded in 1950, Dunkin' is America's favorite all-day, everyday stop for coffee and baked goods. Dunkin' is a market leader in the hot regular/decaf/flavored coffee, iced regular/decaf/flavored coffee, donut, bagel and muffin categories. Dunkin' has earned a No. 1 ranking for customer loyalty in the coffee category by Brand Keys for 13 years running. The company has more than 12,900 restaurants in 42 countries worldwide. Based in Canton, Mass., Dunkin' is part of the Dunkin' Brands Group, Inc. (Nasdaq: DNKN) family of companies. For more information, visit www.DunkinDonuts.com.
About SEFCU
Established in 1934, today SEFCU is among the 50 largest credit unions in the U.S. with more than $4 billion in assets, more than 350,000 members, and more than 50 branches in the Capital Region, Binghamton, Syracuse, and Buffalo. In addition to full-service retail and commercial banking products and services, SEFCU is committed to supporting the community through the donation of time and talent of its staff and members, as well as monetary contributions to change lives throughout the communities it serves. Find us on Facebook® and follow us on Twitter®.