Launching a successful social media giveaway can be tricky if you're not an avid Twitter user and aren't sure how to engage your audience. However, if brands combine a great incentive with a plan, giveaways can be very successful at sparking engagement, building a follower base, and developing brand loyalty.
The first step to planning a successful giveaway is to secure a desirable prize – even better if the prize is unavailable outside of winning the contest. Sure, winning a $5 gift card is fun, but an item so easily obtainable isn't very effective in terms of exciting a large audience and imploring it to participate.
The second step is to create the rules for entry. For our latest Twitter giveaway, we designed the "Follow Dunkin' to the Front Row of Countryfest 2014" contest. Each week, for six weeks, one winner is selected to win two front row passes to WGNA's Countryfest – an annual country music concert which takes place at Schaghticoke Fairgrounds. So, the only way to watch Countryfest from the best location on the fairgrounds is to win though @DunkinNYCAP's giveaway.
To keep it fresh, we planned three options to enter, which are each used twice during the six weeks.

One of the best aspects of social media is the viral effect. An important social media goal for all brands is to have its content shared, retweeted and re-pinned so that more and more people are exposed to the content. Every time a tweet is retweeted, the followers of the person who retweeted a brand's tweet will see the brand's content on their timeline.
In this case, every time our tweet was retweeted to enter the contest, the followers of the participants had the chance to learn about our giveaway and participate as well.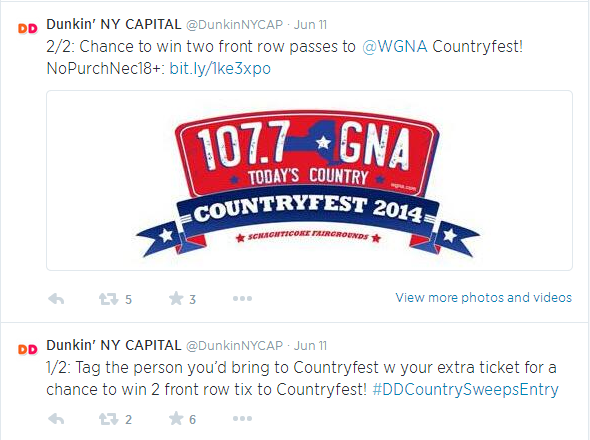 It's important for brands to create content that fosters engagement with the brand. By asking followers to tag others, more people are brought into the conversation.
In the example above, the person who was tagged will likely enter our giveaway as well, stating that they would bring the same person who tagged them. So, more users interested in country music were reached by using this tactic.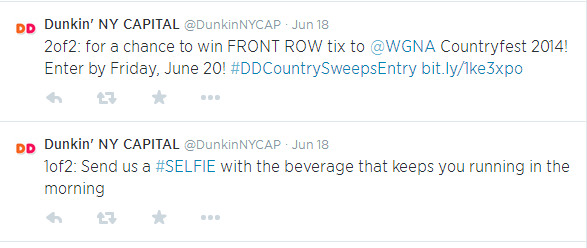 It's no secret that selfies are the latest craze. A few months ago, Oxford Dictionary added the word "selfie" to the dictionary and announced it as the word of the year! Since social media users enjoy taking selfies, why not collect some photos of your customers enjoying your product?
We received some great Dunkin' selfies from DD fans during this entry period.
Lastly, if you haven't entered our Follow Dunkin' to the Front Row of Countryfest ticket giveaway yet, there's still time! The final entry period ends on July 9!