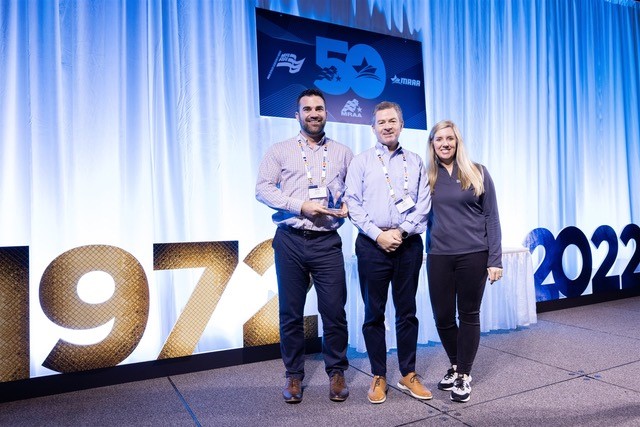 Local dealership received national designation from Marine Retailers Association of the Americas
AMSTERDAM, N.Y. – The Marine Retailers Association of the Americas (MRAA) has named Alpin Haus in Amsterdam, N.Y., among this year's marine industry Great Dealerships to Work For. The dealership was honored on Dec. 7, 2022, at Dealer Week, the association's annual conference and expo in Austin, Texas.
Alpin Haus was part of a record 27 dealership locations across North America that qualified for recognition by earning an overall score of 90% or better on the Marine Industry Certified Dealership Program's annual Employee Satisfaction Survey. Administered anonymously through the MRAA, the survey asks employees of Marine Industry Certified Dealerships to answer 32 ranking questions about overall satisfaction regarding their unique dealership's customer relations, employee satisfaction, leadership, management and reputation.
After their employees complete the survey and the dealership receives its 13-page survey report, the whole team meets and discusses what the dealership is doing well and what they could be doing better for their employee culture.
"The staff at Alpin Haus reported that employee satisfaction is high among their respective departments," said Liz Keener, MRAA Certification Manager. "The dealership shares its values with its employees, and the team relies on the guidance of those values to deliver an exceptional customer experience."
"It's an honor to be named one of the MRAA's Great Dealerships to Work For," said Alpin Haus President Andy Heck. "Alpin Haus was founded by my father in 1964 and we're proud to carry on his vision as a family-owned business. We believe in treating our employees like family. We owe our nearly 60 years of continued success to our team members' dedication, support and expertise. We will keep doing our best for the people that give their all to Alpin Haus."
Alpin Haus received the award and recognition on stage at the awards luncheon at Dealer Week.
About the Marine Retailers Association of the Americas
At the Marine Retailers Association of the Americas, we believe that for the marine industry to thrive, the retail organizations that interact with the boaters in their community must thrive. With that in mind, MRAA works to create a strong and healthy boating industry by uniting those retailers, providing them with opportunities for improvement and growth, and representing them with a powerful voice. For more information, visit MRAA.com or contact us at (763) 315-8043.
About Alpin Haus
For nearly 60 years, Alpin Haus has served as the one of the Northeast's largest outdoor recreation retailers. With six store locations in the Capital Region, Hudson Valley and Northern New Jersey, Alpin Haus features a full-line of RVs, snowmobiles, skis, boats, pools, and spas. Alpin Haus is one of America's largest RV dealers and has received the Snow Sports Retailer of the Year; National Top Quality RV Dealer of the Year; Ski-Doo District Dealer of the Year; and has been selected multiple times as one of the Best Places to Work by Capital District Business Review. For more information, visit www.alpinhaus.com or call (518) 954-2229.