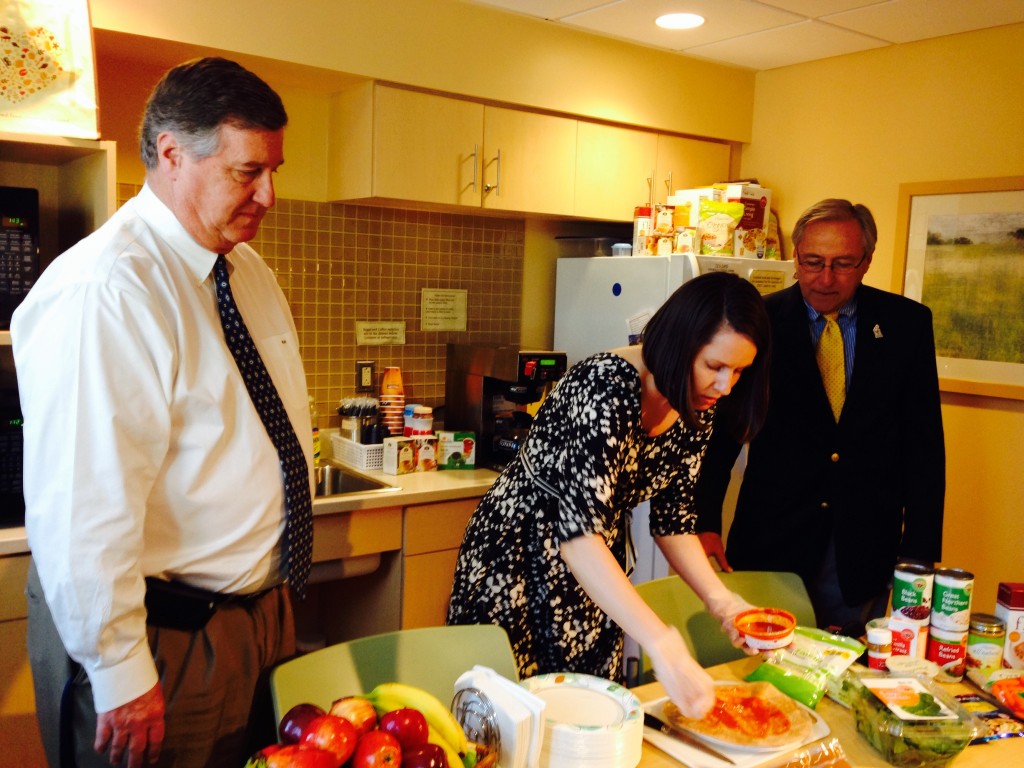 New Kitchen Made Possible With $200,000 Gift from Hannaford Supermarkets
ALBANY, N.Y. – Albany Medical Center and Hannaford Supermarkets today unveiled a new kitchen within the Ronald McDonald House Charities Family Suite at the Children's Hospital. The kitchen was made possible by a $200,000 gift commitment from the Hannaford Charitable Foundation, and will serve families with infants in the Patient Pavilion's new neonatal intensive care unit (NICU).
Officials from Albany Med and Hannaford Supermarkets gathered to showcase the kitchen, which is dedicated in honor of the Hannaford Charitable Foundation and is designed to provide space for families to share a meal and time together while not having to leave the NICU floor.
"When parents have a newborn in intensive care, they want to stay as close to their child as possible," said Michael Horgan, M.D., division head of neonatology at the Children's Hospital at Albany Med. "The family kitchen, supported by Hannaford, helps provide a nearby, comfortable place for families to gather, which makes their stay a little bit easier."
Albany Med and Hannaford Supermarkets are also partnering to provide a new nutrition program to ensure families utilizing the kitchen have access to simple, healthy recipes during their stay. Hannaford registered dieticians created seven easy, quick and nutritious recipes for breakfast, lunch and dinner, which will be permanently displayed in the kitchen for families to utilize.
Hannaford will also donate $1,000 worth of store gift cards to stock the kitchen with products for the recipes, all of which require minimal ingredients and preparation and focus on helping families maintain a balanced diet during times of stress. The featured dishes include pumpkin raisin oatmeal, whole wheat pizza roll-ups, and Asian salmon.
"The Hannaford Charitable Foundation is honored to contribute to the new Patient Pavilion which will enable Albany Medical Center to continue to deliver outstanding quality health care to the general patient population and to the newest and youngest members of our community at the Children's Hospital. We hope our support will provide comfort and relief for the families whose children are receiving treatment at the NICU," said Hannaford Supermarkets Community Relations Specialist Molly Tarleton. "We are dedicated to supporting the health and wellness of our community at all levels. This new nutrition program will provide families with a sense of home and help them maintain their strength and focus during a stressful time."
In addition to the family kitchen, the family suite includes a lounge, laundry facilities and three family transition rooms for overnight stays, all designed to bring the comforts of home to parents and siblings of babies being cared for in the NICU.
Hannaford Supermarkets, based in Scarborough, Maine, operates 184 stores in the Northeast. Stores are located in Maine, New York, Massachusetts, New Hampshire, and Vermont. All Hannaford stores feature Guiding Stars, America's first storewide nutrition navigation system and most stores have full-service pharmacies. Hannaford employs more than 26,000 associates. Additional information can be found at www.hannaford.com.
Albany Medical Center, northeastern New York's only academic health sciences center, is one of the largest private employers in the Capital Region. It incorporates the 734-bed Albany Medical Center Hospital, which offers the widest range of medical and surgical services in the region, and the Albany Medical College, which trains the next generation of doctors, scientists and other healthcare professionals, and also includes a biomedical research enterprise and the region's largest physicians practice with more than 400 doctors. Albany Medical Center works with dozens of community partners to improve the region's health and quality of life. For more information: www.amc.edu or www.facebook.com/albanymedicalcenter.