Championship parade concludes with formal ceremony at City Hall 
Schenectady, NY  – The City of Schenectady, Schenectady County, The Chamber of Schenectady County, local community leaders and fans gathered on Thursday in the Electric City for a parade and formal ceremony in honor and celebration of the historic 2014 NCAA Division I Men's Ice Hockey Champions from Union College.
Several thousand fans turned out to cheer on the Dutchmen and members of the school community as they paraded from the Union College campus through the heart of Schenectady.
The parade concluded at City Hall with a celebratory ceremony, during which Union head coach Rick Bennett and captain Mat Bodie accepted a Key to the City on behalf of the team from Schenectady Mayor Gary R. McCarthy. Additionally, to commemorate the historic victory, longtime local business Northeastern Fine Jewelry awarded Union College President Stephen C. Ainlay, Athletic Director Jim McLaughlin and Bennett with ceremonial championship hockey pucks. Each sterling silver puck is painted in garnet, emblazoned with 2.5 carats of diamonds shaped in the form of the letter "U", and features the engraving, "2014 NCAA Division I Men's Ice Hockey Champions".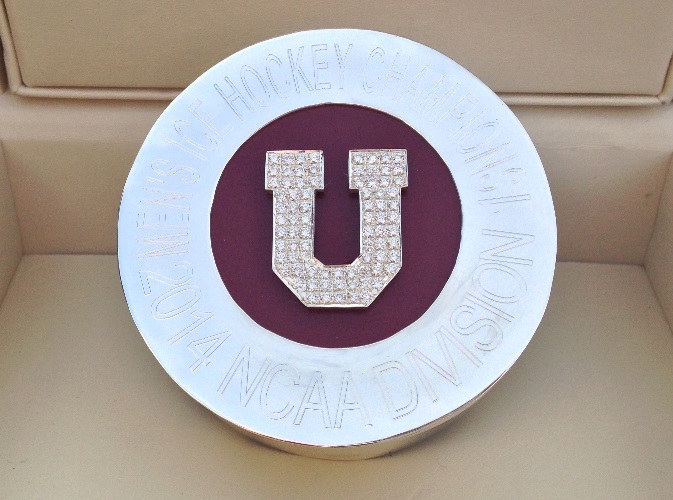 Congressman Paul D. Tonko heralded the occasion by issuing a proclamation which commends the Union College Dutchmen on winning the NCAA Men's Ice Hockey 2014 National Championship. An excerpt from the proclamation read as follows: "The level of achievement and determination demonstrated by the Union College Dutchmen this season is of great merit in an athletic organization, this team thereby serves as an example for all to learn from and strive for".
Players and dignitaries, including New York State Assembly members Angelo Santabarbara, Phil Steck, and Jim Tedisco; New York State Senator Cecilia Tkaczyk and Bob Farley, son of New York State Senator Hugh Farley; Schenectady County Legislature Vice Chair Karen Johnson; Schenectady County Legislators James Buhrmaster, Robert Hoffman and Gary Hughes; City of Schenectady Council President Peggy King; City of Schenectady Council members Carl Erikson, John Mootooven and Leesa Perazzo; Town of Glenville Supervisor Chris Koetzle; and The Chamber of Schenectady County President Charles (Chuck) Steiner were seated in front of the steps to city hall, flanking the NCAA Championship trophy on display throughout the ceremony.
"This is a tremendous day for not only the City of Schenectady, but all the loyal supporters of Union College and this incredible team. The community enthusiasm surrounding this history making national championship has been overwhelming," said City of Schenectady Mayor Gary R. McCarthy. "These young men, their coaches and the entire Union staff have shown unparalleled determination and talent throughout this journey. Schenectady is privileged to be the home of Union College and these outstanding student athletes."
"We couldn't be prouder of what this team has accomplished and what they represent," said Union President Stephen C. Ainlay. "They have not only brought national attention to the school, but have cast a spotlight on the tremendous support we have received from the community. We are grateful to the city, the county, the Chamber, and all the businesses and community organizations that have helped put this together and join with us to celebrate our championship season."
"This trophy is not only for our team, but also for everyone who has been associated with this program and who has worn this uniform," said Coach Bennett. "It is also for our campus and community. We are proud to represent Schenectady and we are thrilled to share this experience with our fans in the Electric City today."
The parade participants included local youth hockey teams, elected officials, Union College staff and trustees, and the Union College pep band in addition to the championship winning team and coaches. The players and coaches rode atop four local fire trucks from the city of Schenectady, Niskayuna, Clifton Park and Thomas Corners. Cars for the dignitaries were supplied by Capital Cities Imported Cars and Keeler Motor Car Company.
Fans waiting at City Hall were treated to music from Grand Central Station, which played "Celebration" and "We are the Champions" as the players and coaches arrived downtown. Rich Becker, the public address announcer for Messa Rink, served as master of ceremonies.
Additionally, in celebration of the victory, Mazzone Hospitality will offer a special dessert at its two Schenectady-based restaurants, Angelo's Tavolo and Aperitivo Bistro, to celebrate Union's national championship. The dessert, which will be on menus through Sunday, April 20, features a flourless chocolate cake resembling a puck with the Union College logo on top in fondant and four scoops of gelato to represent the Frozen Four.
The community-wide celebration comes after the Dutchmen defeated Minnesota to capture the first NCAA Division I Men's Ice Hockey Championship in school history. The team was also the regular and postseason champions of the Eastern Collegiate Athletic Conference (ECAC). The ECAC post season tournament victory marked the third straight season that Union has captured the Whitelaw Cup, only the third team that has accomplished the feat in league history.
The following organizations and individuals were involved in the organization of the parade and ceremony: 109th Airlift Wing; Bayly Rentals and Tents; Capital Cities Imported Cars; City of Schenectady Fire Department; City of Schenectady Office of General Services; City of Schenectady Office of the Mayor; City of Schenectady Police Department; Clifton Park Fire Department; Clifton Park Youth Hockey; Downtown Schenectady Improvement Corporation; Drome Sound; Ed Lewi Associates; Garnet Blades; Grand Central Station; Keeler Motor Car Company; Legere Restoration; Matthews Signs; Media Well Done; Niskayuna Grand Boulevard Fire Department; Northeastern Fine Jewelry; Olson Signs and Graphics; Rich Becker; Schenectady County; Schenectady County Special Events Department; Schenectady County Youth Hockey; Schenectady Naval Operations Support Center; Schenectady Pipe Band; Scotia-Glenville Pipe Band; STS Steel; The Chamber of Schenectady County; Thomas Corners Fire Department; Total Events; Union College; Union College Pep Band; and Union College Learn to Skate Program.