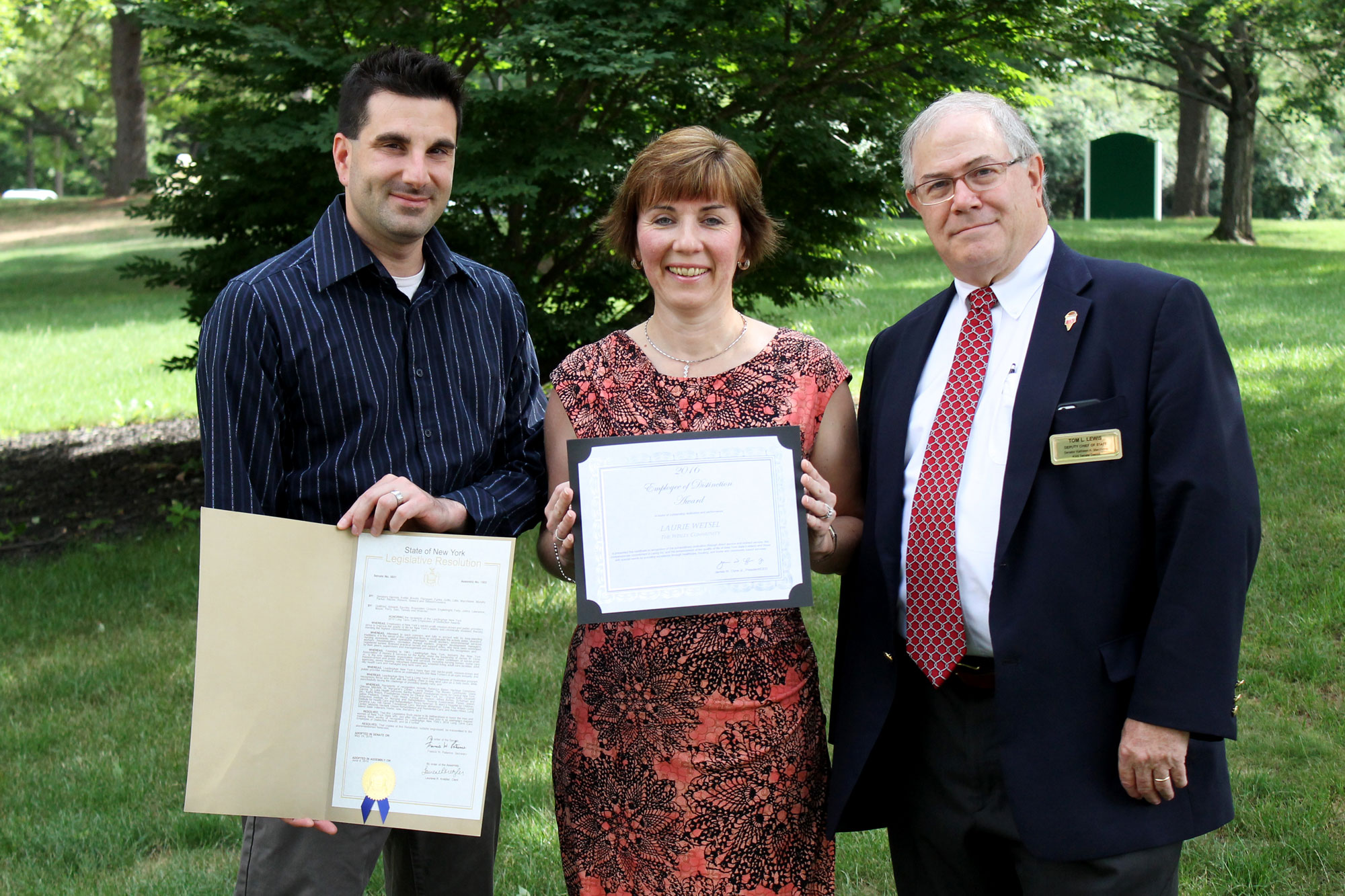 SARATOGA SPRINGS, NY;  –  The Wesley Community, a leading provider in housing and services for independent seniors and those requiring all levels of care, today announced that one of its staff members has been recognized for extraordinary dedication to senior care services by LeadingAge New York.
Laurie Wetsel, resident financial services manager at The Wesley Community, received the 2016 LeadingAge New York Employee of Distinction Award during a r­­ecent ceremony at The Wesley Community campus in Saratoga Springs, NY.
The award recognizes the efforts of front line staff of non-profit senior care and services organizations in New York State. Only 18 people are chosen for the award every year. Wetsel was recognized for her positive attitude, team spirit, and going above and beyond expectations.
"We are proud to have such an exceptional employee as Laurie, and congratulate her on this achievement," said J. Brian Nealon, CEO of The Wesley Community. "Her sense of community, drive, and commitment to the residents at The Wesley Community has set a standard for excellence that continues to enrich the services we provide to seniors and their families."
Wetsel has worked with The Wesley Community for 14 years. She recently oversaw the non-profit organization's transition to an electronic medical records system. Wetsel was nominated by Shelly Amato, chief financial officer of The Wesley Community.
"I am truly honored to have been nominated and selected to receive this award. I am fortunate to be part of The Wesley Community family and feel privileged to conduct the work we do each day," said Wetsel.
LeadingAge New York represents not-for-profit, mission-driven and public continuing care providers, including nursing homes, senior housing, adult care facilities, continuing retirement communities, assisted living and community service.
About The Wesley Community
The Wesley Community is a 36-acre, non-profit agency in Saratoga Springs, NY. Sponsored by United Methodist Health and Housing, Inc., The Wesley Community's unique continuum of care community provides market rate and affordable housing for independent seniors, enriched living apartments for seniors who desire additional support, adult day services, short-term rehabilitation and long-term nursing care, as well as outpatient therapies for people of all ages.