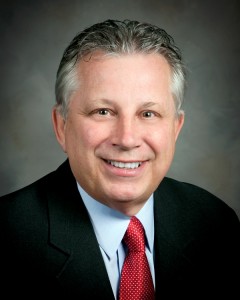 ALBANY, N.Y. – Siena College and UHY LLP today announced that Siena alumnus and UHY LLP Office Managing Partner, Capital Region, Howard Foote has been reelected Chair of Siena College's Board of Trustees. The appointment is effective through June 2019.
Foote, who is a graduate of the class of 1974, has been a member of Siena's Board of Trustees since 2001. He was first elected Board Chair in June 2013. Previously Foote had served in various Board capacities, including as treasurer of the Board of Trustees and chair of the Audit Committee and Budget and Finance Committee.
"I am deeply honored to be reappointed Chair of the Board of Trustees for Siena College.  I am passionately committed to supporting the College's mission and the importance of a liberal arts education rooted in the Catholic and Franciscan tradition," said Foote.  "The Siena Board of Trustees recently rearticulated "our shared commitment to Catholic Franciscan Higher Education" with the Holy Name Province and we enthusiastically look forward to working with President, Brother Edward Coughlin, and Provincial Minister Fr. Kevin Mullen, OFM on shaping the future of the College."
In addition to his role at Siena College, Foote serves as office managing partner in charge of operations for UHY LLP's Capital Region office and is a member of the Board of Directors of UHY Advisors NY, Inc.'s national leadership team.  Foote is also the Managing Director and Chief Financial Officer of UHY Advisors NY, Inc.
Founded as Urbach Kahn & Werlin in Albany in 1964, the firm expanded nationally and internationally, later merging with others to form UHY. They joined in the pursuit of a shared vision: to deliver the service of a local/regional firm and the services of a national firm to the dynamic middle market. Today, UHY LLP is among the nation's largest accounting firms as reported by Accounting Today.
Foote is a member of the American Institute of Certified Public Accountants, and former Chairman of its Credit Unions Committee; and a member of the California and New York State Society of Certified Public Accountants.  He is a past Trustee of Ellis Medicine, past Board member of the Albany-Colonie Regional Chamber of Commerce, and past Treasurer and Board member of the Chamber of Schenectady County.
About UHY LLP and UHY Advisors, Inc.
UHY LLP, a licensed independent CPA firm in New York, performs attest services through an alternative practice structure with UHY Advisors, Inc. UHY Advisors, NY Inc. conducts operations in New York as a subsidiary of UHY Advisors, Inc. The firm  has offices in: Albany, NY,  New York City, NY,  Frederick, MD, Irvine, CA, Rye Brook, NY, Chicago, IL, Atlanta, GA,  Detroit, MI, Sterling Heights, MI, Farmington Hills, MI, Columbia, MD, and St. Louis, MO. UHY Advisors, Inc. and its subsidiary entities have nearly 1,000 professionals providing services from offices throughout the United States.  
UHY LLP and UHY Advisors, Inc. are U.S. members of Urbach Hacker Young International Limited, a UK company, and form part of the international UHY network of legally independent accounting and consulting firms. "UHY" is the brand name for the UHY international network. For additional information, please visit their website at www.uhy-us.com.
About Siena College
Siena College is a learning community advancing the ideals of a liberal arts education, rooted in its identity as a Franciscan and Catholic college. Located in Loudonville, N.Y., two miles north of the state capital, the 176-acre beautiful, suburban campus is home to 3,000 undergraduates. Siena offers over 1,200 program combinations from 32 majors and 80-plus minor and certificate programs. Siena College: Providing the education of a lifetime for more than 75 
years.