New Dunkin' Go2s national value menu offers guests two breakfast sandwiches at special prices
UAlbany Men's Lacrosse is currently ranked second in the nation
ALBANY, NEW YORK; – The head coach of UAlbany Men's Lacrosse made a special visit to the Dunkin' Donuts restaurant in Colonie, NY, today to surprise guests with offerings from the new Dunkin' Go2s value menu and in celebration of his team being ranked second in the nation.
Coach Scott Marr filled orders at the register and drive-thru of the Colonie Dunkin' Donuts restaurant and surprised guests with tickets to see the nation's top ranked collegiate lacrosse team. Marr's visit occurred just a week before the Great Danes host Binghamton University on Friday, April 20 for their final home game of the regular season.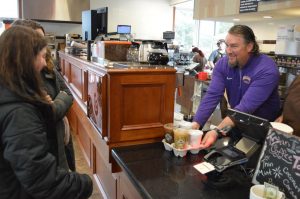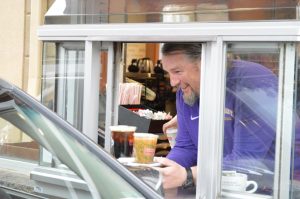 Coach Marr was invited by Dunkin' Donuts to help celebrate the launch of the new Dunkin' Donuts Go2s value menu, which allows guests to choose from among three of the brand's most popular breakfast sandwiches, and purchase two of their go-to favorite at $2, $3 or $5 price points.
Available all day long, Dunkin' Go2s include*:
Two Egg & Cheese Wake-up Wraps® for only $2
Two Egg & Cheese Breakfast Sandwiches served on English Muffins for only $3
Two Egg, Cheese & Bacon Breakfast Sandwiches served on Croissants for only $5
For the launch of Dunkin' Go2s, Dunkin' Donuts is celebrating "go-getters" across the Capital Region. The brand is currently hosting the new "Go-getters Go2 Dunkin'" contest, which gives fans the chance to win by sharing how they work hard to succeed each day. Each week fans will be asked to nominate themselves as the ultimate go-getter– such as the office go-getter, go-getter with a side hustle, a go-getter in the community, etc. — on Instagram using #GoGetter and #contest. Dunkin' Donuts will select three go-getters to receive a customized trophy in honor of his or her drive and ambition to succeed, along with a gift card to share a Go2 breakfast sandwich with their friends/loved ones. No purchase necessary, 18+, U.S. residents only. Ends April 30, 2018. The official rules will be available at www.DDGoGetters.com.
To learn more about Dunkin' Donuts, visit www.DunkinDonuts.com, or subscribe to the Dunkin' Donuts blog to receive notifications at https://news.dunkindonuts.com/blog.
* Single sandwich sold at regular price.  No substitutions.  For a limited time at participating locations.
###
About Dunkin' Donuts
Founded in 1950, Dunkin' Donuts is America's favorite all-day, everyday stop for coffee and baked goods. Dunkin' Donuts is a market leader in the hot regular/decaf/flavored coffee, iced coffee, donut, bagel and muffin categories. Dunkin' Donuts has earned a No. 1 ranking for customer loyalty in the coffee category by Brand Keys for 12 years running. The company has more than 12,500 restaurants in 46 countries worldwide. Based in Canton, Mass., Dunkin' Donuts is part of the Dunkin' Brands Group, Inc. (Nasdaq: DNKN) family of companies. For more information, visit www.DunkinDonuts.com.