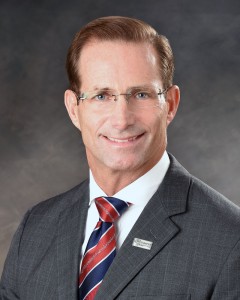 SARATOGA SPRINGS, N.Y., September 7, 2016 – The Wesley Community today announced that Jack Arnold has been appointed to the Board of Directors of The Wesley Community in Saratoga Springs, NY.
As Executive Vice President of Operations, Chief Administrative Officer, Chief Financial Officer and Treasurer of The Adirondack Trust Company, Arnold brings comprehensive leadership and financial skills to The Wesley Community.
"Jack brings an exceptional level of expertise to the Board of Directors of The Wesley Community. His skills and experience are an ideal addition as The Wesley Community grows and remains the premier provider of choice for senior care," said J. Brian Nealon, CEO of The Wesley Community.
"The Wesley Community has always been an excellent provider of care," Arnold said. "I look forward to this affiliation and having a positive impact on the lives of the residents and clients."
Arnold previously served on the board of Transitional Services Association, Inc., a Saratoga Springs-based non-profit organization. During his tenure on the board, he held the positions of president, vice president and treasurer.
Arnold is a member of the American Institute of Certified Public Accountants and the New York State Society of Certified Public Accounts. He is also a member of the New York Bankers Association Tax Committee. He received his bachelor's degree from Elon University in North Carolina, where he studied accounting.
For more information about The Wesley Community, visit www.thewesleycommunity.org.
About The Wesley Community
The Wesley Community is a 36-acre, not-for-profit agency in Saratoga Springs, NY, which serves the needs of the elderly, as well as active seniors, adults and pediatrics. Sponsored by United Methodist Health and Housing, Inc., The Wesley Community's unique continuum of care community provides independent and enriched living for seniors, subsidized independent senior housing, adult day services, short-term rehabilitation and long-term care, as well as outpatient therapies available for people of all ages.