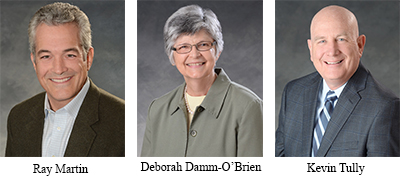 SARATOGA SPRINGS, N.Y.– The Wesley Community today announced several new appointments to the respective boards of The Wesley Foundation and The Wesley Community in Saratoga Springs,
NY.
Ray Martin, a longtime board member and current president of the board of directors of The Wesley Foundation, has been appointed to the board of directors of The Wesley Community. He will be joined by Deborah Damm-O'Brien, who has also been appointed to the board of directors of The Wesley Community.
The Wesley Community also announced that Kevin Tully has been appointed to The Wesley Foundation Board of Directors, which focuses on fundraising and giving initiatives to support the mission of The Wesley Community.
"The new additions to both of our boards bring extensive experience which will undoubtedly serve as a valuable asset to The Wesley Community as we continue to provide exceptional senior care to those in our community," said J. Brian Nealon, CEO of The Wesley Community. "Each of their individual talents will surely benefit our residents and the entire board as we continue to grow and remain the provider of choice for aging adults in the Capital Region."
Martin is the founder of Saratoga Springs financial services firm Crescent Hill Partners LLC and is author of two personal finance books. He has provided financial counseling and advice to individuals, families and senior executives of Fortune 500 companies for more than 25 years. He has served on The Wesley Foundation board for nine years, including as president for the last two years.
Damm-O'Brien served as Executive Director of DePaul Housing Management and Catholic Charities Housing in Albany for more than 18 years and oversaw the operation of housing options for low income families and seniors in the Capital Region. During this time, she also helped operate a variety of nutrition, information and assistance programs serving hundreds of seniors in Schenectady County. Damm-O'Brien is an active volunteer in the community and serves on several boards for non-profit nursing homes and adult homes including Carmelite System, Inc. and Heritage Home for Women.
A Certified Public Accountant for more than 30 years, Tully is currently the Tax Director at Teal, Becker & Chiaramonte in Albany, NY. He provides tax services to numerous professional organizations, including retailers, wholesalers, distributors, manufacturers, construction contractors and real estate developers. He is also active in the community and has served on numerous boards including the Fast Break Fund, Inc., Saratoga Children's Museum, Living Resources and the Albany Rotary Foundation.
For more information about The Wesley Community, visit www.thewesleycommunity.org.
About The Wesley Community
The Wesley Community is a 37-acre, non-profit agency in Saratoga Springs, NY. Sponsored by United Methodist Health and Housing, Inc., The Wesley Community's unique continuum of care community provides independent and assisted living for seniors, affordable independent senior housing, short-term rehabilitation and long-term care, as well as home care services and outpatient therapies available for people of all ages.