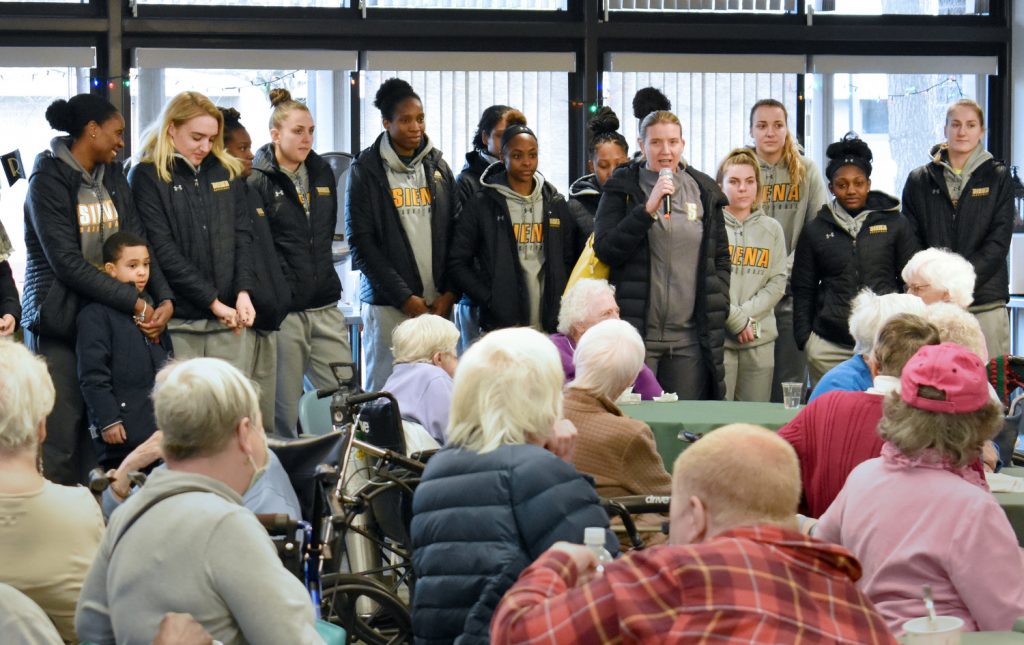 SARATOGA SPRINGS, N.Y. – Players and coaches from the Siena women's basketball team celebrated the New Year with seniors during an ice cream social at The Wesley Community on Wednesday, January 2.
During the visit, the Siena women's basketball team spent time with residents from across the continuum of care campus, shared stories and enjoyed ice cream in the Embury Café at the Embury Apartments.
"It's really wonderful to spend time visiting with these young women," said Wesley Community resident Maria Seneta. "We love the opportunity to connect with these remarkable student athletes who not only stay in great shape but also succeed in the classroom. They are terrific role models in our community."
The Embury Apartments offers affordable independent housing for seniors age 62 or older on the campus of The Wesley Community. The senior community offers a daily schedule of activities and social events, breakfast and lunch available daily at the Embury Cafe, transportation for shopping, conveniently located on the CDTA bus route, and many other services available.
"It's important to get our players out in the community and this was a fantastic opportunity for the team to spend quality time with some of their biggest fans," said Siena Women's basketball head coach Ali Jaques. "It also helps bridge the generational gap which allows our players to grow and learn from those who have experienced different things in life. We look forward to these types of visits where our players can interact with fans on a personal level."
The Siena women's basketball team will travel to Saint Peter's for the start of Metro Atlantic Athletic Conference play on Friday, January 4.
The Saints will return home for three straight games at the Alumni Recreation Center beginning Sunday, January 6 against Iona followed by the annual Kid's Day game on Friday, January 11 at 11 a.m. against Manhattan. The Saints will conclude their home stand against Rider on Sunday, January 13 at 2 p.m.
Tickets for all Siena women's basketball games start at just $8 for adults and seniors and $5 for children 12 and under. Tickets and information for all Siena women's home games are available at sienasaints.com/tickets.
The Wesley Community is a 36-acre, non-profit agency in Saratoga Springs, NY. The Wesley Community's unique continuum of care community provides market rate and affordable housing for independent seniors, assisted living apartments for seniors who desire additional support, in-home health care services, short-term rehabilitation and long-term nursing care, as well as outpatient therapies for people of all ages.