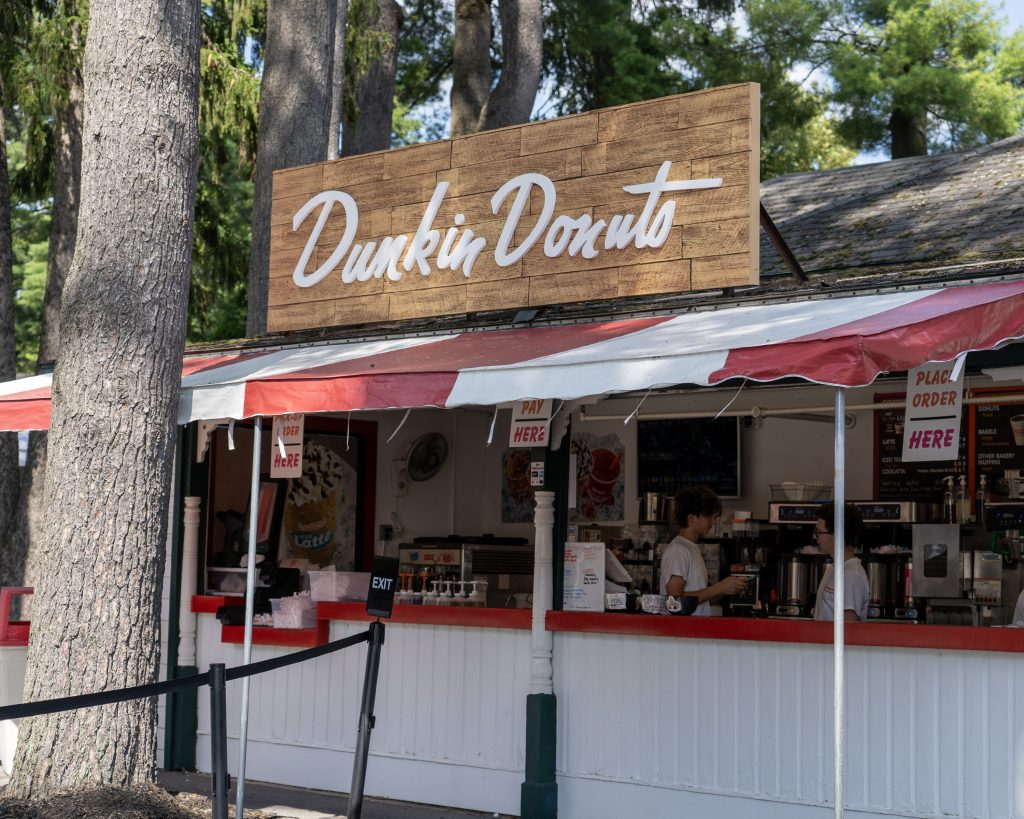 Rich history of the summer meet inspires display of Dunkin's vintage sign
SARATOGA SPRINGS, NY; – Dunkin', a longstanding partner of Saratoga Race Course and the New York Racing Association, Inc. (NYRA), is honoring the tradition of the historic thoroughbred race track with a replica of the original "Dunkin' Donuts" sign to welcome guests to its on-track restaurant.
Dunkin' created a replica of the first sign that adorned the original Dunkin' Donuts restaurant in Quincy, Mass., as a nod to Saratoga's legacy as the nation's oldest active sports venue. In addition to its restaurant in Quincy, Saratoga Race Course is the only other Dunkin' location in the U.S. to feature this classic sign.
"We're excited to have the distinct honor of displaying a replica of Dunkin's original sign at the 2023 Saratoga summer meet," said Kevin Quinn, NYRA Vice President, Sales and Hospitality. "Dunkin' is a terrific partner and one that truly shares an appreciation for the history of Saratoga Race Course."
Founded in Massachusetts, the original Dunkin' Donuts opened to the public in 1950 at 543 Southern Artery in Quincy. It is still standing and was recently restored to its original character, including the exterior sign that first welcomed guests to the restaurant where it all began.
Today, Dunkin' is the largest coffee and donuts brand in the U.S., operating more than 13,200 restaurants in nearly 40 global markets. Offering guests premium coffee and donuts to fuel their busy day is the founding tenet that remains true to Dunkin'.
"Dunkin' is proud to continue its longstanding partnership with NYRA," said Levi Pascher, Dunkin' Field Marketing Manager. "This retro signage is a tribute to the legacy of two American institutions: Saratoga Race Course, celebrating more than a century and a half of excellence; and the original Quincy Dunkin', still standing in the same location since 1950 and restored to its original glory."
To learn more about Dunkin', visit www.DunkinDonuts.com, or subscribe to the Dunkin' blog to receive notifications at https://news.dunkindonuts.com/blog.
####
About Dunkin'
Dunkin', founded in 1950, is the largest coffee and donuts brand in the United States, with more than 13,200 restaurants in nearly 40 global markets. Dunkin' is part of the Inspire Brands family of restaurants. For more information, visit DunkinDonuts.com and InspireBrands.com.