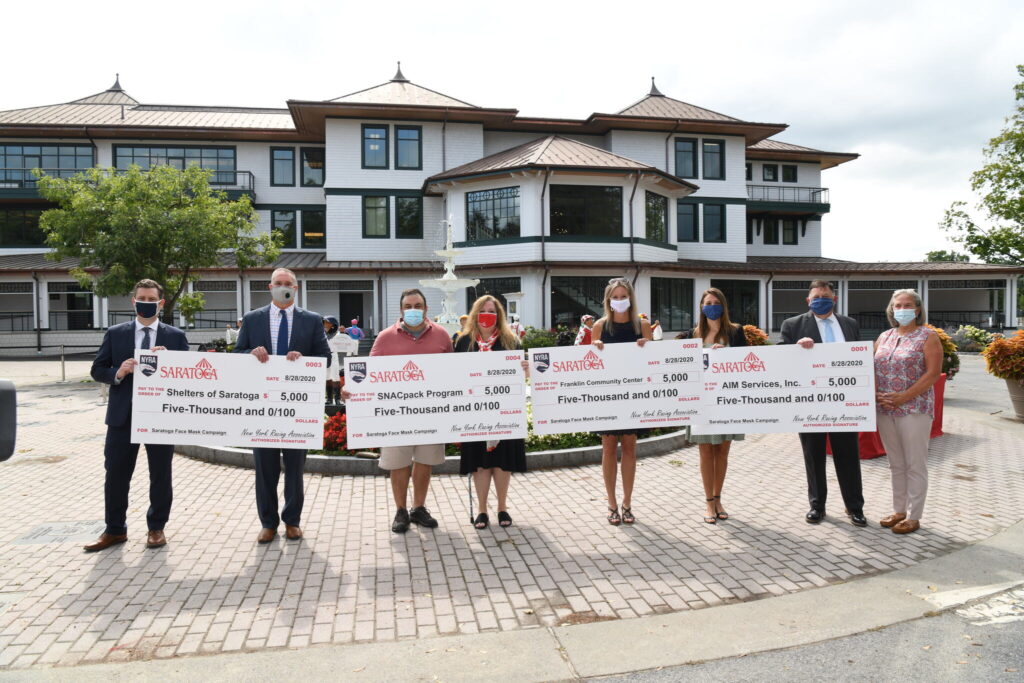 SARATOGA SPRINGS, N.Y. – The New York Racing Association, Inc. (NYRA) today presented a $20,000 donation to several non-profit organizations as a result of a joint initiative with the City of Saratoga Springs to raise funds for the community through the sale of limited-edition Saratoga Race Course face masks.
The campaign, which launched in mid-June and was immediately met with high demand from racing fans, raised a total of $20,000 which will be divided evenly between AIM Services, Inc.; Franklin Community Center; Shelters of Saratoga and the SNACpack Program (Saratoga Nutrition Assistance for Children).
NYRA worked with City of Saratoga Springs Mayor Meg Kelly to identify the program's four beneficiaries, which provide food, shelter and other critical resources during a time of increased need resulting from the coronavirus global health pandemic. A portion of proceeds from all mask sales was donated to the non-profits.
"It was great to see this level of support for a campaign that not only serves as a unique sign of the times, but benefits the collective health of the Saratoga community in so many ways," said NYRA President & CEO Dave O'Rourke. "We thank our fans for their enthusiasm surrounding the face masks, as well as Mayor Kelly and the City of Saratoga Springs for their continued partnership and leadership."
"We are all grateful to NYRA and the Saratoga mask initiative for helping us 'Mask Up' and raise funds for four of our local non-profits," said Mayor Kelly. "NYRA has demonstrated once again their commitment to the safety and well-being of our entire community. When we get through this, we will be able to look back with pride on the many ways the community pulled together. NYRA's example is just one of many that make Saratoga Springs such a special place to live, work and visit."
A limited number of three-pack sets of Saratoga face masks remain available for purchase for $24.95 at Shop.NYRA.com.
The Saratoga reusable cloth face masks come in a variety pack featuring three individual designs: a red mask with a white Saratoga logo; a white mask with a red Saratoga logo; and a navy-blue mask with a red Saratoga logo. The masks include a white border and stretchable elastic ear straps with an interior pocket for a replaceable filter.
Saratoga face masks are for personal use only; not a replacement for medical grade personal protective equipment.
Founded in 1979, AIM Services, Inc. provides residential and community-based services to people with disabilities, including individuals with traumatic brain injuries and those looking for nursing home transition or diversion. The agency provides services to individuals in Saratoga, Warren and Washington Counties.
Franklin Community Center is a non-profit human service agency that has provided basic necessities and services to individuals and families in Saratoga Springs for more than 25 years. The Center serves more than 6,000 people annually through a variety of programs, including a food pantry, afterschool prevention, and safe and affordable housing.
Since 1991, Shelters of Saratoga has provided assistance to people who are facing homelessness by providing safe shelter, supportive services and sustainable strategies with the mission to end homelessness in the greater Saratoga region. Programs include emergency and case-managed shelters, outreach services, drop-in centers and affordable housing.
The SNACpack Program (Saratoga Nutrition Assistance for Children) provides backpacks filled with child-friendly, non-perishable, easily consumed foods to local children on weekends and when other resources aren't available. The bags are distributed weekly to all six elementary, middle and high schools in the Saratoga Springs Central School District.
The 2020 summer meet at Saratoga Race Course runs through Labor Day, Monday, September 7. Racing at Saratoga is conducted five days a week, Wednesdays through Sundays. Closing week will run Wednesday, September 2 through Labor Day, Monday, September 7.
Under New York state guidelines, Saratoga Race Course is operating without spectators in attendance.
Saratoga Live presents daily television coverage of the 40-day summer meet on FOX Sports and MSG Networks. For the complete Saratoga Live broadcast schedule, and additional programming information, visit NYRA.com/SaratogaLive.
.
For more information about Saratoga Race Course, visit NYRA.com.