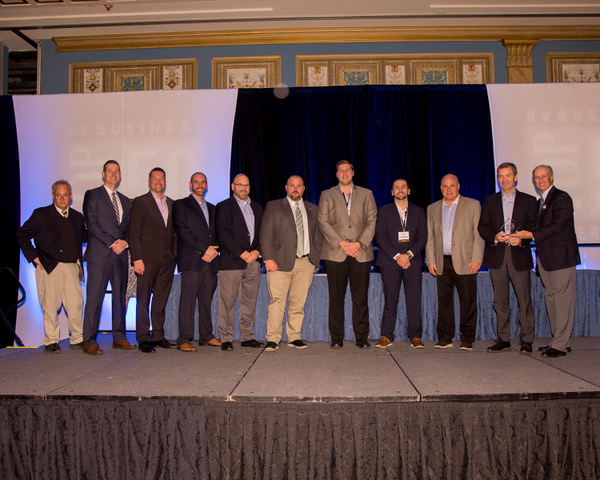 AMSTERDAM, NY – Alpin Haus, the Northeast's largest, family-owned outdoor recreation retailers, has been named one of the "Top 50 RV Dealers in North America" by RVBusiness magazine.
Representatives from Alpin Haus accepted the designation at the 2018 RV Dealers Association International Convention/Expo at the Paris Las Vegas on November 7. Alpin Haus owns and operates RV stores in Amsterdam, Saratoga, and Port Jervis, NY.
"The Alpin Haus team is thrilled be recognized as one of the RV industry's leading dealers by RVBusiness magazine," said Andy Heck, president of Alpin Haus. "Alpin Haus is honored to continue helping families find the right outdoor recreation vehicle for their needs and we are proud to provide them with outstanding customer service and a full lineup of state-of-the-art vehicles."
To identify the list, RVBusiness magazine began harvesting qualified nominees in early summer from RV manufacturers who nominated dealer partners based not just on sales volume but whom they felt exemplify RVB Top 50 qualities and practices. Those dealers were invited to complete the program's extensive application and an expanded panel of independent industry insiders met in early September to review all the applications and select the RVB Top 50.
RVBusiness Publisher Sherm Goldenberg said the RVB Top 50 award continues to gain momentum and value among North American dealers, contributing to the program's mission to elevate the industry as a whole.
"We're pleased with the increased recognition that these awards are garnering in both the U.S. and Canadian recreation vehicle markets, and it also provides a unique benchmarking tool for a wide array of retailers to examine their own operations and see how they measure up to industry standards and their own expectations on the brink of the 2019 model year," said Goldenberg. "For their laudable achievements and ongoing excellence, we congratulate this year's RVB Top 50 dealers."
Alpin Haus offers a full line of recreational vehicles, parts, services and accessories at all three store locations: 1863 State Highway Route 5S in Amsterdam N.Y.; 30 Gordon Lane Gansevoort, N.Y.; and at 36 Route 6 in Port Jervis N.Y. For more information, visit www.alpinhaus.com.
About Alpin Haus
For more than 50 years in the Capital Region and Hudson Valley, Alpin Haus has grown into an outdoor recreation powerhouse with five store locations in Amsterdam, Saratoga, Clifton Park and Port Jervis, featuring a full-line of RVs, snowmobiles, skis, boats, pools, and spas. Alpin Haus is one of America's largest RV dealers and has received the Caldera Spas Best Showroom Design Award; Caldera Spa's Best New Dealer of the Year; Snow Sports Retailer of the Year; National Top Quality RV Dealer of the Year; Ski-Doo District Dealer of the Year; and has been selected multiple times as one of the Best Places to Work by Capital District Business Review. For more information, visit www.alpinhaus.com.