Olympic silver medalist Paul Wylie to visit Empire State Plaza Ice RinkPublic skating demo and meet-and-greet with 1992 Olympian to coincide with Hannaford Free Skate Rental Fridays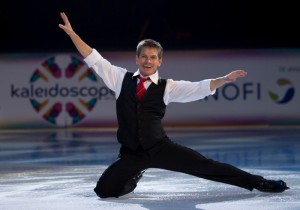 ALBANY, New York – 1992 Olympic silver medalist Paul Wylie will make a special appearance at the Empire State Plaza ice rink on Friday, December 27 from 4 to 6 p.m.
Wylie's appearance coincides with Hannaford Free Skate Rental Fridays. Each Friday of the season, skate rentals at the Empire State Plaza ice rink are free, courtesy of Hannaford Supermarkets. Admission to the ice rink is free and open to the public.
Wylie will conduct a brief figure skating demonstration before inviting guests to join him on the rink from 4 to 5 p.m. A meet-and-greet offering the opportunity for free photos and autographs will be held from 5 to 6 p.m.
"Hannaford is thrilled to welcome Olympian Paul Wylie to the Empire State Plaza ice rink. His grace and skill will undoubtedly inspire another generation of figure skaters to enjoy this timeless winter activity," said Hannaford Supermarkets Community Relations Specialist Molly Tarleton. "We look forward to welcoming Capital Region families onto the ice to take advantage of this amazing opportunity to join a true Olympian on the rink."
Wylie is best known for winning the silver medal in men's singles figure skating at the 1992 Olympic Games. After the Olympics, Wylie went on to win The World Professional and U.S. Open Professional Championships in 1993 and is a four-time winner of both the Masters Miko Professional Championships in Paris and The World Challenge of Champions. Wylie also co-headlined the Stars On Ice tour with Scott Hamilton and Kristi Yamaguchi. Wylie toured with Stars on Ice from 1992 to 1998 before retiring.
In addition to his accomplishments on the ice, Wylie graduated cum laude from Harvard University with a Bachelor of Arts in Government in 1991. He returned to Harvard in 1998 to pursue a Master's Degree in Business. Wylie has also served as a sports commentator/analyst for a number of prominent media outlets, including ESPN and Universal Sports. Wylie was inducted into the U.S. Figure Skating Hall of Fame in January 2008.
General Rink Information
Hours: Every day from 11 a.m. to 8 p.m., weather dependent. Closed Christmas Day.
Cost to Skate: Free
Skate Rental: $3 for children under 12 and $4 for adults.  Skate rentals will be available whenever the rink is open.
Hannaford Free Skate Rental Fridays: Free skate rentals on Fridays courtesy of Hannaford Supermarkets.
Amenities: Full-service snack bar open Friday nights, weekends, and school holidays; skate lounge with lockers for personal items now located at the Plaza level; and music.