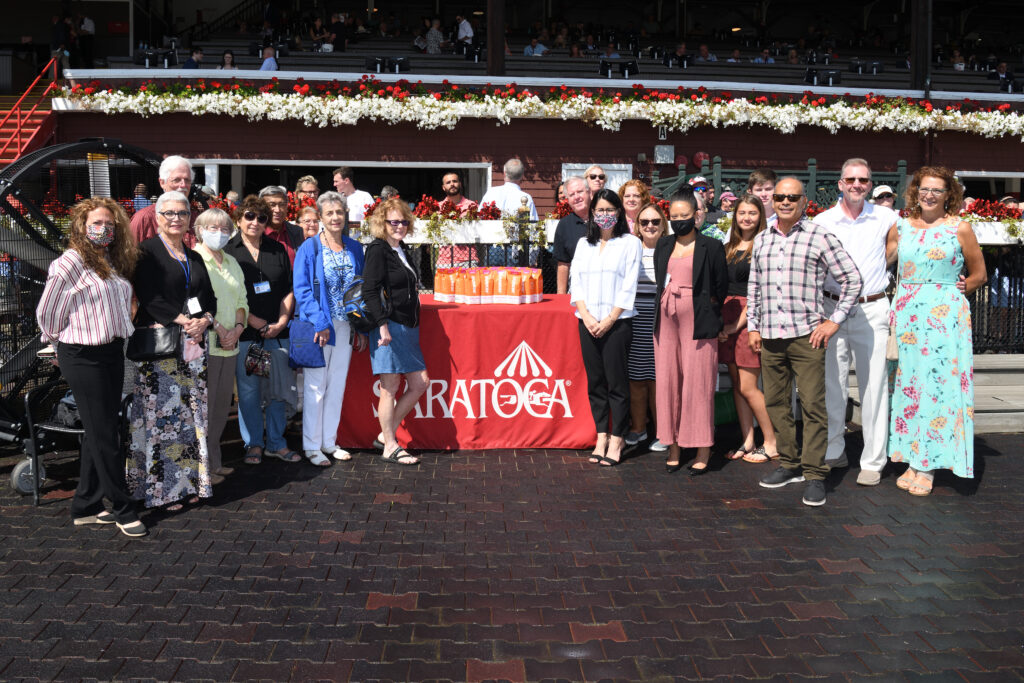 SARATOGA SPRINGS, N.Y. – The New York Racing Association, Inc. (NYRA) presented more than 120 pounds of Dunkin' coffee to the Backstretch Employee Service Team (B.E.S.T.) at Saratoga Race Course on Monday, September 6, closing day of the 2021 racing season.
The 126 pounds of coffee was donated based on a pledge from Dunkin' to supply B.E.S.T. with one pound of coffee for every win by the leading owner, trainer and jockey of the 2021 Saratoga meet.
Klaravich Stables was the meet's leading owner with 21 wins, while Chad Brown claimed the H. Allen Jerkens training title with 41 wins. Luis Saez captured the Angel Cordero Jr. riding title with 64 wins.
NYRA Community Relations Manager Vanessa Rodriguez Payne presented the coffee to B.E.S.T. Saratoga Program Director Nancy Underwood and numerous volunteers from the non-profit organization during a special winner's circle ceremony on Monday. The presentation followed the day's second race named "The Backstretch Employee Service Team runs on Dunkin'."
"Dunkin' is proud to support the important work of the Backstretch Employee Service Team while celebrating the accomplishments of this season's leading owner, trainer and jockey," said Dunkin' Field Marketing Manager Eric Stensland. "The summer meet would not be possible without the dedication and commitment of the men and women of the backstretch community."
Serving Aqueduct Racetrack, Belmont Park and Saratoga Race Course, B.E.S.T. aids the hard-working men and women employed to take care of the horses in the barn area. The organization is dedicated to providing care in whatever way they can, including access to primary healthcare clinics as well as health and life insurance. These services are free of charge to the backstretch workers regardless of insurance coverage.
-30-
About Dunkin'
Founded in 1950, Dunkin' is America's favorite all-day, everyday stop for coffee and baked goods. Dunkin' is a market leader in the hot regular/decaf/flavored coffee, iced regular/decaf/flavored coffee, donut, bagel and muffin categories. Dunkin' has earned a No. 1 ranking for customer loyalty in the coffee category by Brand Keys for 15 years running. The company has more than 12,600 restaurants in 40 countries worldwide. Dunkin' is part of the Inspire Brands family of restaurants. For more information, visit www.DunkinDonuts.com.