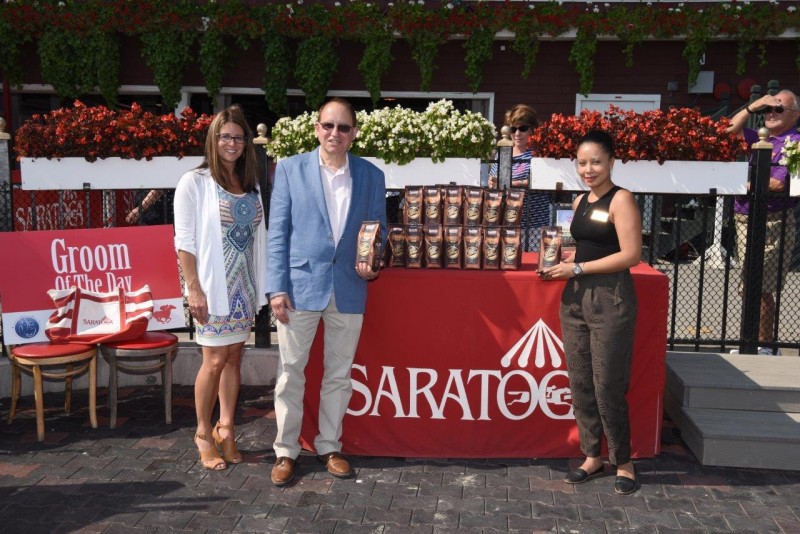 SARATOGA SPRINGS, N.Y. – The New York Racing Association, Inc. (NYRA) Community Relations Manager Vanessa Rodriguez (right) presents more than 100 pounds of Dunkin' Donuts coffee to Backstretch Employee Service Team (B.E.S.T.) Executive Director Paul Ruchames (second from left) and B.E.S.T. Saratoga Program Manager Nancy Underwood (left) at Saratoga Race Course on Monday, September 4, closing day of the 2017 season. The coffee donation is based on a pledge from Dunkin' Donuts to supply B.E.S.T. with one pound of coffee for every win by the leading owner, trainer and jockey of the 2017 Saratoga meet. As a result, Dunkin' Donuts will donate 113 pounds of coffee to B.E.S.T., based on the number of total wins by the leading connections after 40 days of racing at Saratoga.
About Dunkin' Donuts
Founded in 1950, Dunkin' Donuts is America's favorite all-day, everyday stop for coffee and baked goods. Dunkin' Donuts is a market leader in the hot regular/decaf/flavored coffee, iced coffee, donut, bagel and muffin categories. Dunkin' Donuts has earned a No. 1 ranking for customer loyalty in the coffee category by Brand Keys for 11 years running. The company has more than 12,300 restaurants in 46 countries worldwide. Based in Canton, Mass., Dunkin' Donuts is part of the Dunkin' Brands Group, Inc. (Nasdaq: DNKN) family of companies. For more information, visit www.DunkinDonuts.com.