SARATOGA SPRINGS, N.Y. – The New York Racing Association, Inc. will continue its tradition of premium giveaways with four giveaway days scheduled for the summer 2017 meet at Saratoga Race Course.
All giveaways are free with paid admission, while supplies last.
The 2017 Saratoga Race Course premium giveaway schedule is as follows:
SARATOGA BASEBALL CAP: Sunday, July 23
The first giveaway of the 2017 season will pay tribute to the theme of opening weekend – Hats! Racing fans gather to receive a red and white Saratoga baseball cap, presented by Saratoga Casino Hotel. In addition to the Saratoga hat giveaway, the day's festivities will include the 26th annual Hat Contest, presented by Hat Sationa! By DEI.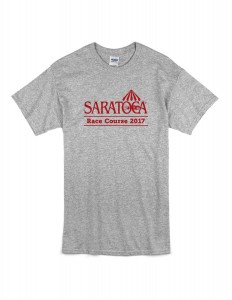 SARATOGA SHORT-SLEEVE T-SHIRT: Monday, August 7
Racing fans will take home the second giveaway of the 2017 meet, a gray short-sleeve t-shirt featuring a red Saratoga Race Course logo. The giveaway corresponds with the weekly Berkshire Bank Family Mondays series, which features free children's activities and entertainment at the Berkshire Bank Saratoga Pavilion.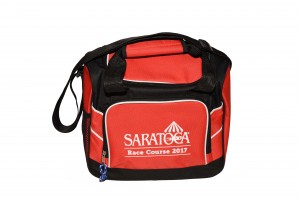 SARATOGA COOLER BAG: Monday, August 21
The season's penultimate premium giveaway – a red and black Saratoga cooler bag – will kick off the countdown to the $1.25 million Travers, which will be run for the 148th time on Saturday, August 26.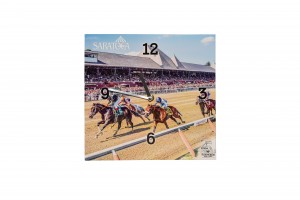 SARATOGA CLOCK: Sunday, September 3                      
Fans will celebrate closing weekend of the 2017 Saratoga meet with the final giveaway of the 2017 season – a Saratoga wall clock, presented by Foxwoods Resort Casino. The clock features an image of thoroughbreds racing down the stretch against the iconic Saratoga grandstand and clubhouse roofline.
Guests will be able to redeem up to three vouchers at Saratoga Race Course's giveaway redemption areas, including the one they receive with paid admission and the two additional vouchers they are able to purchase at the multiple admissions line beneath the grandstand.
Season pass and season ticket plan holders will be guaranteed a Saratoga premium giveaway item on the day of the giveaway contingent on the following: Season pass or season ticket plan holders must be in attendance at Saratoga Race Course, enter through the designated season ticket and pass holder lines and redeem the giveaway by 3 p.m. Redemptions will begin when gates open to the general public.
Season passes do not include reserved seating and are valid for one admission, which is valid for one giveaway item.
Saratoga season admission passes are currently available for purchase online at www.NYRA.com/Saratoga and in-person at nearly 160 Stewart's Shops locations in the following counties: Albany, Rensselaer, Saratoga, Schenectady and Warren.
The summer racing season will begin on Friday, July 21 and continue through Labor Day, Monday, September 4.
For more information about Saratoga Race Course, visit www.NYRA.com/Saratoga.