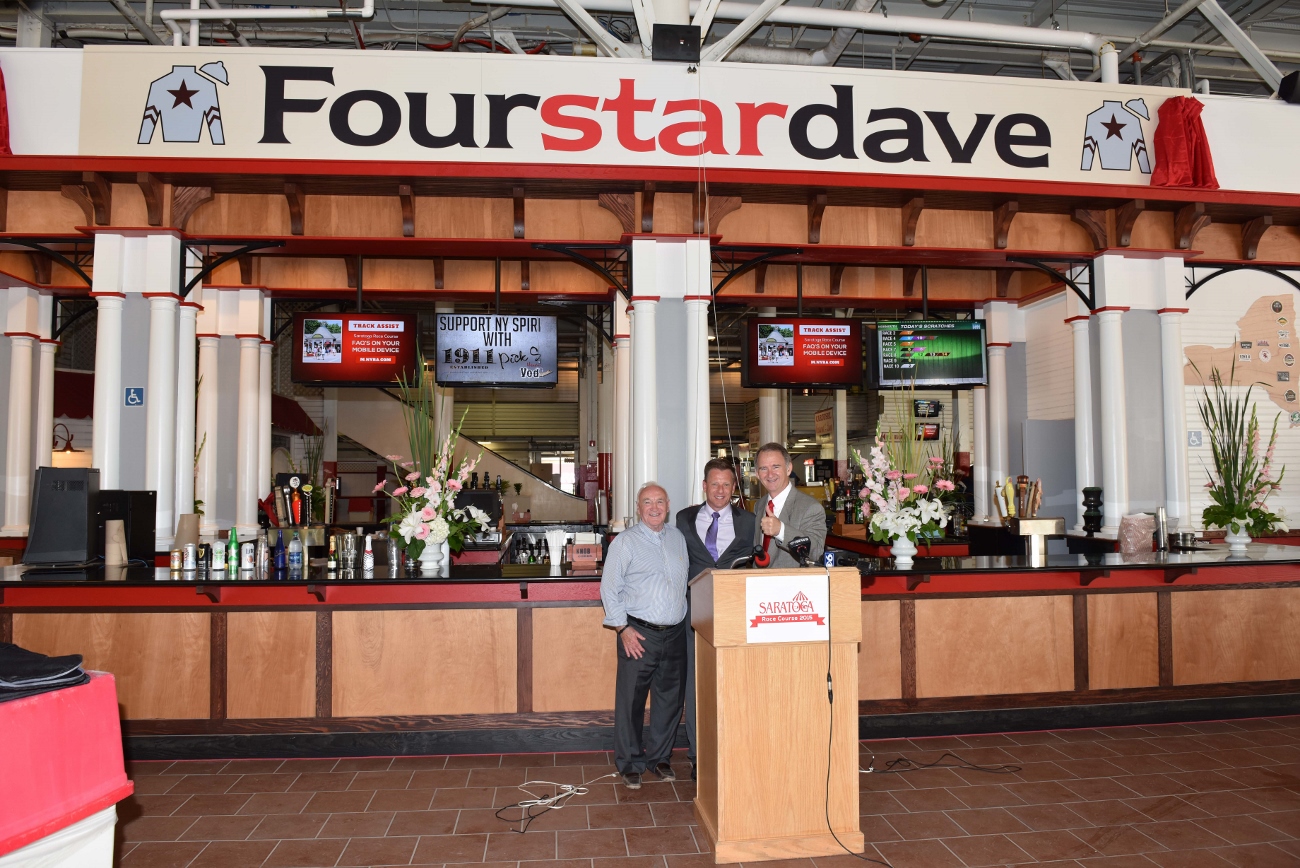 SARATOGA SPRINGS, N.Y. – The New York Racing Association, Inc. (NYRA) today announced that the new sports bar in the lower Carousel will be named in honor of one of the most well-known thoroughbreds in Saratoga Race Course history: the legendary Fourstardave.
The naming honor follows a contest in which racing fans were invited to select from a list of five legendary thoroughbreds who have raced at Saratoga. As a result of receiving the most votes, the new hospitality area at Saratoga Race Course will be officially named the Fourstardave Sports Bar.
"Our equine athletes are the true stars of the show and we are excited to commemorate the legacy of Fourstardave with this honor," said NYRA CEO and President Chris Kay. "The new sports bar in the lower Carousel is a fantastic addition to the array of offerings available at Saratoga. We have already heard tremendous feedback from our guests who have enjoyed a day in this popular hospitality area and therefore it is only fitting that it carry the name of one of Saratoga's most popular thoroughbreds."
Fourstardave trainer Leo O'Brien and jockey Richard Migliore joined Kay to make the announcement and unveil a temporary sign, which will be replaced with a permanent fixture before the 2016 season, displaying the sports bar's new moniker.
Known as the "Sultan of Saratoga," the well-known and much admired Fourstardave won at least one race each year at Saratoga Race Course from 1987 to 1994, including six stakes in five consecutive years. Overall, Fourstardave won 21 races from 100 career starts, with 18 seconds and 16 thirds, for earnings of more than $1.6 million. Fifteen of his 21 wins came on the grass.
The fan favorite is immortalized today at Saratoga with one of the meet's most important turf stakes races named in his honor: the Grade 2, $500,000 Fourstardave which will headline the card on Saturday, August 15.
Fourstardave was selected as the name of the venue by fans in an online poll over four other renowned thoroughbreds: Easy Goer, Kelso, Man o' War and Sky Beauty.
The Fourstardave Sports Bar is situated in the newly-revitalized lower Carousel, which includes five dozen tables available for daily reservation, an extensive craft beer selection, popular food vendors, and 40 flat-screen televisions showing both racing and other sporting events. The space also provides protection from the elements.
Fans can reserve four-person tables for $35 on weekdays (Monday, Wednesday, Thursday and Friday); and $50 on weekends (Saturday and Sunday). Six-person tables are available for $50 on weekdays and $75 on weekends. Seating is sold-out for Travers Day, Saturday, August 29. Table reservation fee does not include admission; personal coolers are not permitted in the lower Carousel.
Table reservations for the Fourstardave Sports Bar can be made online at Ticketmaster.com or by calling the NYRA Box Office at 844-NYRA-TIX. Reserved seating inventory is limited and subject to availability.
The 2015 summer meet at historic Saratoga Race Course continues through Labor Day, Monday, September 7. For more information about Saratoga Race Course, call (518) 584-6200 or visit www.nyra.com.