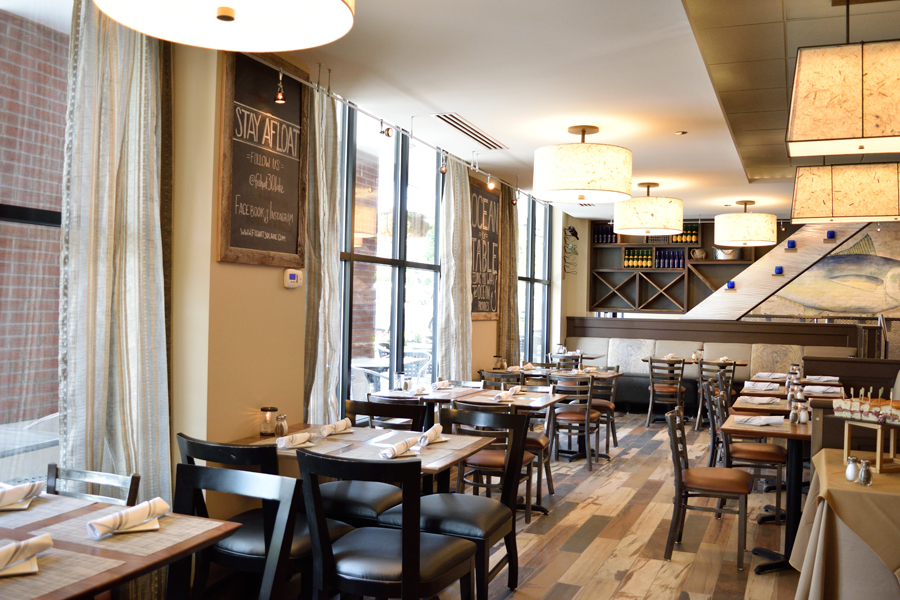 Fish at 30 Lake to feature fresh fish and seafood in an industrial-style setting
SARATOGA SPRINGS, New York; – Mazzone Hospitality today celebrated the forthcoming grand opening of its new restaurant Fish at 30 Lake situated at the corner of Lake Avenue and Pavilion Place in downtown Saratoga Springs. The restaurant will formally open to the public on Saturday, June 18. Reservations will be accepted beginning on Monday, June 20.
Fish at 30 Lake offers day-boat caught fresh seafood, hardwood grilled fish and pizza, and a free-standing raw bar, as well as plates to share. All menu items feature an emphasis on locality and freshness. Fish at 30 Lake also includes a mixologist led bar program with hand-crafted cocktails, local spirits and an approachable wine list.
Fish at 30 Lake will open at 2 p.m. daily for light fare and cocktails, with dinner service beginning at 5:30 p.m. Dinner service on Sunday begins at 3 p.m. Seating is available indoors for 80 and on the patio for 40.
Executives from Mazzone Hospitality were joined today by state and local officials to herald the addition of the restaurant to the celebrated and thriving culinary scene in downtown Saratoga Springs.
"We are excited to welcome Mazzone Hospitality to downtown Saratoga Springs with the addition of Fish at 30 Lake. The Mazzone brand is synonymous with the highest level of hospitality and we could not think of a better complement to our wide array of world-class restaurants and eateries in the Spa City," said City of Saratoga Springs Mayor Joanne Yepsen. "We look forward to seeing residents and visitors alike enjoy Fish at 30 Lake this summer and for years to come."
"Our goal in conceptualizing Fish at 30 Lake was to create an approachable and comfortable space with the same quality and service we are known for at Mazzone Hospitality, yet different from our existing restaurants and unlike anything in Saratoga Springs," said Mazzone Hospitality Owner Angelo Mazzone. "We look forward to providing an exciting new option for diners throughout the Spa City as we open our doors just as the summer tourism season is getting underway and weeks from the start of the racing season."
Fish at 30 Lake features natural touches of reclaimed wood and industrial influences, including a hand-crafted wine cabinet and a large mural painted by a local artist.
Mazzone Hospitality Chief Operating Officer and Partner Mark A. Delos and Corporate Executive Chef William Brown will oversee the new venture. They are assisted by Saratoga Springs restaurateur Ron Farber, who joined the Mazzone Hospitality team as a restaurant specialist in April.
In addition to the restaurant, Fish at 30 Lake will provide catering and event services to guests at the adjacent Pavilion Grand Hotel, including in-suite dining and rooftop events, as well as private wedding brunches and innovative packages for travelers.
Fish at 30 Lake will complement the numerous Mazzone Hospitality properties in the greater Capital Region, including Prime at Saratoga National, an upscale steakhouse located on the grounds of Saratoga National Golf Club. Mazzone Hospitality also oversees catering operations at the Hall of Springs in the Saratoga Spa State Park and Fasig-Tipton Sales Pavilion on East Avenue, amongst other venues in the immediate area.
For more information about Mazzone Hospitality, visit www.mazzonehospitality.com.
About Mazzone Hospitality
Mazzone Hospitality owns and operates several of the Capital Region's premier restaurants and banquet halls including: Glen Sanders Mansion in Scotia featuring Angelo's Tavolo, two ballrooms and an inn; Aperitivo Bistro, a dynamic wine bar and bistro adjacent to Proctors in Schenectady; Angelo's Prime Bar + Grill, a casual and modern bar and grill in Clifton Park; TALA, An American Bistro, featuring an eclectic mix of stylized entrees and a spa menu; Angelo's 677 Prime, an upscale steakhouse and wine bar in the heart of the theater district in Albany, and Fish at 30 Lake in Saratoga Springs. Mazzone Hospitality also owns and operates Prime at Saratoga National, an upscale steakhouse modeled after Angelo's 677 Prime, located on the grounds of Saratoga National Golf Club. Through its PRIME Business Dining division the company oversees corporate dining operations for M+W Group at The Foundry; GLOBALFOUNDRIES; PRIME @ IOPS; Ayco Café; Golub Headquarters; and the SI Group, among others. The company operates and manages the historic Parker Inn & Suites in downtown Schenectady and also oversees the catering operations at the Hall of Springs, Key Hall at Proctors, and caters private weddings, fundraisers, and corporate or social events. For more information about Mazzone Hospitality, call 518-374-7262 or visit www.mazzonehospitality.com.