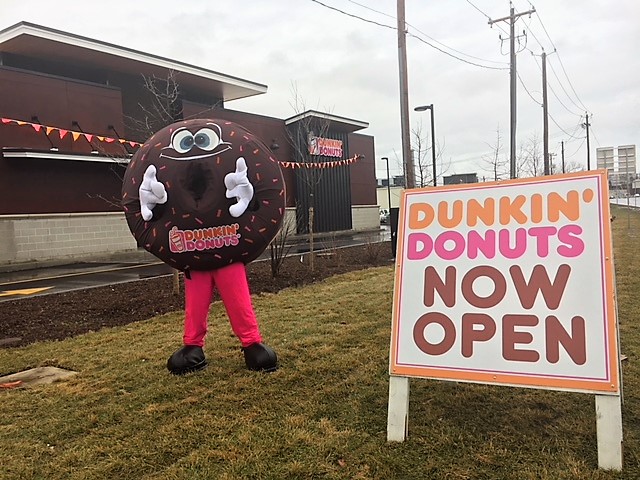 SCHENECTADY, NEW YORK; – Dunkin' Donuts, America's all-day, everyday stop for coffee and baked goods, today announced the opening of a new restaurant at 2 Rush Street in Schenectady, NY. The new restaurant marks the latest development in the burgeoning Mohawk Harbor neighborhood.
The Teixeira Network, which currently operates nine Dunkin' Donuts restaurants in the Capital Region, is the Dunkin' Donuts franchisee for the new location. The Teixeira Network is a family-owned business based in Schenectady which has been in operation since 1986.
"Dunkin' Donuts is one of the world's leading coffee and bakery brands and is a favorite in the Capital Region for busy, on-the-go people seeking delicious food and beverages any time of the day. This is an exciting time of development for the Mohawk Harbor neighborhood and we are excited to be a part of it," said Dunkin' Donuts Franchisee Miguel Teixeira. "We are proud to serve the people who live and work in Schenectady and look forward to becoming a popular destination for guests."
Open from 5am-10pm Monday through Sunday, the new restaurant will employ approximately 12 crew members. The restaurant is connected to Capital Bank and will feature comfortable seating and provide a welcoming environment for guests to enjoy Dunkin' Donuts' high-quality food and beverages in a friendly and fun atmosphere. Amenities will include free Wi-Fi, USB charging ports, along with sustainable features and practices including energy-efficient LED light fixtures. The new location also features a drive-thru for guests.
The new restaurant will serve a complete menu featuring Dunkin' Donuts' world famous freshly-brewed Hot and Iced Coffees, Cold Brew, as well as Espresso, Cappuccino, Lattes and Macchiato. The brand's beverage offerings include Hot and Iced Teas, Hot Chocolates and Coolatta® frozen beverages as well. Dunkin' Donuts will also serve a full lineup of delicious donuts, bakery goods and sandwiches. All Dunkin' Donuts menu items are always available any time of day, and guests are encouraged to customize their favorite food and beverages.
Founded in 1950, Dunkin' Donuts is America's favorite all-day, everyday stop for coffee and baked goods. Dunkin' Donuts is a market leader in the hot regular/decaf/flavored coffee, iced coffee, donut, bagel and muffin categories. Dunkin' Donuts has earned a No. 1 ranking for customer loyalty in the coffee category by Brand Keys for 11 years running. The company has more than 12,400 restaurants in 46 countries worldwide. Based in Canton, Mass., Dunkin' Donuts is part of the Dunkin' Brands Group, Inc. (Nasdaq: DNKN) family of companies. For more information, visit www.DunkinDonuts.com.
To learn more about Dunkin' Donuts visit www.DunkinDonuts.com or follow us on Facebook (www.facebook.com/DunkinDonuts) and Twitter (www.twitter.com/DunkinNYCAP)