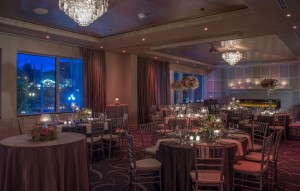 Events at 677 Prime can accommodate up to 300 guests for cocktail parties, weddings and banquets
Albany, NY — Mazzone Hospitality today unveiled a new event space at one of the Capital Region's most acclaimed restaurants – Angelo's 677 Prime located in downtown Albany. The new event space is designed to accommodate a wide variety of events, including cocktail parties, weddings and banquets, in a premier location with award-winning food and wine.
The grand opening of Events at 677 Prime follows an extensive renovation creating an additional 1,500 square feet of space and two event rooms located above the celebrated restaurant. The two high-end event spaces, named State and Hudson, feature panoramic views of Broadway and the historic Palace Theatre.
Special upgrades at Events at 677 Prime include a new kitchen, LED backlighting, a state-of-the-art fireplace and a Sonos® sound system. The space can accommodate up to 300 guests.
"It has always been a goal of ours to create a venue for events that reflects the high-quality cuisine, atmosphere and service we offer at Angelo's 677 Prime. This new space features modern amenities, beautiful views and is positioned right in the heart of a bustling downtown community," said Angelo Mazzone, Owner of Mazzone Hospitality. "Downtown Albany has always been a desirable location for private functions and weddings and this new addition to the scene is sure to be met with excitement."
Events at 677 Prime will further expand Mazzone Hospitality's event and catering portfolio in downtown Albany, which also includes 90 State Events and Kiernan Plaza.
Featuring prime cuts of aged meats, an extensive wine bar and a renowned sommelier, Angelo's 677 Prime reset the standard for dining and laid the groundwork for the establishment of additional upscale urban restaurants in downtown Albany upon its opening in April 2005. The restaurant is anchored by general manager Jaime Ortiz, executive chef Ken Kehn and restaurant manager Jacqueline Orbe.
For more information about event bookings at Events at 677 Prime, please contact Angelo's 677 Prime Event Sales Director Mary Birbilis-Brough at 518-427-7463.
About Mazzone Hospitality
Mazzone Hospitality owns and operates several of the Capital Region's premier restaurants and banquet halls including: Glen Sanders Mansion in Scotia featuring Angelo's Tavolo, two ballrooms and an inn; Aperitivo Bistro, a dynamic wine bar and bistro adjacent to Proctors in Schenectady; Angelo's Prime Bar + Grill, a casual and modern bar and grill in Clifton Park; TALA, An American Bistro, featuring an eclectic mix of stylized entrees and a spa menu; and Angelo's 677 Prime, an upscale steakhouse and wine bar in the heart of the theater district in Albany. Mazzone Hospitality also owns and operates Prime at Saratoga National, an upscale steakhouse modeled after Angelo's 677 Prime, located on the grounds of Saratoga National Golf Club. Through its PRIME Business Dining division the company oversees corporate dining operations for M+W Group at The Foundry; GLOBALFOUNDRIES; PRIME @ 107; Ayco Café; Golub Headquarters; and the SI Group. The company operates and manages the historic Parker Inn & Suites in downtown Schenectady and also oversees the catering operations at the Hall of Springs, Key Hall at Proctors, and caters private weddings, fundraisers, and corporate or social events. For more information about Mazzone Hospitality, call 518-374-7262 or visit www.mazzonehospitality.com.