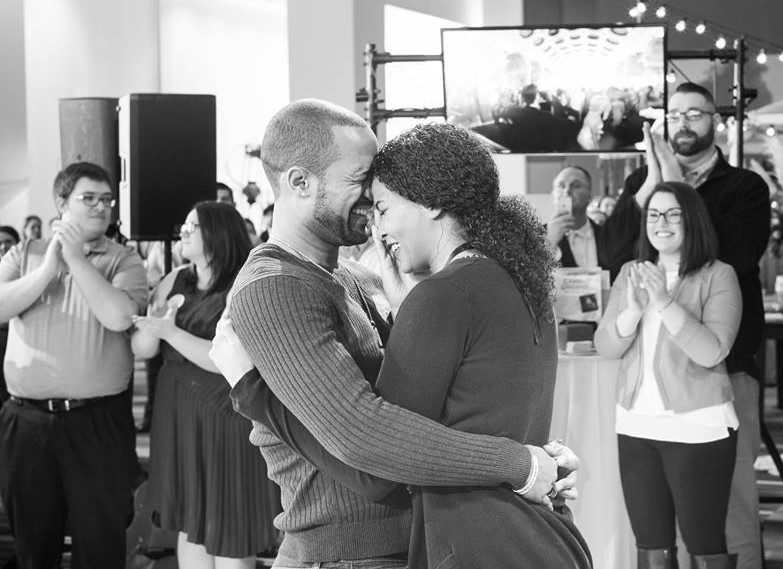 Albany residents Asi Somburu and Chenique Rowe to wed three years earlier than planned as a result of $100,000 complimentary wedding package
ALBANY, N.Y. – Friday, March 24 – Mazzone Hospitality will make the trip down the aisle that much more memorable for one local deserving pair by providing them with a complimentary wedding package, including engagement party, rehearsal dinner, and reception, in addition to photography, florals, DJ services and more, as the "Capital Region Couple of the Year". The complete package is valued at approximately $100,000.
Asi Somburu, 33, a medical student, and Chenique Rowe, 28, a social worker, of Albany, were engaged in Mexico in 2016, and originally elected to put their wedding plans on hold for three years due to the financial burden of student loans. As a result of being named "Capital Region Couple of the Year," they will now wed in early 2018 at the Mazzone Hospitality venue of their choice, and enjoy a complete wedding reception, including food and beverage.
The couple was chosen as the winners of the contest amongst hundreds of entries after submitting a testimonial video showcasing their love story. The announcement came during the "Experience the Difference Wedding Event" by Mazzone Hospitality at the Albany Capital Center on March 19.
Mazzone Hospitality will document their journey throughout the wedding planning process, and invite the community and fellow engaged couples to follow their progress and collect tips and ideas for their own wedding.
"All of us at Mazzone Hospitality were touched by Asi and Chenique's unique love story and their dedication to not only their families, but also to helping those in the community. We are thrilled to create a joyous and memorable wedding day for them as they officially begin the next stage of their lives together," said Mazzone Hospitality Owner Angelo Mazzone. "We also look forward to providing an inside glimpse into all the decisions and events that lead up to the traditional wedding celebration as we follow Asi and Chenique during the planning process. This is sure to be an exciting year."
Contest judges at Mazzone Hospitality were drawn to Somburu and Rowe's video submission, which detailed their courtship, and highlighted their shared values for community service as a medical student and social worker, respectively. Somburu said the decision to marry Rowe was made simple due to her selfless dedication to helping him through rough times, and to individuals in need in the community.
"She made the most important decision of my life the easiest decision," said Somburu in the video submission.
Somburu and Rowe will receive services from some of the Capital Region's most well-known wedding vendors, including: videography and photography from The Harris Company; floral design from Blooms Floral Design; bridal gown and bridal party attire from Ferri Formals and Tuxego; and wedding year coordination by Katie O' Weddings and Events, amongst other items.
Additionally, Mazzone Hospitality will host the couple's engagement party; bridal shower; bachelorette party; and rehearsal dinner as part of their prize winnings.
To join Somburu and Rowe on their wedding planning journey, like the Capital Region Couple of the Year page on Facebook, follow on Instagram @capitalregioncoupleoftheyear, or visit the Mazzone Hospitality Aisle Files blog.
About Mazzone Hospitality
Mazzone Hospitality owns and operates several of the Capital Region's premier restaurants and banquet halls including: Glen Sanders Mansion in Scotia featuring Angelo's Tavolo, two ballrooms and an inn; Aperitivo Bistro, a dynamic wine bar and bistro adjacent to Proctors in Schenectady; Angelo's Prime Bar + Grill, a casual and modern bar and grill in Clifton Park; TALA, An American Bistro, featuring an eclectic mix of stylized entrees and a spa menu; Angelo's 677 Prime, an upscale steakhouse and wine bar in the heart of the theater district in Albany, and Fish at 30 Lake in Saratoga Springs. Mazzone Hospitality also owns and operates Prime at Saratoga National, an upscale steakhouse modeled after Angelo's 677 Prime, located on the grounds of Saratoga National Golf Club. Through its PRIME Business Dining division the company oversees corporate dining operations for M+W Group at The Foundry; GLOBALFOUNDRIES; PRIME @ IOPS; Ayco Café; Golub Headquarters; and the SI Group, among others. The company operates and manages the historic Parker Inn & Suites in downtown Schenectady and also oversees the catering operations at the Hall of Springs, Key Hall at Proctors, and caters private weddings, fundraisers, and corporate or social events. For more information about Mazzone Hospitality, call 518-690-0293 or visit www.mazzonehospitality.com.