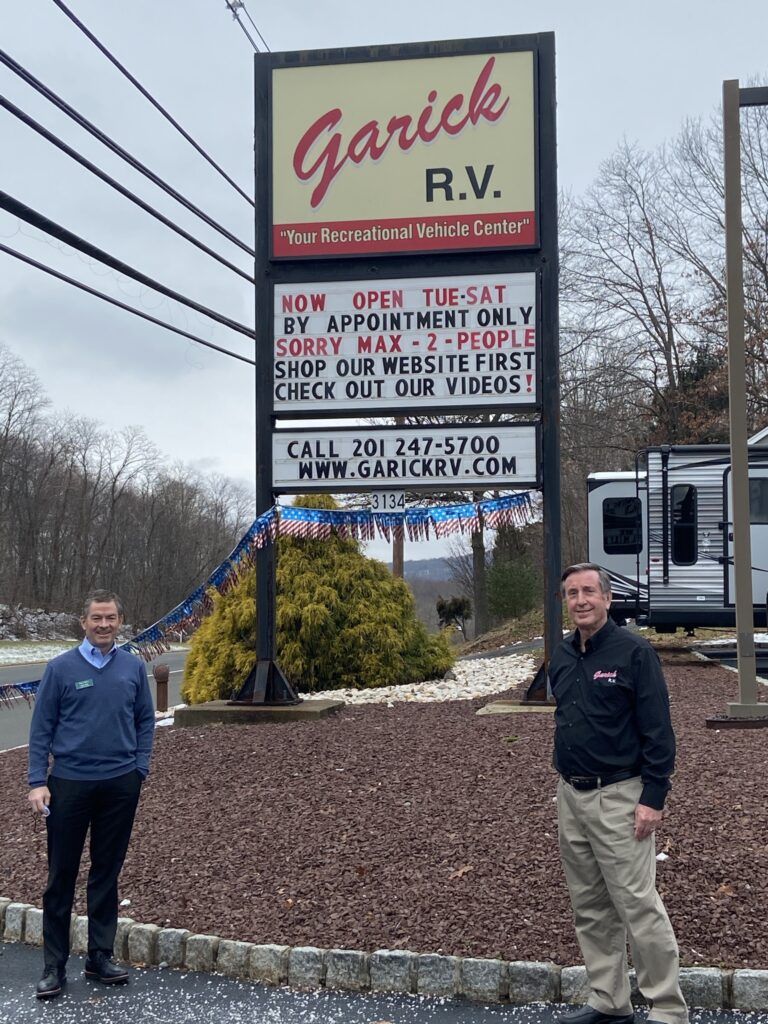 One of Northeast's largest family-owned outdoor recreation retailer will continue rich tradition of supplying and servicing recreational vehicles in Passaic County
OAK RIDGE, NJ –Garick RV, a staple in supplying and servicing recreational vehicles in Northern New Jersey for more than 35 years, has been acquired by Alpin Haus, one of the Northeast's largest family-owned outdoor recreation retailers.
The Passaic County-based company will operate under the Alpin Haus banner effective immediately. All 21 staff members employed by Garick RV will be retained by Alpin Haus, which currently employs more than 200 individuals across the Northeast.
The acquisition of Garick RV's sales and service centers, both located in Oak Ridge, NJ, will allow Alpin Haus to expand its reputation of providing exceptional customer care, outstanding products and quality services to outdoor enthusiasts in New Jersey. Alpin Haus has repeatedly been named one of the "Top 50 RV Dealers in North America" by RVBusiness magazine and maintains three established RV sales and service locations in Amsterdam, Wilton and Port Jervis, NY.
"We are excited to welcome Garick RV and their associates to the Alpin Haus family. With nearly a century of combined experience as family-owned businesses, we share a similar philosophy of excellence and unwavering commitment to customer service," said Alpin Haus President Andy Heck. "Since this past spring, we've seen many families develop an interest in the RV lifestyle as they look for safe getaway options during the pandemic. Our new location in the Garden State will allow us to serve even more valued customers and help them enjoy the outdoors."
"After more than 37 years in the RV business, I felt it was time to retire and start enjoying life with family and grandchildren. My success in the RV world has always been based on doing the right thing, helping people reach their goals of RVing and having fun along the way," said Garick RV President Gary Threlfall. "I owe a great deal of my success to my team, which includes many people who have been with me for a very long time. I feel very gratified knowing the legacy I am leaving is in good hands. Andy Heck and the team at Alpin Haus have the same goals and values I have always had and that is making my departing very comfortable. I wish that the combined businesses will reach their goal of combined success."
Under the Alpin Haus banner, the Oak Ridge sales center, located at 3134 Route 23 North, will continue to sell new and used RVs, travel trailers, fifth wheels, Class A and C motorhomes, and pop-up campers. The Alpin Haus of Oak Ridge sales center will continue to offer the same quality brands, including Jayco and Keystone, with plans to expand product offerings in the future. The sales center hours are 9 a.m. to 5 p.m. Tuesday through Saturday.
The Alpin Haus of Oak Ridge service center, located at 209 Oak Ridge Road only one mile from the sales center, features 10 service bays with 9,000 square feet of state-of-the-art service equipment. Service center hours are 8:30 a.m. to 4:30 p.m. Monday through Friday.
In addition to offering a full line of recreational vehicles, parts, services and accessories, Alpin Haus has more than 50 years of experience supplying outdoor gear and equipment, including snowmobiles, skis, boats, pools, and spas, from its retail shops in upstate New York.
For more information, call Alpin Haus of Oak Ridge at 973-208-9200 or visit www.alpinhausrv.com.
About Alpin Haus
For more than 50 years, Alpin Haus has served as the one of the Northeast's largest outdoor recreation retailers. With six store locations in the Capital Region, Hudson Valley and Northern New Jersey, Alpin Haus features a full-line of RVs, snowmobiles, skis, boats, pools, and spas. Alpin Haus is one of America's largest RV dealers and has received the Snow Sports Retailer of the Year; National Top Quality RV Dealer of the Year; Ski-Doo District Dealer of the Year; and has been selected multiple times as one of the Best Places to Work by Capital District Business Review. For more information, visit www.alpinhaus.com.