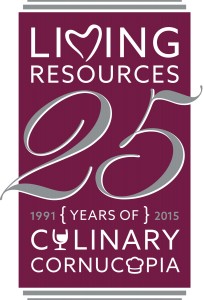 Hannaford Supermarkets presents gourmet affair to benefit leading Capital Region non-profit organization
 Dunkin' Donuts to serve as signature sponsor
ALBANY, N.Y. – Capital Region chefs will come together once again to serve up a delectable feast to benefit Living Resources at the 25th annual Culinary Cornucopia, presented by Hannaford Supermarkets with support from Dunkin' Donuts, on Sunday, November 15 at the Albany Marriott Hotel.
The silver anniversary edition of the yearly gourmet event will begin during the day when a number of the area's most accomplished chefs come together for a series of closed-door competitions based upon the stringent guidelines of the American Culinary Federation. The culmination of the affair is the evening's grand reception, where the chefs present their creations in a lavish showcase for 500 guests.
All guests will receive a commemorative 25th anniversary Culinary Cornucopia clutch pin, courtesy of The Heart of the Cornucopia sponsor Prestige Vending Services, Inc.
All proceeds from the evening benefit Living Resources, whose mission is to promote and provide life-enhancing services to individuals with intellectual and developmental disabilities in environments that are both safe and nurturing.
"For a quarter of a century, Living Resources has marked the fall harvest by welcoming our community to celebrate the accomplishments of our region's top culinary talent during the annual Culinary Cornucopia," said Fredrick W. Erlich, CEO of Living Resources. "I am delighted to invite our local chefs and guests to take part in this special evening in support of essential services for individuals with developmental disabilities and traumatic brain injuries, including veterans."
"Hannaford Supermarkets is honored to celebrate the culinary accomplishments of some of the Capital Region's most talented chefs while raising funds for an organization so vital to our community," said Hannaford Supermarkets Community Relations Specialist Brian Fabre. "We encourage Capital Region residents to join us as we wine, dine and celebrate the fall bounty while supporting the outstanding efforts of Living Resources."
The area's premier restaurants participating in the daylong and evening affair to date include: Angelo's 677 Prime in Albany; Albany Marriott Market in Albany; Capital Region BOCES Culinary Program in Albany; Druthers Brewing Company in Albany and Saratoga Springs; The Epicurean Bistro & Wine Bar in Latham; Hilton Garden Inn Banquet & Conference Center in Troy; The Mallozzi Family in Schenectady; Pasta Pane Rustic Italian Bistro in Clifton Park; Reel Seafood Company in Albany; Saratoga Marriott Courtyard and Excelsior Springs Hall in Saratoga Springs; and Salty's Pub & Bistro in Clifton Park.
The evening culinary showcase will begin at 6 p.m. with a champagne reception and grand viewing followed by the epicurean feast at 7 p.m. The evening will also include a live and silent auction which will feature items donated by Northeastern Fine Jewelry and other community supporters.
The grand showcase and dinner will be followed by the American Culinary Federation awards presentation, in which the chefs will be honored with medals reflecting their performance and participation in the day's competition.
Tickets are $150 per person and $125 per person for individuals 35 and under. Tickets may be purchased by contacting Joan Meyer at 518-218-0000 ext. 5330.
For more information about Living Resources, visit www.livingresources.org.
About Living Resources
Living Resources is a non-profit organization which provides services to individuals with a broad range of disabilities and impairments. Employing more than 800 staff, Living Resources supports over 2,000 individuals in a variety of community and residential settings throughout an eleven-county area and has an annual budget of $40 million. Established in 1974, Living Resources' programs and services have grown to include day habilitation, supportive employment, clinical services, fine arts instruction, interpreting services for the hearing impaired, after school programming, service coordination and the College Experience Program in collaboration with The College of Saint Rose. Through its Certified and Licensed home care divisions, Living Resources assists seniors living in their own homes, individuals with post-acute medical conditions, brain injury survivors, and veterans, as well as service to individuals with intellectual and developmental disabilities. For more information, visit www.livingresources.org.